Renew in just 5 mins.
No Inspection.
No Paper Work
* Subject To Underwriting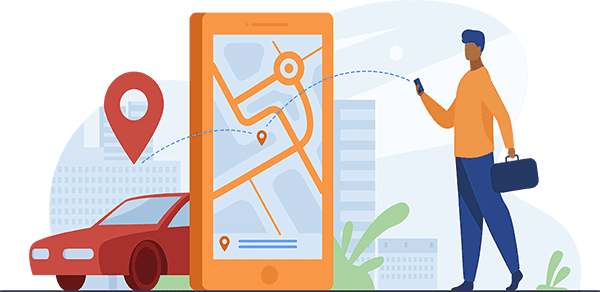 Compare

Passenger Carrying Insurance
Auto Rickshaws are constantly on the move, increasing their chance of being involved in an accident. As a result, it is strongly advised that auto rickshaw owners insure their vehicles. In an accident, auto-rickshaw insurance offers financial protection against the losses you, your vehicle, or the other party suffer. Today's market has two types of insurance policies: a third-party auto rickshaw insurance policy and a comprehensive insurance policy.
What is Auto-Rickshaw Insurance Policy?
As its name suggests, Auto-rickshaw insurance is a kind of commercial vehicle insurance plan created specifically for three-wheelers in India. All auto owners are required to carry at least third-party auto rickshaw insurance to safeguard their finances from third-party liabilities; however, it is preferable to carry a comprehensive auto-rickshaw policy that will pay for any damages that may result from accidents, collisions, natural disasters, fires, and other mishaps.
Types Of Auto Rickshaw Insurance
Even though there are many insurance companies in the market today, they all normally only offer two varieties of commercial auto rickshaw insurance plans, including –
Third-party Auto Rickshaw Insurance
A third-party auto rickshaw insurance policy only offers you financial protection against losses made to uninvolved parties during accidents that are determined to be your fault. Also, they provide you with financial protection against any lawsuits that a third party might bring against you if you were at fault and caused extensive damage.
Comprehensive Auto Rickshaw Insurance Policy
You have expanded coverage if you have a comprehensive auto rickshaw insurance policy. It offers financial security not just against losses to third parties but also against losses to you and your auto. You are also protected by this kind of policy from harm done to your vehicle as a result of any natural or man-made calamities. Your comprehensive auto rickshaw insurance policy even allows you to choose different add-ons, giving your vehicle broader protection.
What's Covered Under Auto Rickshaw Insurance?
Here is the coverage provided by this insurance policy.
Accidental Loss & Damages: This insurance policy offers financial protection for any loss or damage to the vehicle that results from an accident while carrying passengers.
Natural Disasters: This insurance plan covers any damage or loss caused by typhoons, floods, earthquakes, and other calamities during which the auto-rickshaw was present.
Theft: Auto-rickshaws are significantly more likely to be stolen because they are open and lack access doors. This insurance policy offers protection if the auto-rickshaw is stolen. It is advised to check with your insurer to see if the policy covers theft or not.
Fire Accidents: When an engine in an automobile ages, its condition tends to deteriorate, and if it isn't properly maintained, it could heat up to the point where it burns during a trip. This insurance policy also offers coverage for fire accidents, one of the most improbable causes of damage.
Third-Party Losses: As was already noted, it is required to have third-party commercial vehicle insurance because it covers losses to third parties brought on by auto-rickshaws.
Towing Disable Auto-Rickshaw: If the rickshaw suffers any loss or damage while being taken away by a towing truck, it is covered by insurance coverage.
Personal Accident: The insurance policy covers any partial or permanent injuries sustained by the policyholder while operating the auto-rickshaw, whether he is the owner, the driver, or even a passenger. The costs related to treating that damage will be covered by the plan.
What's Not Covered Under Auto Rickshaw Insurance?
Here is the list of the things excluded under auto rickshaw insurance.
Driving Auto-Rickshaw Without a Valid License: Driving without a current licence is already prohibited on Indian roadways. The insurance provider will not offer coverage for any type of loss or damage if they discover that the driver was operating the vehicle without a valid licence at the time of the collision.
Driving Under The Influence Of Alcohol: If the insurance provider learns that the auto-rickshaw driver was intoxicated at the time of the collision, they will refuse to pay for any losses or damages. The Motor Vehicle Act of India forbids drinking and driving, and those who do so risk receiving hefty fines.
Loss Out Of Negligence: If the driver disregards any natural disaster or poor engine condition and continues to ride the auto-rickshaw while suffering major damage, the insurance company will not give coverage for any form of loss or damage.
Consequential Loss: The insurance provider won't cover such situations if the auto-rickshaw was harmed inadvertently and not as a direct result of a fire, accident, or natural disaster.
Add-On Covers Available For Auto Rickshaw Insurance
The inclusion of your vehicle's protection is increased with add-on covers in exchange for a greater premium. The top auto rickshaw insurance plans typically include the following options for additional coverage:-
Zero Depreciation Cover For Auto Rickshaw – The depreciation value of your insured auto rickshaw will not be taken into account in the event of an accident, and the insurance company will compensate you for all expenses at the time of claim settlement.
Engine Protector Cover For Auto Rickshaw – This add-on covers any harm to the engine or/and its components brought on by water infiltration, lubricating oil leakage, harm to the hydrostatic lock, and harm to engine components including the gearbox, crankshaft, cylinder, connecting rods, pistons, etc.
Personal Accidents Cover For Auto Driver – According to the terms of the insurance, it offers coverage to the owner/driver.
Accessories Cover For 3 Wheeler Auto Rickshaw Insurance- The accessories cover add-on will protect your pricey non-electrical and electrical auto rickshaw accessories, such as the music system, against loss or damage.
Roadside Assistance Coverage – If your auto rickshaw breaks down in the middle of the road, leaving you stranded, this policy will send a qualified specialist to your aid. Benefits include gasoline delivery, minor repairs, towing services, battery breakdown, etc.
Factors Affecting Auto Rickshaw Insurance Premium
You need to be aware of the variables influencing the cost of an auto rickshaw insurance policy before you purchase one for your three-wheeler. These elements consist of:
Engine Capacity: Your commercial vehicle's engine size plays a crucial role in determining the cost of your auto insurance. The risks associated with insuring an engine rise with its cubic capacity. This is because commercial autos with larger engines are more likely to experience unexpected accidents on the road, thus increasing the insurer's exposure.
Insured Declared Value: Another crucial element taken into account when estimating the cost of an auto-rickshaw insurance policy is the IDV, or Insured Declared Value, of a commercial vehicle. The amount you receive if the insured vehicle is totalled is known as the IDV of a vehicle. This amount is determined by subtracting the vehicle's current market value from the depreciation of the vehicle and its accessories. A greater IDV will result in a higher premium because you will receive more at the time of a claim. While a lower IDV results in a lower premium and a smaller reimbursement when a claim is made.
Geographical Location: Your auto insurance policy's premium is also computed using the location of your registered auto-rickshaw. Based on Zone A and Zone B cities, the premium is computed. While the rest of India is represented in Zone B cities, Zone A cities include well-known metropolises like Delhi, Chennai, Bangalore, Pune, Hyderabad, Mumbai, and Ahmedabad. Vehicles registered in Zone A cities have a higher premium than those registered in Zone B cities since there is a greater risk of accidents in Zone A cities due to the heavy traffic.
Additional Covers: A normal auto rickshaw insurance policy can be supplemented with extra covers, which are extras that are optionally available add-ons. These add-ons come with an additional premium charge. So, your price will increase in proportion to the number of add-ons you include in your rickshaw insurance policy and vice versa.
Safety Devices: Your insurance policy's premium is probably going to be lower if you have an ARAI-approved anti-theft device installed in your auto-rickshaw. Most insurance companies provide a specified discount to rickshaw owners who have fitted an anti-theft device. Installing an anti-theft system makes the vehicle more secure, lowering the insurer's liability and, thus, the cost of the premium.
But, the Automotive Research Association of India must approve these anti-theft gadgets (ARAI). Along with these elements, you must also compare online the auto-rickshaw insurance plans of the best commercial vehicle insurance providers before selecting the one that provides the premium and coverage you need.
Buying Process of Auto Rickshaw Insurance
If you are looking to buy auto rickshaw insurance, then you can simply buy it offline or online mode.
Through Online Channels:
To purchase auto rickshaw insurance online, all you need to do is visit the company's website. Several independent service providers, such as Probus Insurance, can assist you in simply finding the right auto rickshaw insurance.
Then, simply navigate the directions, enter your details, and make the payment to proceed with the buying process.
Through Offline Channels:
If you wish to purchase insurance coverage in person, visit the nearest branch. When you visit the branch, you can obtain all the information you require regarding auto rickshaw insurance. However, if the issues continue, you might get assistance by getting in touch with the insurance company.
Frequently Asked Questions