* Subject To Underwriting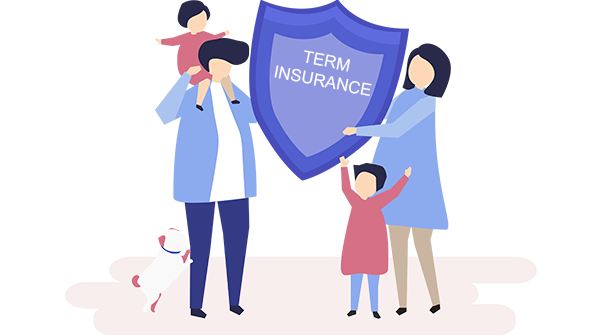 Term insurance is a type of life insurance policy that provides financial coverage for a specific period of time. During the policy tenure, even if the life assured dies due to any unfortunate event, the beneficiary will be provided financial protection under this policy. For a specific 'term' or period of the year, the term insurance plan offers life insurance cover against the fixed premium that has been paid by the insured.
This term insurance plan not only makes you able to avail financial protection but also can offer you to fulfill your future needs such as your child's marriage, his/her higher education, and so on.
Among all the life insurance policies, a term insurance plan provides the highest life coverage for the minimum paid premiums during the period of the policy. For example, Premium for Rs. 1 Crore Term Insurance cover can be availed as low as Rs. 411 per month. Even some insurance companies offer that the fixed premiums can be paid at once or at regular intervals for the entire policy term or for a limited period. Premium amount varies on the basis of the type of premium payment method opted by the buyer.
It has to be remembered that if the life insured survives the entire policy period, the coverage at the earlier rate of premiums is not guaranteed after the term insurance policy expires. The insurer has to either go for the extended coverage with the different payment conditions as per the availability with the insurer or forgo the coverage entirely.
Why Should You Buy a Term Plan?
You should always go for a term insurance plan not only to combat the financial uncertainties but also to provide protection to your family in absence of you as life can be unpredictable. There are multiple other reasons to opt for a term insurance plan and the major ones are as follows.
Protection To Your Family – A term insurance plan helps you to meet the monthly expenses of the people who depend on you or the family members, even when you are not around.

Secure Your Children's Future – This policy also helps you financially at the time of your child's marriage and higher education and some more.

Safeguard Your Valuable Possessions – You can also avail a term insurance policy to buy valuable assets like a house or a car. In case of your unfortunate demise, often the family members find it very difficult to repay the loans. In that situation, the term insurance plan becomes a messiah as the term insurance pay-out can be used for paying off the burdening debts.

Risks Related To Lifestyle – Nowadays, a poor lifestyle is posing a threat to humans as it is inviting the risks of different ailments and diseases. Some term insurance policies not only provide financial protection to the dependents or the dear ones of yours, after the unfortunate death of the insured but also offer critical illness protection for a lifetime. It also pays for the diagnosis of some critical illnesses like cancer or heart attack.

Highly Flexible – Different policy seekers have different requirements according to their necessity. Term insurance plan is highly flexible and one can buy an online or offline term insurance plan according to his convenience and also can change or customize the plan as per his needs.

Massive Coverage, Low Premiums – The term insurance plans offer high coverage at premiums that are affordable to the majority of people. If the policy-seeker buys life insurance plans online, the premium rate becomes even lower due to the absence of agents and middlemen.

Riders Benefit – Most term life insurance plans offer some additional benefits, known as riders, along with death cover to the insured. You can choose riders like accidental coverage, critical illness coverage, return of premium, etc. at a little extra premium cost. These riders ensure that you get the maximum benefits of life cover without expending much from your pocket.
Key Features/Benefits of Term Insurance
A term insurance plan is an inseparable insurance policy in everyone's life as it protects the insured and his family financially, even if after his unfortunate demise and it is specially designed to lower the financial risks in one's life as well. Here are some major highlights or benefits of this policy.
Safety For Loans and Liabilities – After the unfortunate demise of the insured, his family often finds it difficult to pay off the debts or loans. This term insurance gives your dependents relief from financial liabilities such as loans or any other debts.

Protection Against Critical Illness – Along with the life cover, the term insurance plan also offers coverage for the critical illness. For this, you have to add a small add-on and you can avail yourself of a lump sum amount of payment when any critical illness occurs to you for the first time like kidney failure, cancer, heart attack, and some more. An online term insurance plan also offers financial protection to your family and dependents if you suffer any disability or critical illness.
Let's have a look at the benefits it provides.
Supplementary income in case of loss of income due to accidental disability or illness.

You can also get a lump sum amount if you are diagnosed with any critical illnesses that are mentioned in the Policy Document.

Additional sum insured is also available in case of the sudden demise of the insured.
High Sum Assured at an Affordable Premium – As compared to other life insurance policies, a term insurance plan is available at such a low premium that it is affordable for the majority of people. Even a regular term insurance plan, including TROP, generally comes with a 105% return on the premium benefit when the policy matures.

Tax Exemptions – Term Insurance plans offer tax benefits on premiums paid up to Rs. 46,800 under Section 80C. New-age Term Plans with critical illness cover also offer additional tax benefits on premiums paid up to Rs.7,800 under Section 80D. You also get tax benefits subject to conditions under Section 10(10D) on the money that your family receives in case of an unfortunate event.

Protection in Case of Disability – Some insurance companies pay your future premiums in case of total and permanent disability. As a result, your life insurance cover continues even if the insured is unable to pay premiums.

Multiple Death Benefits – If the life assured dies unfortunately during the tenure of the term policy, in that scenario, the beneficiary or the nominee receives the total death benefit that is chosen at the time of the commencement of the policy. Depending on the type of term insurance plan, the death benefit may stay the same over the whole tenure of the plan.
Multiple payment options are available with the different insurers for this plan including the lump sum payment, lump-sum payment along with an annuity that might be monthly, quarterly or yearly, or simply annuity that is spread over the agreed number of years.
Survival and Maturity Benefit – The standard term insurance policy does not come with any survival and maturity benefit. Though due to the increasing demand for it, many insurers have come with a TROP (Term Return of Premium) plan that offers maturity and survival benefit. TROP plan returns the premium at the end of the policy tenure if the life assured survives the term period.

Easy To Buy – It is no longer a tedious job to find a proper term insurance plan according to one's needs as it can be bought online after doing extensive research. It is always advisable to do thorough research before opting for any term policy that can serve all of your requirements.

Long-term Protection – This term policy protects you for a longer period. This remains valid for up to 70 years. With some insurance, it can be extended up to 85 to 100 years of age.

Riders Benefit – One can extend the term insurance plan by choosing for a rider or any other variants that are convenient for the insured, for example, the inclusion of the return of the premium.
Types of Term Insurance Plans
There are different types of term insurance plans that are available with different insurance companies in India. The major types are as follows.
Level/Standard Term Plan – This is the most common type of term insurance plan that is available with almost all the insurance providers in India. For this plan, the sum insured is chosen at the beginning of the policy and it remains constant throughout the tenure of the policy. The lower the age is, the lower the amount of premium has to be paid.

Increasing Term Insurance – With this type of term insurance policy, you can increase your sum assured at specific points in the policy term and the rate of this increase is predetermined. This policy is very much effective to keep up with the rising prices and to ensure that your family or dependents have enough funds to sustain after the inflation. If you can predict the rise in your financial liabilities in the future, this policy is best suited for you. Usually, the tenure of this policy is higher than the other types of term insurance policies.

Decreasing Term Insurance – It is just the opposite of Increasing Term Insurance as the sum insured decreases at a predetermined rate as your age increases. It is for those people whose liabilities decrease and the need for a higher sum assured decrease simultaneously as well with the increasing age.

Return of Premium Term Insurance – It is a new and very popular type of term plan that offers you a savings component, which is generally not offered by others term plans. In the event that you outlive your policy term, all paid premiums till the maturity date are returned to you. It has to be remembered that the return of premium is made only if you haven't made any claim during the policy term.

Convertible Term Plans – A convertible term insurance plan is a policy that can be converted into another type of insurance plan at a later stage; for example, a whole life plan or an endowment plan. If you expect your financial priorities to change in the coming years, you can opt for this type of term plan. For instance, if you are currently risk-averse, but expect to become more flexible in that regard, you can opt for a term plan that can be converted into a whole life plan.
Group Term Insurance Plan – It is specially designed for businesses, companies, organizations, societies, associations, or large families and offers coverage for all the members of the group. This type of term plan provides all the general benefits of a standard term insurance plan but the overall coverage is generally more in terms of illness or other factors that are excluded under the individual term plans. Most of the group insurance plans are available offline as they are flexible and customized according to the needs of the policy-seeker.

Single Life and Joint Life Term Insurance Plan – A joint term insurance plan is cheaper than two individual term insurance plans and in both cases, the benefits and the features remain more or less the same. This plan is best for the couple with the children as it will secure the child's future in case of the unfortunate demise of parents.

Offline and Online Term Insurance Plans – The offline term insurance plans are sold in the traditional methods like through an agent or at the branch of the insurance company but the online term plan is sold on the internet. The online term plans are cheaper than the offline ones due to the absence of the agent or middleman. Even some insurers offer a notable discount on the premium amount to be paid if you choose to buy the plan online.
Best Term Insurance Plans
There are lots of insurance companies in India that provide different types of term insurance plans that are customer-friendly. Here is a table with such term insurance plans below.
Insurers
Term plan
Claim Settlement Ratio (2019 – 2020)
Max maturity age
Policy Term
Aditya Birla Sun Life Insurance
ABSLI LifeShield Plan
97.54%
75 years
N/A
Aegon Life
iTerm
98.01%
100 years
50 years
Bajaj Allianz
Life Cover
98.02%
85 years
10, 15, 20,25 and 30 years
Canara HSBC OBC Life Insurance
iSelect + LumpSum
98.12%
99 years
N/A
EXIDE Life Insurance
Exide Life Smart
98.15%
55 years

10 – 30 years

12 to 30 years

Edelweiss Tokio
Zindagi Plus + Lump Sum
83.44%
80 years
10 to 30 years
Future Generali India
Future Generali Flexi Online-Term Lumpsum
95.28%
75 years

10 years to 65 years minus entry age (smokers)

10 years to 75 years minus entry age (non-smokers)

HDFC Life
Life Option
99.07%
85 years

5 years to 85 years minus entry age (smokers)

10 years to 40 years minus entry age (non-smokers)

ICICI Prudential
iProtect Smart Lumpsum
97.84%
85 years
5, 10, 15 and 20 years
India First
e-Term Plan
96.65%
65 years
5 years to 40 years
Kotak Life
e-Term
96.38%
75 years
5 years to 40 years
Max Life Insurance
Smart Term Plan Life Cover
99.22%
75 years

Regular pay – 10 years to 50 years

Limited pay – 15 years to 50 years

PNB Met life
Mera Term Plan-Full Lumpsum payout
97.18%
99 years
10 years to 81 years
Reliance Nippon Life Insurance
Reliance Digi-Term
98.12%
65 years
5 years to 30 years
SBI Life Insurance
eShield
94.52%
80 years

5 years to 80 years minus entry age (smokers)

10 years to 75 years minus entry age (non-smokers)

Exide Life
Exide Life Smart Term Edge
98.54%
75 years

10 to 60 years
*The CSR has been taken from the IRDAI annual report. The remaining values are taken from the respective plan brochures and are subject to change.
Govt Term Insurance Schemes
The government of India has also introduced different term insurance schemes to safeguard its citizens and to secure the future of the dependents or the family members of the insured in case of his sudden unfortunate demise.
Pradhan Mantri Jeevan Jyoti Bima Yojana (PMJJY)
It is a government life insurance that is open to the people of age group between 18 and 50 years who have bank accounts. It has available only for Rs. 330 per year. The premium amount will be automatically debited from the account. In case of death due to any cause, the payment to the nominee will be Rs. 2 lakh. It is mandatory to link your Aadhar Card to your bank account with proper KYC details to avail of this policy. Most of these accounts had zero balance initially. Now all Bank account holders can avail of this facility through their net-banking service facility or filling a form at the bank branch at any time of the year
Pradhan Mantri Suraksha Bima Yojana (PMSBY)
It is a government-backed accident insurance scheme in India. It is open for the Indian citizens or NRI who are between the age group of18 to 70 years with bank accounts that are linked with Aadhar Cards and with proper KYC details. The annual premium of this policy is Rs.12 exclusive of taxes and the amount is automatically debited from the account. This insurance scheme can have one year cover from 1 June to 31 May and would be offered through banks and administered through public sector general insurance companies. In case of an unexpected death or full disability, the nominee will get Rs. 2 lakh and in case of partial permanent disability Rs. 1 lakh will be given to the same.
Aam Aadmi Bima Yojana (AABY)
It was launched on 2nd October 2007. It provides social security to poor households that are not protected financially and is specially designed for those who do not have regular fixed income like the auto-driver, fishermen, etc. Under the scheme, disability, accidental death, and natural death cover are provided for individuals who fall under certain occupational groups. People who are between the age group of 18-59 years can avail themselves of this policy. The premium that has to be paid by a member is initially charged at Rs.200/- per annum for each member for a basic cover of Rs.30, 000/-. Half of this amount is subsidized by the Social Security Fund.
What is a Term Insurance Premium Calculator?
The term insurance calculator is an online tool that is specially designed to calculate the premium that is to be paid monthly and also one can know the amount of sum assured. it also offers you to do modifications to your sum amount according to your convenience. It is user-friendly and it is to be advised to use this exclusive calculator to know about the relevant particulars before buying any term insurance policy. Some of the benefits of the term insurance calculator are as follows.
Time-saving – Submitting hard copies to get the term insurance premium quotes is time-consuming whereas you can do it with the help of this calculator at your place online. It is also hassle-free and simple to use.

Compare Plans – This calculator also compares different term insurance premium quotes that are offered by various insurance companies. That's why it's become easier for you to select the convenient one.
Save Your Money – The online term plans are cheaper than the offline ones due to the absence of an agent or middleman. Even many insurers offer a notable discount on the premium amount to be paid if you choose to buy the plan online. So use the term insurance calculators to buy the plans online to avail of the opportunity and make the plan pocket-friendly.
What To Consider Before Investing in Term Insurance?
Buying a term insurance policy would be a life-changing decision for you fr a better and secure future. But there are few things that you need to keep in your mind before selecting any term insurance plan. Those things are mentioned as follows.
Decide The Sum Assured
It is necessary for you to understand your requirements and decide the sum assured according to that depending on many other factors. The younger you are, the greater your policy sum assured should be. This is the first step. Policyholders should ideally select an amount that they think will be adequate for their family to maintain their lifestyle, in their absence. But, your premium should not put you under financial stress. There are multiple factors that you need to consider before deciding the sum assured such as
Your age

Your lifestyle

Your regular expenses

Your financial responsibilities

Your active loans

Other insurance policies if you already have any

Estimation about inflation and your liabilities and some more.
Decide Policy Duration
How to choose a term plan with the right policy duration depends on multiple factors. Some of the major factors are as follows.
Your present age. Usually, the younger you are, the longer your policy term and the lesser your premium would be.

Your expected retirement age

Your current income

Your expected rise in income in the next few years

Your financial responsibilities at present and in future

Your plans after retirement.

Major expenses expected in the future like a wedding, travel, education, children, medical costs, etc.
Decide The Type of Policy
You must select a policy that can meet most of your requirements and can provide maximum coverage. There are different types of term policies that are available with different countries in India like Level Term Plan, TROP Plan, Increasing Term Plans, Decreasing Term Plans, and many more. You need to understand your necessities and then analyze the plans and then decide which plan suits you the most. And only then go for any particular plan. It is always advisable to compare the plans online and then choose the most appropriate one.
Select The Right Insurer
As there are multiple insurance companies that offer term insurance plans, you need to select the ideal one for you after considering the following factors.
Claim settlement ratio

Solvency ratio

The financial background of the company.
Decide on The Premium Payment Mode
This is a crucial factor in deciding how to choose a term plan. Many policies offer the option of a single lumpsum premium as well as a regular premium. Policyholders should opt for the former only if they have a substantial amount of extra cash that they can spare.
Decide The Payout Mode
Some insurance companies offer flexibility in choosing one's payout mode. Options can range from lump sum and monthly income to part lump sum-part-monthly income. For beneficiaries who might not be as financially well-versed with investments and who may find handling a large amount of money all at once burdensome, monthly income options would be suitable. For those who are comfortable handling such amounts, a lump sum or part lump sum-part monthly income policy would be ideal.
Intimidate The Existing Policy Details
If you have an existing insurance policy, you must disclose the policy number, company, and other required details to your new insurer. Failing to do so might affect your claim process.
Is Term Insurance Different From Traditional Life Insurance?
Term insurance and life insurance often become synonymous and the policy seekers become confused to decide which one would be the preferable one for them. Both are not the same though they share some common benefits, but differ in various aspects. Let's understand life and term insurance pointing out their differences.
A traditional life insurance policy provides financial protection against the premature death of the insured. Moreover, the plans are designed in such a manner that they help in fulfilling your life goals effectively. On the other hand, the term insurance plan provides financial coverage for a specific period. During the policy tenure, even if the life assured dies due to any unfortunate event, the beneficiary will be provided financial protection under this policy. Term insurance plans promise high coverage at low premiums allowing you to avail a high sum assured which would be able to meet your family's financial requirements in your absence.
The duration of the term insurance plan is usually higher than the traditional life insurance. It is one of the cheapest insurances that makes it pocket-friendly and easily available by all. Term insurance comes with different types of add-on benefits like the Riders benefits that make it more convenient. There are different types of term insurances that are available in the market so that you can customize the plan according to your requirements.
Traditional Life insurance is also beneficial for a policy seeker but after all, it depends on the person, his criteria, and his financial background that which type of insurance he wants. It is advisable to do in-depth research on this and then only go for any type of insurance that suits you and offers you wider coverage.
Factors That Affect Term Insurance Premium
Multiple factors can affect the amount of premium that has to be paid by you. Some of the major factors are mentioned below.
Age – Age is one of the major factors while deciding the premium for term insurance. Since the mortality rate increases with age, the older you are the higher your term life insurance premium will be. Buying term insurance cover early in your life is more cost-effective in the long run but like it, a young one has to pay a higher number of premiums compared to the older one.

Gender – It is believed that women, in general, have a longer lifespan across age groups. So, for a woman, the term insurance premium is likely to be lower than men in the same age group.
Occupation – If your profession is likely to be exposed to different types of risks like accidents, unfortunate events, in that case, your premium amount will be higher than the person who does the desk job.

Policy Term – If your policy term is for a longer period, you have to pay more policy premiums as the insurer has to cover you for a longer period. On the contrary, short-term insurance will have low premium amounts compared to long-term plans.

Lifestyle and Health – Lifestyle habits like smoking, use of other tobacco products, alcohol, also affect your life expectancy and thus term insurance premium. So, a healthy lifestyle will not only give you a happier life but also a cheaper insurance cover. Similarly, your existing health conditions or family's medical history also affects your life insurance premium. One of the most common health conditions is diabetes, which may lead to many other illnesses in the future. You may see a higher term insurance premium in case of an existing health condition.

Medical History of The Family – If your family members have a history of diseases or ailments like cancer, heart or kidney-related ailment, it is likely that you can also have those illnesses in the future. That ultimately increases the amount of the premium.

Residential Area – Regional mortality rates may differ. If the difference is large enough, it may impact the life insurance rates for that area. If your residential area is in a high seismic zone or faces floods or tsunamis, your life cover premium is likely to be higher.

Add-on Benefits – There are multiple extensions available with the term policies. If you want to avail of those add-ons benefits, you have to pay extra premiums for that.
Who Should Buy Term Insurance?
Anyone, who has dependent family members, can consider buying this plan ranging from the young couple, parents, and newly married ones to a bachelor who has dependent aged parents.
Parents – As parents are mostly the sole bread earner of the family and they have children who are dependent on them, term insurance is a good investment for them to secure their ward's future in case of their accidental demise.

Newly Married Couple – For a newly married couple a term insurance plan not only protects the spouse in case of the unfortunate and untimely demise of the insured but also takes care of the liabilities.

Young Professionals – The more you are young, the less premium you have to pay for the term policy. So, it becomes pocket-friendly and can be availed easily. Other than that, having term insurance at a young age means the policy will protect you for a longer period.
Taxpayers – As term Insurance plans offer tax benefits on premiums paid up to Rs. 46,800 under Section 80C and New-age Term Plans with critical illness cover also offer additional tax benefits on premiums paid up to Rs.7,800 under Section 80D, you can avail of the tax benefit long with the life benefit covers.
Term Insurance Riders (Add-on Benefits)
Riders are the add-on coverage of a term insurance policy that can be added to extend the coverage of the policy. But some insurers also provide the riders with in-built coverage. It is very important to check what are the in-built riders and add-on riders offered by the company before selecting any term policy. Some common term insurance rides are mentioned below.
Critical Illness Rider – If the insured is validly diagnosed with any critical illness as pre-mentioned by the insurer, with this critical illness rider he can get the cover for that ailment. The general critical illnesses that are covered under this rider are cancer, heart attack, paralysis, stroke, kidney failure, coronary artery bypass surgery, major organ transplant, and some more.

Accidental Death Rider – If the insured passes away during the policy term because of an accident, this rider pays an additional sum assured to the beneficiary. The percentage of the additional sum might vary from one company to the other. The premium however remains constant for the entire duration of the policy period. This rider is applicable only in the case of an accident, and if the insured passes away due to any other reason, the beneficiary will receive the sum assured by the term plan.

Accelerated Death Benefit Rider – If the insured is diagnosed with a terminal illness, the accelerated death benefit rider allows for their family to get a part of the sum assured in advance, and this amount can be used to cover medical expenses. This rider comes at a low cost.

Accidental Disability Benefit Rider – The disability benefit rider covers the risk of the insured becoming partially or permanently disabled after meeting with an accident. Most policies pay the disabled policyholder a percentage of the sum assured for a period of five to ten years following the accident. As such, these riders can be considered as an income source for the individual and their family members. This rider is often combined with the accidental death rider and only comes into force if the policyholder becomes disabled following an accident.

Premium Waiver Rider  – This rider becomes beneficial when the insured is no longer able to pay premiums, either due to disability or income loss. With this rider, the policy remains active while the future premiums are waived off. Without the rider, considering the insured is no longer able to pay premiums either due to income loss or a disability, the policy expires, and the beneficiary will not receive any death benefit.

Income Benefit Rider – This rider helps to generate income after the death of the policyholder. With the inclusion of this rider in the insurance plan, the policyholder's family will receive additional income every year, for the next five to ten years after the death of the insured, along with the sum assured in the term plan.
Exclusions of Term Insurance Policy
Some of the major exclusions of this policy are as follows.
Death due to a pre-existing health condition

Death due to pregnancy and childbirth

Death caused due to the participation in illegal activities

Self-inflicted injuries: If the cause of death is participation in a hazardous adventurous activity leading to self-inflicted injury, the claim might be rejected by the insurance company.

HIV and AIDS: Insurance claims made against death due to sexually transmitted diseases like HIV or AIDS are not admissible by the insurance company.

Natural Disasters: Deaths caused by natural disasters are not covered by the life insurance company. However, there are often riders available to cover these instances.

Intoxication – If the insured dies due to the consumption of alcohol, drugs or any other intoxicating substances, the policy does not provide any benefits for that.

Homicide: If the policyholder dies due to a murder, the insurance company has the right to put the claim on hold until the acquittal of the nominee. In case the murder is committed by the nominee, the insurance company will reject the death claim.

Delay in Medical Treatment – If you are diagnosed with any critical illness but delay taking the necessary medical steps. In that circumstance, the insurer does not take any responsibility.

War, Public Unrest – If the insurer dies due to war, invasion, war-like situation, strike, riots, or any other public commotion, the insurer does not compensate for that.

Adventurous Activities – If the insurer dies due to any extremely risky sports like scuba diving, paragliding, bunji jumping, river rafting, risky racing events and some more, no compensation will be provided on the behalf of the insurer.
How Can I Buy a Term Insurance Plan?
The buying process of term insurance is very simple. It can be bought both offline and online.
For the online process, at first, you need to go to the official website of the selected insurance company and click on the 'Buy' option. After that follow the required steps as you are instructed by the website itself.
Or else, the company is always there to help you out. Call on the toll-free number of the insurer and you will be assisted with the further steps.
If you prefer to buy the policy offline, you can visit the nearest branch of the selected insurance company and you will be assisted by their experienced employee manually for purchasing this plan. Or else, you can also contact a policy agent who will serve your purpose smoothly.
How Can I Claim For a Term Insurance Policy?
For availing a smooth and easy claim settlement process you can follow the below-mentioned steps:
For filing a claim, at first, intimate the insurer, which can be done through both offline and online methods. If you want it offline, then visit the nearest branch of the insurance company and register your claim. Otherwise, you can opt for an online option too. For that, visit the official website of the company and there you will find a 'Claim' option. Click that option and follow the instructed steps to register your claim. You can also call on their toll-free number to get assistance with the claim registration.

After registration within the stipulated time, you need to submit all the documents supporting your claim along with the duly filled and signed claim form.

If it is required, report to the police or the concerned authority. And produce those reports or FIR before the insurer.

Medical reports, statements of the doctor, doctor's prescriptions, hospital bills, discharge documents, report of postmortem everything are needed to be kept securely and wherever required, you have to produce them.

In most cases, a surveyor is appointed on behalf of the company to assess and evaluate the situation and to make a report of that. Keep a copy of that report as it might be necessary for future reference. Remember, your claim approval highly depends on the surveyor's report, so cooperate with him and the insurer.

Do not produce any wrong and misleading information. If you do such, your claim will be rejected immediately.

It would be wise if you keep a copy of your term insurance policy and produce it whenever asked.
Note: If the nominee dies along with the policyholder, the next legal heir can avail of the death benefit. If the nominee or beneficiary dies before the insured, he has to appoint some other person as his nominee or beneficiary before the policy expires.
Required Documents For The Claim Settlement Process
Original policy bond

Copy of death certificate and self-attested by the nominee.

Photo identity proof

Residential proof

Copy of bank passbook of the nominee along with the cancelled cheque.

Copy of FIR, if any.

Report of the concerned legal authorities, if any.

Copy of post-mortem report, in case of non-accidental death of the insured.

Copy of the report of the medical and legal cause of death

Medical reports

The certificate issued by the attending physician

Hospital bills, discharge certificate.
Term Insurance Plans - FAQs