Renew in just 5 mins.
No Inspection.
No Paper Work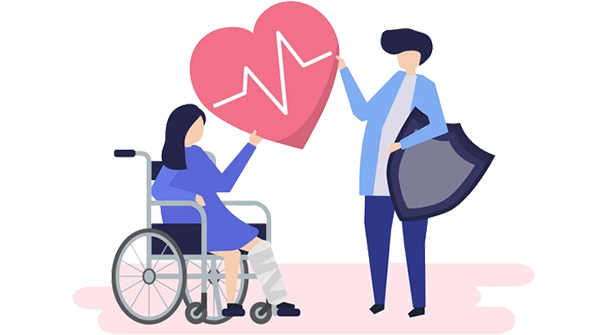 Personal Accident Insurance
Personal Accident insurance or PA insurance is an annual policy that provides compensation in the event of injuries, disability or death caused solely by violent, accidental, external and visible events.
Accidents can occur anywhere and anytime, and due to medical costs skyrocketing day by day, it's essential to have accident insurance. Personal accident insurance is a contract between an insurance company and the person insured, in which the former agrees to compensate the latter or his/her family members financially, in the event of permanent disability or death caused solely due to an accident.
Therefore, with personal accident insurance, you can protect yourself as well as your family members from the unexpected expenses that may arise as a result of an accident. If the policyholder dies in an accident, his/her nominee is entitled to accidental death benefits.
Features/Benefits of Personal Accident Insurance
As every insurance product is designed to provide a specific level of coverage, it's important to understand the key features and benefits of personal accident insurance.
Keeps You & Your Family Secure
It would have a huge impact on your earning potential if you become incapacitated as a result of an accident. Personal accident insurance can provide financial security to you and your family by providing financial protection in the form of accidental compensation.
In the event of death, insurance firms provide 100 percent compensation. The money can be used to pay off debts (if any) and maintain the surviving lifestyle. It also gives you the assurance that your family will be financially secure even if you are not present in their life.
Medical Tests? – No Need for It!
This is another big advantage of having personal accident insurance. You do not need to take any exams, unlike with health insurance, where the insurance provider asks you to undertake medical examinations before granting the coverage.
Minimize The Documentation Process!
Do you know one of the main reasons why many people avoid purchasing insurance? It is because they believe the procedure is difficult and requires a lot of paperwork.
The truth is that when you buy personal accident insurance coverage, you don't have to worry about the paperwork. The insurance firm will issue the coverage when you give basic information in the application form.
The Coverage That Knows No Boundaries!
The majority of insurance policies come with territorial limitations, meaning they don't cover losses that happen outside of your country. However, there is no such restriction with personal accident coverage. You may count on receiving the payout regardless of where the accident occurred. In simple terms, you have global coverage.
Claiming Process Is Just a Cakewalk!
An uncomplicated claim process is one of the most important factors that most insurance buyers consider while purchasing personal accident insurance. The claim process is simple regardless of the type of accident policy you purchase. You just need to submit an application to the insurance company and the claim amount will be paid out once the insurance company has verified the claim. It's that much easy.
In addition to the above, most of the policies provide a cover for any kind of amputation causing due to an accident. Certain insurers have predefined percentages and ratios in which the benefit will be payable to policyholders who suffer from any kind of amputations of body parts, such as hands, limbs, ears, etc. If an injury to any part of the body renders it beyond economical repair, the policy will cover for disfigurement up to a predefined amount. This means that you can be compensated for medical bills as well as lost wages if you're unable to continue working in your primary profession.
Types of Personal Accident Insurance
Individual Accident Insurance
This policy provides insurance benefits to an individual in case of any accidental damage that may result in permanent disability or loss of life. It is the best for self-employed, salaried individuals, as well as people that are engaged in a business.
Individual accident insurance protects you from the financial loss and misery of an unexpected accident. You can use the coverage amount to treat injuries, buy medicines or make travel arrangements for treatment at another place instantly.
Group Accident Insurance
A group accident insurance plan is a type of employee benefit. It protects against accidents such as injuries that occurred on duty or while traveling for work purposes. A group accident insurance plan will only pay out a limited amount of money when compared to an individual accident insurance plan.
Group accident insurance policies are low-cost and may be a good idea for small businesses. While they offer limited coverage, they may be especially beneficial to small companies under a certain size. Accident protection is a great way for employers to save money on coverage for individual employees. When you get an individual accident plan, you can focus directly on your unique needs and find a perfect fit.
Best Personal Accident Insurance Plans
Having the best personal accident insurance plan is extremely pivotal for medical exigencies that can arise due to an accident. Therefore, here is the list of some of the best personal accident insurance plans that you can consider purchasing. We have chosen these plans based on the entry age and decent sum assured amounts.
Insurer
Personal Accident Plans
Age in years
Policy Terms
Coverage Amount
Manipal Cigna
Protection Accident Care

Minimum – Children 5 years

Adults – 18 years

Maximum – Children – 25 years

Adults – 80 years

1/2//3 years
5 lakhs to 10 crores
Aditya Birla Capital
Active Assure Personal Accident Plan
5-65 years
1/2//3 years
Up to 12 times of annual gross income for an earning member.
Bajaj Allianz Insurance
Bajaj Allianz Personal Guard Plan
N/A
Annual
10-25 lakhs
Bharti AXA insurance
Bharti AXA Smart Individual Plan
18 to 70 years
Accidental death benefit 2 lakh to 20 lakh as per plan variant
N/A
Future Generali Insurance
Personal Accidental Insurance
18 to 70 years
N/A
Up To 144 times of annual income
Kotak General Insurance
Kotak Accident Care
5 to 65 years
1 to 3 years
N/A
Max Bupa Accident Insurance
Personal Accident Insurance
18 to 65 years
1 to 2 years
5 to 25 lakhs
National Insurance
Personal Accident Plan
5 to 70 years
1 year
72 months gross pay or Rs. 10 lakhs whatever is less
Oriental Insurance
Janata Personal Accident Policy
10 to 80 years
1 year
25,000 to 5 lakhs
Reliance Insurance
Individual Personal Accident Policy
18 to 65 years
1 year
5 to 75 lakhs
Star Health Insurance
Accident Care Individual Insurance Policy
18 to 70 years
1- 3 years
5 to 15 lakhs
SBI General Insurance
Individual Personal Accident Plan
18 to 65 years
1 year
1 to 10 lakhs
United India Insurance
Individual Personal Accident Plan
5 to 70 years
1 year
25,000 to 10 lakh
Disclaimer– The values are taken from the respective plan brochures and are subject to change.
Who Should Buy Personal Accident Insurance?
Some professions are way riskier than other professions, such as doctors, drivers, pilots, etc. If your work requires you to travel frequently or exposes you to toxic chemicals, you certainly require a personal accident insurance plan. The riskier the work, the more will be the chances of meeting with an accident. Have a look at some of the high-risk jobs:
| | |
| --- | --- |
| High-Risk Jobs | Very High-Risk Jobs |
| Builders & Contractors | Journalists |
| Engineers | Workers In Explosive Industries |
| Motor Mechanics | Pilots |
Even if your profession is not so risky, various other factors play a vital role in making your life riskier. With traffic jams increasing day by day, rash driving, road rages, and visible potholes everywhere, the chances of having accidents increases. Due to such road conditions, accidents can occur as unforeseen events.
With the help of an accident insurance policy, you and your family members will have a much-needed financial cushion during such emergencies.
Things to Consider Before Buying Personal Accident Insurance
Buying personal accident insurance cover is no more than buying a protective shield against unforeseen events. Mentioned below are a few factors to consider while choosing your personal accident policy.
Type of Plan: Different types of insurance plans differ in features, coverage, tenure, and many other things. When it comes to personal accident insurance, you can choose from two major types of plans. You can either buy an individual or a family plan that covers you against accidents that may occur at any time of your life.
Premium: You should always check the premium amount before buying a personal accident insurance policy. In case your life is at higher risks, the premium rates will also go higher. And in case you are not exposed to any kind of toxic environment in your daily life, the premium rates will be lower.

Policy Coverage: A comprehensive insurance policy covers all potential situations that may lead to accidents, even though it happens at home or work. Therefore, always try to choose such a policy that can provide you with wider coverage.
For a safer and hassle-free environment, you should be well-equipped with reliable insurance. It is important that you know your rights and has the right coverage.
Benefits: Permanent total disability, permanent partial disability, and accidental death are some of the inbuilt benefits that you need to look out for. Make sure that the plan also provides for emergency transportation and hospital costs. The inbuilt benefits are a case of saving you money. But just in case something goes wrong, be sure that your policy covers what could go wrong. A good insurance policy should take care of you in the event of an unfortunate accident.
Claim Settlement Process: To get the maximum in your insurance claim, do a little homework first. There are certain documents you must have ready before you file the claim. The settlement process should be easy to understand.
What is Covered and Not Covered in a Personal Accident Insurance Policy?
When you're considering personal accident insurance, one of the questions that may linger in your mind is that what's covered and what's not covered under the policy. Let's have a look at them!
In the unfortunate case of death due to an accident, a significant amount will be paid to the nominees. The family members can use this money for arranging the funeral and starting any small business that they may want to set up.
Permanent/Total Disability Cover
When you're injured in an accident, the last thing that you should have to worry about is how you're going to survive financially. The policies exist to give you the security and peace of mind that come from knowing that your income will be protected if you become temporarily or permanently disabled.
The disability benefit is designed to cover your essential living expenses while you get back on your feet and to provide additional income if your disability results in a permanent inability to work.
Permanent Partial Disability
Like any disability claim, your permanent partial disability (PPD) claim depends on the type of disability you're claiming. If you or a family member has suffered from an accident and has lost a part of their body, as a result, don't worry. Accident Insurance gives the best insurance coverage to make sure that you can lead a happy, comfortable life.
Temporary Total Disablement
If the insured is bedridden due to temporary total impairments, the insurer will pay a weekly allowance to compensate for the loss of income. In the event of a loss of earnings, the insured might use this claim amount to pay the EMIs.
Transportation of Mortal Remains
No one should worry about how they are going to pay for the last rites of their loved ones. Therefore, various insurance providers offer assurance that they will cover the freight costs for your loved one, who died tragically.
Trying to commit suicide or any harm that is done intentionally.

Any pre-existing injury or disability

AIDS or HIV

Terrorism

Death which occurs due to pregnancy or childbirth or pregnancy

Others
How Much Accidental Insurance Coverage Is Enough?
It's important to think about how much accidental insurance coverage is enough for yourself. As a thumb rule, Accidental insurance should be 100 times your monthly income. To find out how much you need, simply multiply your monthly by 100. By way of example, let's say your monthly income is Rs. 30,000. Thus, 30,000 multiplied by 100 would bring us to a figure of 30,00,000. This simply means that you can buy accident insurance for Rs. 30,00,000.
This policy is a good idea for anyone who earns any income. You can choose how much cover you need and if one day you suffer any injuries or other similar life-changing events like the death of dependents, accidents and the 80% of your current income will be paid to them.
The biggest fear any earning individual has is their family's security when they are gone. This worry is the reason behind most financial products offered for your family. To eliminate this problem, we offer you our Accidental Insurance policy that will cover all your family members.
How to Buy Personal Accident Cover?
Well, that's easy!
Contacting The Insurance Provider: You can pay a visit to one of the branches of an insurance service provider who will help you through the entire purchase process. They will ensure you leave the branch with the cover you need and a smile on your face.

Submitting The Essential Documents: All the essential documents must be submitted to the insurance company while purchasing the insurance plan.

Analysis & Verification: The insurance company will then analyze and verify your documents to give you a green signal to purchase the policy.

Start Paying Premiums: Once your verification is done and the company gives you the policy, start paying premiums. Congratulations, you have successfully purchased the accident insurance.
Note- You can also purchase a personal accident policy by filling up the details on the respective insurer's website.
How To Claim for Personal Accident Insurance?
Let's have a look at the steps which are required in claiming the insurance without any difficulty.
Informing The Insurance Provider: First of all, after the happening of an unexpected event, the policyholder must inform the policy company about the details regarding the accident. They can contact the policy company through the ways of customer care service and their website.
Submitting The Policy Documents: After this comes one of the most important steps: providing the policy documents. Policy documents play a major role in claiming the policy. These act as proof that the policy being claimed belongs to the respective company.
Filling The Claim Form: Once the policyholder is done with the above two steps, then he has to fill the claim form which is provided to him by the company. This form needs to be duly filled with all the details to be included inside it.
Examination: Once all the above-mentioned steps are completed by the policyholder, then comes the job of the insurance company to examine the situation. The insurance provider performs scrutiny to examine the case. Once they are done with the examining, they reach their decision.
The decision can be either accepted or rejected. This decision is dependent upon the claims provided by the policyholder to the company. If the claim form and the documents are accepted, then the company will surely transfer the amount mentioned in the policy to the bank account provided by the policyholder.
Settlement Of the Claim: After examining every aspect, the insurance provider settles the claim. If in any case the details and documents provided by the claimant were not enough, the claim may also get rejected. The company then gives the policyholder another chance to give them some more documents and the required information. If after that also the company is not satisfied, they will reject the policy claim.
Documents Required for Claim Process
It is critical to be aware of the paperwork that must be presented to the insurance provider in order to receive personal accident insurance claims on time. For various types of claims, different sets of documentation are required. Let's have a look at some of the paperwork, which may change depending on the supplier.
Duly filled in claim form

Post-mortem report

Doctor's report

Death certificate

Disability certificate from a doctor

FIR copy

Discharge summary, if hospitalized

Medical certificate

Medicine bills

Investigation report
Frequently Asked Questions