Secure Business By Liability Insurance
Compare Premium.
Buy Now.
* Subject To Underwriting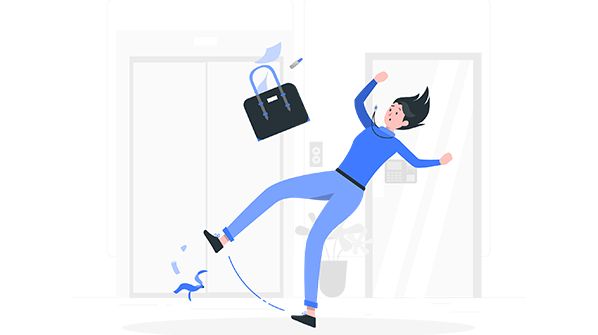 Public Liability Insurance
Public liability insurance policy is a type of business insurance cover, invested by the business personals that offer the financial costs of claims made by the public that have a certain connection with your business activities. Due to your work or business activities, if any third party happens to be injured or if their property is mangled, that third party can also make this claim against you. Because of this reason, it can also be called Third-party Liability Insurance. This can not only put a huge financial loss on your shoulder but also harm the smooth flow of your business.
For example, a customer has come to your office and suddenly he slips and his knee gets injured due to the unevenness of your floor that lands him in the hospital. Now if they wish, legally they can make a claim for their financial loss against your insurance as compensation. Here, Public Liability Insurance becomes a messiah for you as it offers to cover the legal costs as well as other payable compensations related to a successful claim that is made by the customer / third-party against you.
So, if you are associated with some works or business where you need to maintain contacts with the public or third-parties often and they need to enter your premises necessarily, it would be advisable that Public Liability Insurance is essential for you.
What Are The Key Features of Public Liability Insurance?
Public Liability Insurance policy is a saviour for many people who come in contact with members of the public regularly. Let's have a look at the key features of this insurance plan.
You can generally choose from three types of Public Liability Insurance according to your nature of work or business.

If you want comprehensive protection, there are multiple extensions available with this insurance policy. This may vary from company to company.

This policy covers the sum which the insured becomes legally liable to pay as damages to the third party.

This policy also offers coverage for financial loss due to accidental death, bodily injury, disease, and damage or loss of property.

It has a smooth and user-friendly claim process.
What Are The Key Advantages of Public Liability Insurance?
You can provide your business financial protection from unforeseen losses with the help of this policy. You can avail of multiple benefits. Some major advantages are as follows.
Bodily Injury – If any injury happens to the third party after entering your office and that has a direct connection to your business, the medical expenses will be covered by this policy.

Personal Injury – This policy also protects you from the offences like false arrest, wrongful entry, negligence slander, and so on.

Property Damage – Any basic third party liability arising due to the damage that has occurred to the property of the third party, that comes under the coverage of this policy.

Legal Coverage – This policy covers the legal expenses of the lawsuit against you brought by any customer.

Liability Arising out of Advertising Rights – The general liability insurance protects you when your marketing division does any copyright violation of the member of the public and liability arises out of this condition.

Contractual and Tenant's Liability – If you run your business in a rented place, and any liability arises if you have entered into a leased contract, this policy bears that expense.
Different Types of Public Liability Insurance
Though in India, there are no fixed types of Public Liability Insurance and it may vary from company to company, commonly the following types of this insurance policy are offered.
Public Liability for Industrial Risks – For Godowns, warehouses, or other manufacturing units.

Public Liability for Non-industrial Risks – For non-manufacturing units such as BOPs, IT firms, hotels, restaurants, schools, clubs, and so on.

Public Liability Act (1991) – As per the Public Liability Act, 1991, Business Units that deal with hazardous substances.
What Are The Inclusions Under Public Liability Insurance?
Anyone with whom you interact with the association of your business activities, except the employees can be covered under this Public Liability Insurance policy. Usually one can avail three types of Public Liability Insurance coverage likely Public Liability for Industrial risks, Public Liability for Non-industrial risks, and for all Business Units that deal with hazardous substances.
Here look at the major inclusions of this insurance policy below.
Bodily injury: If a third party is injured while attending your office, this policy covers the costs of the medical emergency, if the criteria are fulfilled.

Property Damage: This policy helps to cover damage done to a third party's property. For instance, a client has come to your store to meet you for some business deal. Suddenly, unintentionally one of your employees spills the tea on the client's expensive cloth. In this case, this policy will help you financially to replace or clean that cloth and the other damaged things, if any.

Legal Expenses: It also covers the expenses of hiring and paying an investigating officer or lawyer to represent your business in a lawsuit brought by a customer or someone else is covered by the policy

Accidental Damage or Injury: If accidentally any damage or injury happens to the third party within your premise or if the same happens from your products, activities, and promotional ads and you face an approved third-party liability claim, that expenses will be covered by the Public Liability Insurance policy.
Here are some list Extensions that you may include
If you want a comprehensive cover for a business to run flawlessly, you can avail multiple extensions that are available with the company. The general extensions are as follows.
Natural Calamities – You can cover your legal expenses arising out of natural calamities.

Sudden and Accidental Pollution – To safeguard your business from this type of expense you can add this additional benefit with your Public Liability Insurance policy.

Transportation – If you face any legal expenses related to the transportation associated with your business activity, you can add this extension to avoid that loss.
Carriage of Treated Effluents etc – You can also extend your existing Public Liability Insurance policy to cover the legal expenses arising due to the carriage of treated effluents etc.
What Are The Exclusions Under Public Liability Insurance?
Public Liability Insurance has some exclusions. The major exclusions of this policy are as follows.
Professional Errors – The Company only compensates for the liabilities that arise due to third-party injury, property damage, disability, and so on. But if you do any professional error, that you have to buy professional liability insurance, separately.

War or War-like Situation – If you face any financial loss due to war or war-like situations, this policy does not cover them.

Intentional Damage – If you do any damage willingly, and if that is proved, that deliberate damage will not be covered by the insurer.

Nuclear Group of Perils – Damages arising out of ionizing radiations are excluded too.

Business Property Damage – The insurer only takes care of the third-party liability damages. If your own business property gets damaged, the company does not cover that.

This insurance policy does not cover any financial loss arising due to fines, punitive, penalties, or exemplary damages.
Which Factors To Remember Before Going with Public Liability Insurance?
There are some key factors that you need to remember before selecting any Public Liability Insurance. Let's have a look at the key factors.
Know Your Business Requirements – At first, you need to assess and evaluate your business and the risks that your business is exposed to. Only then go for any insurance policy according to your convenience.

Know Your Clients' Contracts in Detail – It might be possible that your client has a minimum public liability insurance clause. In that case, if you do not have that level of cover in place, you might be breaching your agreement.

Go Through The Policy Wordings Thoroughly – Before, selecting any company, go through their Policy Wordings minutely and know your policy in detail.

Cooperate With Your Insurer – In case of a successful claim process, provide all the required documents as prescribed by the insurer company. Never try to provide any false information to them; otherwise, it may hamper your smooth business flow.

Anyone Can Make a Claim – Any regular visitor of the public, who comes to your office premise frequently, can be injured within your property or they may have some connections of their damage with your business easily. So basically, any one of the public can make a claim against your company is real.
Do You Need Public Liability Insurance and Why?
As a business owner, you have lots of responsibilities on your shoulder. Hence, having a Public Liability Insurance policy might be at the bottom of your preference list.
But if you meet members of the public for work purposes regularly and they enter your office premise frequently and unfortunately meet any accident or their property gets damaged that has a direct connection with your business, they can file a claim against you.
In that case, if it is a successful claim, you have to bear all the costs related to the claimant's injuries and the overall losses. Rather than that, you will also have to pay all the legal costs, medical expenses, and court fees to all the parties that are involved. So, the financial pressure will be huge and it may hinder your smooth business flow.
But, if you have Public Liability Insurance, the insurance company takes care of all the financial losses that you may suffer due to the approved claim of the third party. It reduces the risks that your business is exposed to and provides you with a hassle-free, shiny business flow.
Whether you need public liability insurance depends on where your business is located and its specific needs. It would be highly advisable to have a Public Liability Insurance policy if your business meets the following criteria,
If the client frequently visits your office.

Out of business requirement, if you need to get access to any of your client's assets.

If you represent your client's business.

If you are using a third-party site for your business demands.
How To Select Public Liability Insurance For Yourself?
Selecting the proper kind of public liability insurance to protect your business is vital. There are various insurance companies with huge numbers of policy options with different types of benefits and that becomes very confusing. But take baby steps and start by knowing your business risks and then analyze the type of coverage you need. You can easily buy it online and also can make a comparison with the other insurer companies and their products.
While comparing, you can take into account the following factors – claim settlement ratio, exclusions, inclusions, extensions, amount of the premium, and so on. Only then, you can select the right one that fits your business requirements.
If you are not willing to choose the online process, you can also visit a nearby branch of the company and buy insurance offline. Be it online or offline; just make sure that the insurance pays off.
Claim Process of Public Liability Insurance
There is no fixed and definite process to claim public liability insurance. It varies from company to company.
Usually, whenever a claim is registered, a surveyor is appointed on behalf of the company to investigate the entire scenario and to evaluate the damages. In case of liability, the court is there to determine the liability amount and the insurance company has to settle that accordingly.
In the case of the claim process of this insurance policy, few things are to be remembered.
This claim process is different from other claim settlements as it involves the court and requires its judgment.

Inform the insurer immediately whenever a liability claim arises.

Provide all the required documents without fail.

Complete all the formalities without any delay.

Never give any wrong information to the insurer.

Cooperate with the surveyor and others.
Frequently Asked Questions
1. Does this policy cover the losses for my own business?
No, it will not as this policy is particularly designed for third-party liability.
2. Is this policy mandatory for all business owners?
No, till now it is not mandatory. It is totally your choice. But Public Liability Insurance provides your business overall financial protection against a successful third-party liability claim.
3. Are all the business categories covered under this policy?
No, not all the business categories are covered. It varies from insurer to insurer. For this, you need to follow the Policy Wordings of the selected company.
4. Due to one of my employees' defective workmanship, a client's product got damaged. Will it be covered?
No, this insurance does not cover losses due to defective workmanship.
5. My client's product got damaged due to a road accident while I was transporting some goods. Does the public liability insurance cover this?
Yes, this policy covers this type of loss.
Other Corporate Insurance