Renew in just 5 mins.
No Inspection.
No Paper Work
* Subject To Underwriting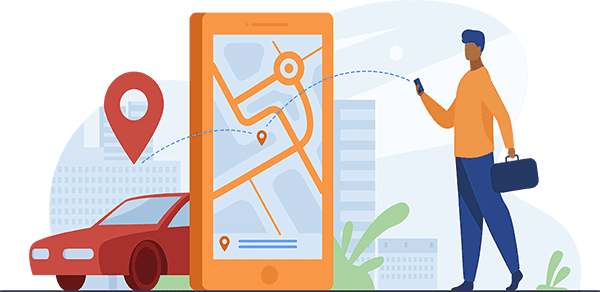 Compare

Passenger Carrying Insurance
What is Passenger Carrying Vehicle Insurance?
Passenger carrying vehicle insurance is a type of commercial vehicle insurance designed for commercial agencies that utilize vehicles to ferry passengers. This policy provides protection to these vehicles in the event of damage or loss as a result of unforeseen events such as accidents, natural or man-made disasters, or even fire.
You can purchase Passenger Carrying Vehicle Insurance for the following vehicles:
| | |
| --- | --- |
| Type of Vehicle | Variants Covered |
| Bus | School buses, private tourist buses, buses used to ferry passengers |
| Auto rickshaws | All auto-rickshaws transporting people |
| Taxi | Taxis, private company commercial cars that transport passengers |
| Vans | School vans, private minibuses for tourists |
What are the advantages of having insurance for Passenger Carrying vehicles?
Like any insurance policy, passenger carrying vehicle insurance also protects one from expenses that arise from damage to the vehicle due to accidents and events that may be natural or man-made in nature.
Damage to own vehicle or third party – A Passenger Carrying Vehicle Insurance policy protects against damage caused to one's own commercial vehicle as well as any liability arising out of damage to or injury and death of a third party – property, vehicle, and person.
Personal accident cover for owner-driver – The insurance policy provides a personal accident cover for the owner-driver in the event of an accident.
Cover for passengers – Opting for this cover ensures protection for the passengers commuting in the commercial vehicle at the time of an accident.
Compliance with the law – The Motor Vehicles act mandates that all commercial vehicles plying on the roads be insured with at the very least a third-party liability cover.
Financial safeguard – The policy not only provides financial coverage against damages but also against theft. The insurance policy protects against the cost arising in the event of the vehicle being stolen.
Is Passenger Carrying Vehicle mandatory in India?
In the year 1988, the government passed the Motor Vehicles Act which regulates all vehicles plying on Indian roads with respect to the license of the drivers and conductors, vehicle registration, permit control, traffic rules and regulations, insurance, penalty, and liability. The law mandates that vehicles be driven by persons holding a valid driving license, and no vehicle can ply on the road without valid registration.
In addition to these rules, it is also mandatory for vehicles of all classes to be insured, at the very minimum, with third-party liability coverage. Without it, the company owning the commercial vehicle may be at risk of incurring significant penalties.
What are The Features and Benefits of Passenger Carrying Vehicles Insurance?
Buying an insurance policy for Passenger Carrying Vehicles has numerous features and advantages.
| | |
| --- | --- |
| Features | Benefits |
| Own-damage and third-party liability cover | Coverage offered for damage to own vehicle and liability arising in case a third party is involved. Comprehensive coverage includes both third-party liabilities as well as own damage covers. |
| Personal accident cover | Personal accident cover is offered for owner-driver and passengers commuting in the vehicle. |
| Competitive pricing | With so many insurance providers offering insurance for passenger carrying vehicles, compare and choose from the best insurance companies. |
| Easy online purchase | Pay the premium online to buy the policy for passenger carrying vehicle insurance. |
| No-claim bonus | Insurance companies offer a no-claim bonus of 20% to 50% discount on your premium during policy renewal if a claim is not filed during the previous term. The longer you go without filing a claim, the higher the discount. |
| Add-ons | Select from a range of add-ons to add value to your insurance policy. |
| Go cashless | By taking the vehicle to a network garage that has tied up with your insurance provider, you can avail of cashless settlement. |
Who Can Buy Insurance For Passenger Carrying Vehicles?
Under the 1988 Motor Vehicles Act, any vehicle that runs on Indian roads must be insured. So, if you or your company owns any type of vehicle that plies passengers from one place to another, your vehicle must be insured. This vehicle can be a tourist bus, private taxi, or autorickshaw. It can also be a minivan, a commercial car, or even a school bus. Even if you own an Ola or Uber car, the vehicle must be insured as per the law.
What Are The Different Types of Policies Available?
Along with the mandated third-party liability policy, insurance providers offer other types of coverage for your Passenger Carrying Vehicle.
Third-party Liability – This policy covers financial liability that may arise from damage, injury, or death in case a third party is involved.
Comprehensive Coverage – This type of policy includes the third-party liability cover along with an own-damage cover that protects against costs arising from damage to your own vehicle. The damage may be because of natural or man-made calamities, or an accident.
Add-ons – Insurance companies offer add-ons that are not a part of a regular package or third-party liability policy. The aim of add-on covers is to enhance the protection that is offered under a regular policy to tailor it to suit your requirements. While this may result in a higher premium, the coverage it offers is also significantly higher than that of a normal policy.
Things To Keep in Mind While Purchasing Passenger Carrying Vehicle Insurance?
With vehicle insurance being mandatory, there are a few things to bear in mind before as well as while purchasing a policy.
Do Your Research – Information is power. Always read up on the type of insurance policy you wish to purchase. Compare the benefits that different insurance companies provide.
Do You Need That Add-on – Add-ons can offer extra coverage in unlikely events. However, indiscriminately purchasing add-ons can shoot up the price of your premium. So, be wise and only choose the ones that you will benefit from.
Read The Fine Print – Would you ever sign a document before reading it first? If you do, you shouldn't. Always go through the terms and conditions of the policy so that you know what you're buying.
Insurance Provider – Research about the company from where you buy the insurance policy. Understand how they provide the service and what their claim settlement ratio is.
What's Included With Passenger Carrying Vehicle Insurance?
The standard inclusions for passenger carrying vehicle insurance are –
Accidents – In the event of an accident, the policy covers the cost of damage to or loss of the vehicle.
Theft – If the insured vehicle is stolen, the policy covers the expenses that the policyholder may face.
Fire – In the event, the vehicle sustains damage or loss, the insurance policy covers the expenses incurred.
Natural Disasters – The policy covers expenses from damage to or loss of the vehicle due to natural disasters such as floods, thunderstorms, hailstorms, cyclones, lightning, earthquakes, etc.
Personal Accident Cover – The insurance policy for passenger carrying vehicles provides personal accident cover for the owner-driver. An add-on can be purchased for coverage to the passengers.
Third-party Liability – In the event, a third party is involved in an accident, the policy covers legal liability that may arise in the situation.
Own-damage Cover – Comprehensive policies cover damage to or loss of the insured vehicle and protect the policyholder against expenses that may arise.
Man-made Calamities – Protection may be extended to the policyholder in case damage or loss is incurred due to events such as riots and strikes.
What is Excluded With Passenger Carrying Vehicle Insurance?
Passenger carrying vehicle insurance policies have some standard exclusions. They are:
General Wear and Tear – Expenses that arise from general wear and tear due to the use of the vehicle are not covered under the policy.
Consequential Loss – Any loss that arises from previous damage, also known as consequential loss, is not covered.
Own Damage For Third-party Policyholder – If the insured vehicle only has third-party coverage, then expenses for damage to or loss of the policyholder's vehicle will not be covered.
Driving Under The Influence – Any damage or loss incurred while driving the vehicle while under the influence of alcohol or drugs is not covered.
Driving Without a Valid License – If the vehicle incurs loss or damage while the driver does not have a valid license, a claim made in such circumstances will not be covered.
Deliberate Damage – Any damage that may be done deliberately is not covered under the policy.
Negligence – If the vehicle is damaged or sustains loss due to negligence, the expenses arising will not be covered. One such situation may be that the vehicle is being driven against advice in an area that has already flooded.
Mechanical or Electrical Breakdown – Any damage or loss due to the electrical or mechanical breakdown of the vehicle is not covered under the policy.
Mandatory Deductible – The policyholder will be required to pay the deductible as outlined in the policy document. This amount is not covered under the insurance policy.
With add-ons, different insurance providers offer different options. But some of the general options are:
| | |
| --- | --- |
| Add-ons | Benefits |
| Nil depreciation | This add-on waives depreciation on plastic and metal spare parts that may require replacing if damaged in a valid claim. |
| Windshield glass cover | Any cost from damage to the front and/or rear windshield is covered under this add-on. |
| Enhanced personal accident | The standard insured amount for a personal accident cover is INR 15 lakh. This add-on provides additional coverage on top of the standard amount. |
| Accident cover for passengers | This add-on provides coverage to passengers in the vehicle at the time of the accident in the event of injury or death. |
| Return to invoice | The add-on protects the invoice value of the vehicle as opposed to its insured declared value. |
| Consumables cover | Consumables such as nuts and bolts, engine oil, etc. are covered for a maximum of two claims under this add-on. |
| NCB protection | Protects your no-claim bonus discount on your premium if a claim is filed during the policy term. |
| EMI protection | This add-on covers a maximum of 3 EMIs per claim if the vehicle is non-drivable due to damage or loss. |
How Can I File a Claim For My Passenger Carrying Vehicle Insurance?
In the event of damage to loss of the vehicle in a circumstance covered under the policy, you will need to file a claim.
Call the insurance provider and intimate them of an impending claim.
File an FIR and collect the relevant documents from the police.
Take your vehicle to the nearest garage approved by the insurance company.
Submit the documents required by the insurance provider to process your claim.
If the claim is cashless, the amount will be disbursed directly to the garage. If not, you will have to pay for the repairs and the amount will be reimbursed to you.
What Documents Do I Need To File a Claim?
To file a claim with your insurance provider, you will need a set of documents that you are required to submit for successful disbursement of the claim amount.
Claims form – duly filled and signed
A copy of the police FIR
No-trace certificate issued by the police if the vehicle is stolen
The insured vehicles registration certificate
The driving license of the person driving the vehicle when the accident took place
A fitness certificate
What is The Use of a Premium Calculator? How Can I Get a Quote Online?
Different insurance companies provide differing coverage. Even with standard comprehensive and third-party policies, the premium amount can vary from company to company. A premium calculator will give you a general idea of what amount you can expect to pay for your premium.
One of the main advantages is that the premium calculator takes into account the factors that companies generally use to fix your premium and calculates the amount that you can expect to pay. It's quick and barely takes any time at all. This can help you make an informed decision regarding your insurance without wasting precious time.
Here's how you can get a quote online
Enter your basic details and contact information.
Enter the details of the passenger carrying vehicle that you wish to insure – the make and model, year of registration, registration number, previous insurance details if any.
You will get an estimate of the premiums charged by different insurance providers.
Go through the details to make an informed decision.
Frequently Asked Questions