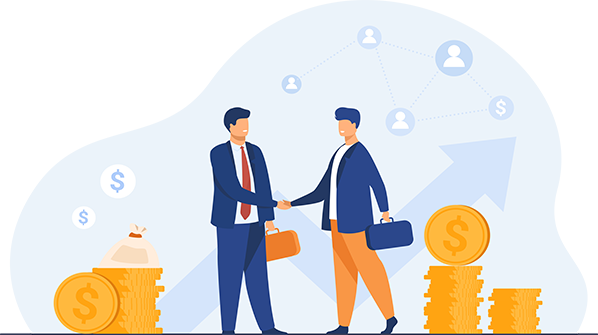 Compare
Business Insurance
What is Business Insurance?
It's pretty difficult to handle business with the number of risks coming at each stage, managing finances and employees at the same time. If any unforeseen situation arises due to any natural or man-made perils, the situation gets even worst.
What will the business owner do under this situation?
The best preventive measure of facing this situation is to be insured beforehand with an optimal business insurance plan.
The reason behind opting for this plan is that it keeps you financially equipped under unpredictable circumstances like fire, natural/man-made perils. By insuring your business with this plan, you need not worry about the financial losses your company would face as a result of the disaster.
However, with the increasing number of insurers in the market, one must be careful enough to find the best fit for your company's requirement.
Moreover, the business insurance plan not only offers coverage to big companies but also have distinct plans for small scale industries.
Key Benefits of Business Insurance
Buying a business insurance plan is although not mandatory, however, it can be a perk owing to the below mentioned key benefits associated with this plan:
This plan offers credibility to your company by getting your business insured
It protects your business against any losses due to natural or man-made perils
Group policies that assure the safety of the employees are one of the factors that help to retain the talents within the company and also motivates them to perform
Clients prefer companies that are well insured with such plans
Compensates loss of income
Also, if your business is well protected with the business insurance plan physical assets such as machines, furniture, electronics and more are also protected
Who Should Buy Business Insurance?
Business Owners having their own premises
Business owners having their own premises are highly suggested to go with a business insurance plan. The reason behind this is that if there is a massive loss or income resulting from the fire or other catastrophe which disrupts the normal functioning of the business then this plan will save your boat from sinking. The plan will cover the damage caused to your premises in event of unfortunate situations.
Business Owners running business on rented premises
Talking for the business owners who run their business on rented premises, this plan is a wise pick for them as well. For instance, a business owner runs a metal production factory on a rented premises. The workers fail to fix the leaking machine and leave for the day locking up the premise. After some time, the leakage ignites and spreads to the floor and walls of the premises. Here, the business owner has to pay for the loss/ damage caused to the premise. The liability cover will help the business owner pay the losses caused to the rented premises.
Types of Business Insurance
Group Health Insurance
A famous saying goes, Health Is Wealth, and everyone attempts various methods to maintain their health. In life, there are no fixed patterns, and this leads to bodily injuries or illnesses which brings strain financially and physically. Therefore, one needs to insure self with a medical insurance policy.
Group Personal Accident Insurance
Group Personal Accident Insurance is apt for any organizations or employers, who seek to protect or ensure his/her staff against total disability, or accidental death or partial disability.
Group personal accident insurance is considered as comprehensive protection that can be bought for groups irrespective large or small. This insurance can be mainly applicable to Schools colleges or large organization or corporate.
Workmen Compensation Insurance
The workmen's compensation insurance is the prime process by which the employer meets the obligation as imposed by law. It is compensation payable under a scheme set out in the Workmen's Compensation Act of India, monitored by the Ministry of Labor. The policy covers the constitutional obligation of an employer for death or bodily injuries caused to employees due to accidents arising out of and throughout the sequence of employment.
Fire Insurance
Fire Insurance is a type of insurance policy that offers complete shield in contradiction of fire-related hazards. This policy protects your household or property in case of a fire outbreak. It covers the losses that may incur during a fire or the cost of repair or replacement. The limits are set under the fire insurance policies.
Marine Insurance
The left as side sector which we do not speak about much is sea transport. Since ages sea transportation has been the most favorite even in the existence of road, rail or air. WE have larger transaction through ships. All these perils give rise to the requirement for marine insurance.
Marine insurance is not just a protection for the ship but for the cargo that is carried along.
Commercial General Liability Insurance
Commercial General Liability Plan offers a shield against obligation claims arising due to injuries or damages that might incur to the property.
Office Package Policy
There might be a lot of disruption that may occur at your office or business place. To protect your office premises or its structure from unseen circumstances one needs to opt for an office package policy.
Shop Insurance
A shop insurance policy is specifically designed for small and medium-sized shop owners to provide cover against damage or loss of the structure of the shop and its contents.
Director and Officers Liability Insurance
Directors and officer's liability insurance is a type of liability insurance catering to directors and officers of an organization, or to the organization(s) itself. It offers a reimbursement in case there are any losses or advancement of defense costs if the insured faces any loss due to any legal action against alleged unethical or wrongful acts. The coverage includes defense costs resulting from any criminal and regulatory investigations as well as trials. Most of the criminal and civil actions are taken simultaneously against directors and officers. Although, intentional illegal activities, are not generally covered under directors; officers liability plans.
It is associated with wider management liability insurance, as it provides coverage for the liabilities of the company or the personal liabilities of the directors and officers of the company.
Erection All Risk Insurance
Installation of machinery or equipment always entails a risk of loss or damage. Such eventualities can put a break in implementation, cause financial burden and leave you feeling you have no control.
The Erection All Risk (EAR) insurance covers loss or damage to projects that involve erection/installation of plant, machinery, and equipment ranging from creation of a single machine to a large power plant. It protects a contractor or employer against physical loss or damage to the contract works, construction plant and equipment or machinery. It also includes cover for damage to property of third parties and bodily damage to third parties.
Contractor All Risk Insurance
This plan bids satisfactory and comprehensive exposure against harm or loss in respect of construction plant, contract work, construction machinery, and/or construction machinery/equipment.
Other Business Insurance Policies
Group Mediclaim
Also known as the group health insurance plan, this plan insures all the employees and their immediate family members (parents might not be covered depending upon the insurer and the plan) against medical expenses. This policy is designed such that it provides compensation to the immediate family members in case of death due to accidents and also covers the expenses for unforeseen situations.
Group Term Insurance
A Group Life Insurance policy is a single contract for a large or small group. In general terms, the employer opts for such a policy for his/her organization which provides coverage to its employees. Group life insurance policies deliver life insurance shield to a group of people. Since these policies are taken for a group of people, thus they are available at a bare minimum cost.
Group Personal Accident
This is one of the types of Mediclaim policy under business insurance. Under this policy, the expenses for unpredicted situations such as accidents are covered. Also, this plan provides compensation to the immediate family members in case of accidental death (similar to group mediclaim).
Workmen Compensation
This plan covers bodily injury caused by accident during the course and scope of employment. It also covers death or temporary disablement, permanent or partial disablement, legal costs/expenses incurred with the company's consent.
Fire & Burglary
Expenses incurred due to loss or damage of property because of fire breakdowns are covered under this plan. There are few plans which also cover loss or damage caused to property owing to natural perils such as floods, storms and earthquakes.
Apart from this, in case of theft, this plan provides the expenses and also covers valuable collectables, cash and jewellery.
Marine
Loss or damage of goods incurred during the transit is covered under this plan. It generally covers transit damage caused due through the post, courier and railways. In addition to this, it also covers damages due to roadways, sea routes and air routes.
How to File a Business Insurance Claim?
It is the responsibility of the insured to notify the insurance company if any accidents or any events occur which requires a claim at the earliest. In case of crime such as vandalism, the insured must reach out to the law enforcement team. Once the necessary teams are contacted,
It is the sole responsibility of the insured to take regular follow-ups from the insurer to know the status of the process.
Once the above process is done (as per the situation), an adjuster from the insurer examines the claim. If the adjuster finds that the case is genuine, then he checks for the policy terms and conditions. Once the insured is proved to be eligible for the claim process, the amount is paid to the insured
Inclusions and Exclusions of Business Insurance
Following are the inclusions and exclusions of Business Insurance:
Inclusions
The plan covers property due to fire or natural disasters such as flood, earthquake, storm etc. It also covers liability arising out of negligence and errors
The plan covers the loss due to theft
The business insurance plan covers third-party liability on the business
The plan covers the death or injury of an employee during the course of the insured's work.
Exclusions
There are few perils that the insurer does not cover under this plan. Those include:
Nuclear hazards
Wear and tear, power failure
Military action
Different types of pollution
Illegal activities performed by the insured
Governmental actions
Explosion of machinery
Action due to law enforcement
Tips to Lower your Business Insurance Premium
Following are the tips to lower the business insurance premium:
Cut Unnecessary Coverage – Choose wisely depending on your business needs
Look for Package Deals – Find package deals which ensures finest coverage at best prices
Raise Your Deductible – By increasing the deductibles you can lower the cost of the premium
Reduce Your Risk – Take proper measures to lower the risks associated with the business. Since, higher the risk factor, more would be the changes in your coverage
Shop Around – Don't rely on a single insurer or plan, check the various policies or insurers by comparing their quotes online. This will help you to pick the best at the best prices.
How much small business insurance per month costs?
Small business insurance costs may make up a small fraction of a business's overhead or it can be one of its biggest expenses depending on a variety of factors. Among the many factors that can affect the cost of your insurance premium is the industry or business you're in, the value and type of assets and property owned by the business, a number of employees, size of payroll and sometimes claims history. A small business insurance policy typically includes a number of different coverages, so it's important to understand the things that affect the costs of the most common types of business insurance.
What is covered by Business Insurance?
The business insurance covers the following that adds value to your money and keeps your business insured:
Damage to the property due to fire or natural calamities such as earthquake, storm etc.
Loss or damage due to theft
Covers the loss of profits after an outbreak of a calamity
Injury/death of an employee during the course of the employment
Covers third party liability on the business
Liability arising out of negligence & errors
Where can I get Business Insurance for my small business?
Depending on your feasibility, you can buy business insurance through both online or offline mode. The online mode ensures quick and efficient services and also offers the flexibility to compare the premiums, coverage and features of each policy. For one who is not familiar or comfortable with the online mode can consult a reliable agent to know more about this plan.
Most frequent questions and answers about Business Insurance FAQs
Other Corporate Insurance