Cover Your Health in 5 mins
Compare Premium.
Buy Now.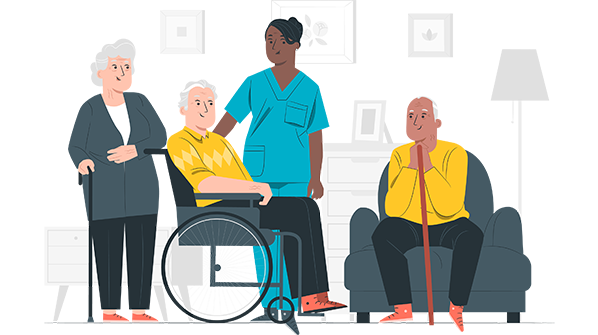 Compare Senior Citizen Health Insurance Plans
Senior Citizen Health Insurance
Senior citizen health insurance is a type of health insurance that is specially designed for people who are above 60 years of age to bear their medical expenses. Under this policy, one can avail of comprehensive coverage benefits like pre and post-hospitalization, medical check-ups, tax benefits, in-patient hospitalization, daycare expenses, ambulance facility, domiciliary hospitalization charges, and many more. In a nutshell, it erases the health-related financial anxieties in your old age and offers you a hassle-free retirement life.
Benefits of Senior Citizen Health Insurance
Pre-medical Tests – Individuals who will purchase a normal or standard health insurance plan at the age of 60 or above have to go through a pre-medical test. As in old age, most of the citizens have pre-existing diseases and the insurance companies either do not allow them to have standard health insurance or charge higher premiums. But, under senior citizen health insurance, they do not have to worry about this, as most of the insurance providers don't demand pre-medical tests.
Cashless Treatments – With this facility, elderly people can avail of the cashless treatments if they are admitted to one of the networks hospitals of the insurer for at least 24 hours. This includes hospital bills, room charges, doctor fees, medical charges, and some more.
Life-long Renewability – Many insurers offer lifelong renewability which means that you can avail of the benefits of the plan throughout your life, without any age restrictions.
Tax Benefits – Senior citizen health insurance policy comes along with the tax benefits under Section 80D of the IT Act, 1961. Premiums paid under this policy are eligible for the tax exemption (Rs. 50,000 for each financial year. An additional rebate of Rs. 5000 per year for a preventive health check is available too.
Easy Claim Settlement Process – Both Reimbursements claim and Cashless claims are available under this policy. One can choose according to his/her convenience. Additionally, the claim settlement procedure is smooth, hassle-free, and easy.
How is the Senior Citizen Health Insurance Policy different from Standard Health Insurance Plan?
It might seem that the standard health insurance policy is more convenient for you all but for elderly people, the senior citizen health insurance plan is more beneficial as it is specially designed keeping in mind the needs of the individuals who are above 60 years of age.
For most of the standard health insurance policies, the general entry age is 60-65 years (mostly), and the benefits it provides are not sufficient for the older people too. It might be possible that considering your age, the standard health insurance asks for your pre-medical screening and after scrutinizing the conditions, they may deny you the health coverage. Even if it allows you to avail of the benefits, you need to pay a higher rate of premium for that.
So if you want o secure your old age and want to enjoy your retirement life without any worries of medical expenses, a senior citizen health insurance plan is more beneficial. Under this type of health plan, without burdening your pocket you can avail of maximum benefits, ideal coverage, and the maximum entry age that is nearer 80 years of age (depends on the insurer). A senior citizen health insurance policy is ideally designed to cater to the medical needs of the senior people and to provide them a peaceful life.
Top Senior Citizen Health Insurance Policies available in India
| | | | | | | |
| --- | --- | --- | --- | --- | --- | --- |
| Plan Name | Health Insurance Company | Entry Age | Sum Insured | Pre-existing Diseases Covered | Medical Check-up | Benefits of Each Plan |
| Senior Citizens Red Carpet Health Insurance Policy | Star Health Insurance | Minimum – 60 years Maximum – 75 years | Rs. 1 lakh to Rs. 25 lakhs | Covered after 12 months of continuous coverage | There is no pre-acceptance medical screening. However, if the following medical records of the person proposed for insurance are submitted, a discount of 10% is allowed. Stress Thallium Report BP Report Sugar (blood & urine) (Fasting/Postprandial) Blood urea & creatinine | The policy can be issued both on Individual and Floater Basis Outpatient consultation in-network hospitals Cost of Health Checkup Pre hospitalization expenses up to 30 days prior to the date of hospitalization Post-hospitalisation paid as lump-sum up to the limit specified |
| Senior First Health Insurance Plan | MAX Bupa Health Insurance | Minimum – 61 years Maximum – 75 years | Gold plan – 5 lakhs/10 lakhs Platinum Plan – 5 lakhs/10 lakhs/15 lakhs/20 lakhs/25 lakhs | Covered after 2 years of continuous coverage | Based on the age of the insurer | Daycare treatments AYUSH Treatments Pre and post hospitalization Emergency ambulance Health check-up |
| Senior Citizen Health Insurance | Care Health Insurance | Minimum – 61 years Maximum – No Upper Limit | 3 lakhs, 5 lakhs, 7 lakhs, 10 lakhs | Covered after 48 months of continuous coverage | No Pre-Policy Medical Checkup | Annual health check-up Organ donor Emergency ambulance Day care treatments Post-hospitalization expenses |
| Bajaj Allianz Silver Health Plan | Bajaj Allianz | Minimum – 46 years Maximum – 70 years | Rs. 50,000 to 5 lakhs | This policy covers pre-existing illnesses until 1 year after your policy is issued. | Pre-medical tests are mandatory for every proposal | Pre-existing illness cover Waiver of co-payment Cumulative bonus Free health check-up |
| MediSenior Health Insurance Plan | Tata AIG Health Insurance | 61 years and above |  2 Lakh, Rs. 3 Lakh or Rs. 5 Lakh. | From the 4th year | Mandatory and reimbursed only 50% | Wide network of hospitals In-patient treatment Treatment at home Discounts on premiums |
| Activ Care Senior Citizen Health Insurance | Aditya Birla Capital Health Insurance | Minimum – 55 years Maximum – 80 years | Standard and Classic – 3, 4, 5, 7.5, 10 lakhs Premier – 5, 7.5, 10, 25 lakhs | From the 2nd year | Required | Comprehensive health check-up AYUSH in-patient hospitalization Personal health coach Cashless treatment at home |
| VARISTHA Mediclaim for Senior Citizens | National Insurance | Minimum – 60 years Maximum – 80 years (Renewable up to 85 years of age) | Hospitalisation & Domiciliary Hospitalisation Cover – 1 lakh Critical Illness cover – 2 lakhs | Covered after 12 months of continuous coverage | Mandatory | Hospitalization and Domiciliary Hospitalization Cover Co-payment available Cumulative bonus Health check-up |
Disclaimer- The plan values are taken from respective brochures and are subject to change.
Which Factors To Consider While Choosing a Senior Health Plan?
A senior citizen health insurance policy is a protector of the health of the elderly people as they are vulnerable to diseases and prone to expensive treatments. Therefore, before purchasing a senior health plan, you need to do a considerable amount of research on the basis of the following factors.
Network Hospitals – It becomes difficult to find a specialized and proper hospital in time of medical emergency, especially when you are old. It would be wiser if you at first check out the network hospitals that are registered under your insurance company and available for your policy. The nearest network hospital would be ideal for you because not only you can get specialized treatment over there but also you can avail yourself of the cashless claim settlement.
DayCare Treatments – Many of the insurance policies do not cover the daycare treatments and also to avail of their benefits you need to stay hospitalized for at least 24 hours whereas you might need some treatments that do not require 24 hours hospitalization like chemotherapy, radiotherapy, and dialysis and so on. So, choose that insurer that provides coverage for the maximum number of day care treatments.
Claim Settlement Ratio of The Insurance Company – The higher the claim settlement ratio is the more that the company is reliable as it denotes the insurer can meet the insured's claim requests easily and in a hassle-free way.
No-claim Bonus – A wide number of insurance companies offer a no-claim bonus or no-claim discount if the no claim is filed by the insured person within the financial year. In most cases, you can get a discount on the premium rate, or your sum insured will be increased or both facilities might be offered to you.
Free Medical Health Check-ups – Preferably go for those insurers who offer free medical check-ups on an annual basis. The check-ups or tests have no effect on the premium while the policy comes up for renewal.
Waiting Period – Usually these plans come with a waiting period after which you can avail of the benefits of the pre-existing diseases after a pre-specified number of days. It would be advisable that go for that company which has the lowest waiting period.
Co-payment – Co-payment is a predefined amount that the insured will pay at the time of the claim. As after your retirement, most of you do not have a regular source of income, it becomes a burden to pay a lump sum claim amount. So preferably go for those companies which allow a small co-payment in return as it would not put any burden in your pocket.
Background and History of The Company – Check the financial background of the insurance companies. Check for their reliability. A stable company is more preferable for the selection.
Look for high sum assured at affordable premiums – Considering the age, the medical expenses for the senior citizens are higher. So you need to go for a higher sum insured as it gives wider coverage. But at the same time, the higher sum insured is the higher the rate of the premiums that may become a burden for you. To compare the premium rates according to the sum insured of different companies and go for high sum assured at affordable premiums.
Look for No Cap on Room Rent/ ICU Room Rent Cap: Since the chances of senior citizen individuals requiring long-term care or getting admitted in the ICU is higher, it is wise to look for policies that do not impose a cap on room rent, as long as it remains under the total sum insured. This way one can choose the room of their choice without financial constraints. Further, since ICU room rent is much higher than that of normal rooms, seeking prolonged treatment becomes easier for elderly people without the room rent cap.
Does Senior Citizen Health Insurance Cover COVID-19?
The spread of the Coronavirus, the global pandemic, has created a major headache for India. Taking the situation into consideration, most of us prefer to buy health insurance for Covid-19. And the elderly people are more vulnerable to this contagious virus. The mortality rate is also higher among elderly people.
So, it has become your responsibility to safeguard your elderly parents against this virus by purchasing a senior citizen health insurance policy as it provides coverage for the covid-19 insured elderly people because it is not a pre-existing health condition. It has to be kept in mind that the sum insured and coverage limit pertaining to the medical tests, quarantine expenses and waiting period, etc. can differ from one insurer to another. One can also go for Corona Kavach and Corona Rakshak Policies for senior individuals up to the age of 65 years. These two plans also come with coverage for the cost of PPE kits, gloves, masks, oximeter, ventilator, and some more that are not usually covered under any standard health insurance plan.
Factors That Help To Decide an Ideal Coverage Amount for a Senior Health Insurance Plan
Choosing the ideal coverage and selecting a proper plan to safeguard your old age might seem an enormous task. But if you consider the following factors the job can be done very easily.
Age – Old people are more likely to be prone to health hazards than younger ones. So, they also need a health plan that provides higher coverage. Usually, they need to visit the doctors more frequently and different health conditions arise in the older age with expensive medical treatments. For that, the coverage of Rs. 1 lakh or 2 lakhs won't be sufficient for them. Once you cross the age of 55, the sum insured of 10 lakhs or more would be ideal for you.
Premiums – Always check for the premium rates as most the senior people do not have a regular source of income after retirement. Suppose, you have a sum insured of 20 lakhs that can provide you enough coverage but the premium that has to be paid for that, that is way higher than your budget and has created an unnecessary burden. So, always go for that plan that you can afford seamlessly and within your budget.
Medical History – If your parents or grandparents or your family has any medical history take them into account and analyze the expenses of the medical treatments of those health conditions keeping all the factors in mind and then decide for the sum insured. For example, the sum insured of Rs. 5 or 10 lakhs would not be sufficient for the coverage of the knee replacement treatments.
Geographical Location – Geographical location is one of the factors that puts a direct effect on the coverage amount. Healthcare facilities differ from state to state, city to city. If you belong from a metropolitan city, the expenses of the treatments will be higher in comparison to the expenses of the same treatments in a countryside area. For an instance, the expenses of brain surgery in Mumbai are likely to be higher than in Ranchi.
Inclusions Exclusions of Senior Citizen Health Insurance Policy
Inclusions Under This Policy
There are several benefits that can be availed of under the senior citizen health insurance policy. The general inclusions are as follows.
Hospital expense cover – This plan provides hospitalization expenses that include room charges, doctor fees, nursing fees, cost of medicine and drugs, ICU charges, fees of the medical practitioner, surgeon consultation charges, anaesthetists, and specialists. It also covers the expenses of surgical appliances, blood, anaesthesia, medicines, and operation theatre charges as well.
Other medical expenses – Not only the hospital expenses, but it also provides coverage for the cost of radiotherapy, chemotherapy, dialysis, cost of artificial limbs, orthopaedic implants, and the expenses of other prosthetic devices such as a pacemaker, vascular stents, and so on. Some of the plans also offer financial protection against the expenses that occurred due to different diagnostic tests, X-rays, blood tests, and other similar procedures that are required during the hospitalization.
DayCare Treatments – Daycare treatments mean those treatments that require less than 24 hours of hospitalization or procedures like chemotherapy, radiotherapy, dialysis, etc. The expenses of this kind of treatment are also covered by the senior citizen's health insurance. However, it depends on the type of the plan and on your insurer.
Pre and post-hospitalization cover – The medical expenses prior to and post-hospitalization are also taken care of by this policy up to a certain number of days depending on the insurer.
Covid-19 Cover – This policy provides coverage for the coronavirus treatment of the insured person up to a certain limit.
Ambulance Cover – The ambulance charges for the transportation of the insured person are taken care of by the company up to a certain pre-specified limit.
Organ Donor Expenses – This type of expense is also covered under this policy. However, with all the senior citizen health insurance policies this facility is not available.
Pre-existing diseases – Depending on the policies' terms and conditions, the costs that occurred due to the pre-existing health conditions are also covered by this plan.
AYUSH Treatment Expenses – Treatments taken in government hospitals or institutions are also covered by this policy.
Domiciliary Hospitalization Cover – If the doctor or registered medical practitioner suggests any home treatment, this policy compensates for those expenses too.
Exclusions under this policy
Though a senior citizen health insurance plan covers most of the health conditions of the elder age, there are certain exclusions that fall under this policy. The general exclusions are as follows.
Expenses arising out of self-inflicted injuries.
Expenses incurred due to drug abuse or similar treatments.
One or more medical conditions are diagnosed within 30 days of purchasing the policy.
Expenses incurred due to the treatments of injuries related to war, war-like situations, strikes, riots, public unrest.
Any kind of cosmetic surgery falls under exclusions.
The cost for the treatments of AIDS is not covered as well.
The cost of dental treatments, lenses, or spectacles is not covered unless that occurs out of an accident.
Pre-existing diseases, injuries before the waiting period are not covered by this policy too.
Buying process of Senior Citizen Health Insurance Plan
The buying process of a senior citizen health insurance policy is very easy and simple. As various insurers offer an online facility to purchase this policy, you simply need to go to their official website, and there you can find a 'Buy' option. On clicking that, further instructions will be there on the screen. You just need to accordingly to avail of the seamless buying process.
If you prefer to buy it offline, you can also do that by visiting their nearby branch. There you will be guided by their professionals to purchase this plan swiftly. Another offline process is there – via an agent. They are experts and experienced and you won't be having any problem buying this plan with the help of the agents' guidance.
Claim settlement process or Senior Citizen Health Insurance Policy
The policyholders can file a claim when they get hospitalized or have to avail of emergency medical treatment. For cashless treatment, you need to get admitted to any network hospital of your company or you can also file a reimbursement claim for the expenses incurred to you as a result of the medical treatment. But for both cases, you need to intimate the insurer at least within 24 hours of the medical emergency or hospitalization.
Senior Citizen Health Insurance Reimbursement Claim Procedure
Follow the below-mentioned steps to avail of a seamless reimbursement claim process.
If you need to get hospitalized, inform the insurer immediately.
You need to collect the health claim form from the branch of the insurer or you can also download it online for filing the claim.
Submit the duly filled and signed claim form to the concerned person.
Provide all the required documents like doctor's prescriptions, hospital reports, and pathological reports, and so on.
Hospital admission and discharge certificates, chemist's bills, receipts from the doctors and surgeons, and the other documents that are demanded by the insurer, submit all of them.
Do not provide any wrong information or misguide your insurer.
A surveyor might be appointed on the behalf of the company to evaluate the situation and to refer the case to the panel doctors. Cooperate with them and your insurer.
The claim is found genuine; the claim amount will be reimbursed. And if it seems faulty to the insurer, the claim will be rejected.
Senior Citizen Health Insurance Cashless claim procedure
If you have availed of medical treatments in a network hospital of your insurance company, then you can file a cashless claim by following the below-mentioned steps.
Notify the insurer about the medical emergency within the stipulated time period.
Submit the duly filled and signed claim form either offline or online.
A pre-authorization request needs to be obtained and it should be approved by the insurance company or the TPA department to initiate the cashless hospitalization procedure.
In case of planned hospitalization, you need to inform the insurer prior to the hospitalization.
Provide all the medical and hospital bills and reports given by the hospitals or doctors.
Meet all the requirements of the company to avail of the faster and smooth cashless claim.
Do not provide any wrong information and cooperate with your insurer.
Frequently Asked Questions