Renew in just 5 mins.
No Inspection.
No Paper Work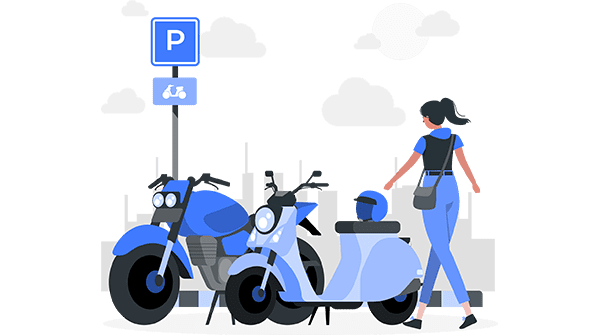 Two-wheeler insurance, also known as bike insurance, protects the policyholder from financial liability in case of damage sustained in an accident. A personal accident add-on also covers the owner-driver in the case of injury or death.
The policy is a binding agreement between the policyholder and the insurance company, which offers financial coverage in the event of an accident involving the insured two-wheeler.
Importance Of A Two-Wheeler Insurance Policy
Two-wheeler insurance is a great way to protect yourself from financial ruin in case your two-wheeler is stolen, involved in an accident, or sustains damage due to causes included in the policy. It's also the best way to stay in compliance with the law of the land.
Getting your bike fixed after sustaining major damage in an accident can put a strain on your finances. But having a two-wheeler insurance policy can cushion that blow. Instead of stressing out on how to pay the mechanic to get your beloved bike up and running again, you can rest easy knowing that you bought your insurance policy for just such a rainy day.
Plus, riding an uninsured bike by itself can attract strict action from the cops. Indian law mandates that all vehicles plying on its roads be covered by insurance, at the very least a third-party liability cover.
Having a two-wheeler insurance policy does the following:
Covers financial liability in a claim involving a third party
Provides coverage for damage to insured bike due to natural and man-made disasters
Protects and finances arising due to theft of the insured two-wheeler
Saves policyholder from legal fines
Covers owner-driver in case of injury or death arising from an accident involving the insured vehicle.
Key Features And Benefits Of A Two-Wheeler Insurance
Having a two-wheeler insurance policy comes with a host of features and benefits.
Having a two-wheeler insurance policy comes with a host of features and benefits.
| | |
| --- | --- |
| Key Features | Benefits |
| Different types of coverage | Third-party liability only; own-damage cover; comprehensive cover |
| Personal accident cover | Personal accident cover of up to INR 15 lakh offered to the policyholder |
| No-claim bonus | No-claim bonus between 20% and 50% for each term you go without filing a claim |
| Discounts on premiums | Discounts are offered on premiums for certain conditions, such as having an anti-theft device installed on the vehicle |
| Add-ons | Various add-ons offered for coverage enhancement like a zero-depreciation cover, roadside assistance, no-claim bonus protect, return to invoice, etc |
| Network garages | Network garages of insurance providers offer a cashless facility |
| Easy claims process | Claims experts are available to guide you through the entire claims process when the need arises |
| Online purchase and renewal | Easy and quick purchase and renewal of two-wheeler policy online; coverage in effect immediately. |
Types of Two wheeler Policies In India
Two-wheeler insurance providers offer three major types of insurance policies to two-wheeler owners.
Third-party Liability – These policies cover financial liability arising out of an accident that involves a third party – person, property, or vehicle. This type of insurance is mandatory under the Motor Vehicles Act, 1988.
Own-damage Cover – This cover provides financial coverage to expenses that may be incurred as a result of damage to or theft of the insured two-wheeler.
Comprehensive Cover – This form of coverage gives the best of both – third-party liability and own-damage covers. It's a type of policy that protects against third-party liability as well as expenses due to damage to or theft of the policyholder's insured vehicle.
Coverage Offered With Two-Wheeler Insurance
A standard two-wheeler insurance covers the following:
Natural calamities – earthquakes, cyclones, floods, inundation, thunderstorms, hailstorms, etc.
Man-made calamities – riots, strikes, malicious activities, etc.
Damage due to fire, lightning, and self-ignition.
Damage due to transit of the insured vehicle via inland waterways, road, rail, or air.
Theft of the insured bike.
Liability against third parties – property, vehicle, or person.
Personal accident cover for owner-driver up to INR 15 lakh
Coverage for add-ons as specified in the policy document.
Two Wheeler Insurance Add-Ons
Add-ons offer additional protection for your vehicle and can be a great way to avoid financial hassles in certain circumstances. Some of the standard add-ons offered by insurance companies are:
Zero Depreciation Cover – A zero or nil-depreciation cover add-on closes the gap between the invoice and depreciated value of the spare parts that are replaced during a claim. Without this add-on, the insurance provider would pay for the depreciated value of the part and the remaining would be covered by the policyholder.
No Claim Bonus – A no-claim bonus is a discount offered on the premium at the time of renewal if the policyholder hasn't filed a claim in the previous term. The higher the number of terms for which a claim isn't filed, the higher the discount offered. However, if a claim is filed, the discount is revoked, and you will have to pay the difference. A no-claim bonus protection add-on safeguards your no-claim bonus discount in case a claim is filed.
Return to Invoice – The insured declared value of your bike takes into account the depreciation. With the return to invoice add-on, the claim amount in case of a total loss of the two-wheeler will be the invoice value as opposed to the insured declared value.
Personal Accident Cover for Pillion – One of the standard add-ons offered by numerous insurance providers is a personal accident cover for the pillion rider. In case of injury to or death of the pillion in an accident, this add-on covers up to the agreed-upon amount.
Consumables Cover – Two-wheeler insurance policies don't cover the cost of replacing consumables like nuts and bolts, engine oil, gearbox oil, brake oil, washers, bearings, lubricants, etc. With a consumables add-on, these expenses will be easily covered under the policy.
Roadside Assistance – With this add-on, you can rest easy knowing that help is just a call away if you ever face a breakdown mid-journey. The add-on covers issues like a dead battery, flat, tire, fuel replacement, electrical and mechanical repairs, etc.
General Exclusions Of Two-Wheeler Insurance Policies
All two-wheeler policies come with a set of standard exclusions that are not covered.
General wear and tear
Consequential loss
War and war-like situations
Damage due to racing, speed tests, reliability trials
Damage caused due to breach of contract
Nuclear perils
Mutiny
Own-damage expenses and personal accident cover if only third-party liability cover purchased
Riding without a helmet
Riding without a valid driver's license
Riding while under the influence of alcohol or other intoxicants
Rising under restricted-use conditions – e.g., damage sustained while riding during a flood of which you are already aware
Using a personal bike for commercial purpose.
How To Choose The Best Two-Wheeler Policy Online?
Each person's requirement, when it comes to buying a two-wheeler insurance policy, will vary according to their usage and needs. So, based on your needs and usage, here's how to choose the best two-wheeler policy online.
Browse through the policy offerings from different insurance providers and compare the inclusions and exclusions.
Consider whether you require a third-party only policy or a comprehensive cover. If your usage is minimal, you can consider going for a third-party liability only cover. But if you use the vehicle every day, you may want to think about getting a comprehensive cover with a personal accident for the owner-driver.
In case the vehicle is in your name but is being used by someone else in your family, you may want to consider not purchasing a personal accident cover for the owner-driver.
Check the add-ons on offer and carefully consider which ones you require.
Get premium quotes from multiple insurance providers and compare the amounts along with the policy offerings to ensure you pick the best policy for you.
Calculating Your Premium Online
With the world going digital, calculating two-wheeler premiums online has become super easy. With a few details of you and your two-wheeler, you can easily get a premium quote from insurance providers.
Provide your details – name, age, area of residence, contact information
Provide details of your two-wheeler – make, model, year of registration, place of registration
Choose your insurance type – third-party liability only, own-damage cover, or comprehensive insurance
Select any add-ons you may want to purchase
Choose the tenure of the policy – some insurance companies provide short-term policies. Annual and long-term policies are also available.
Add details of your previous policy if you're renewing.
Get your premium quote in an instant!
Factors Affecting Two-Wheeler Insurance Premiums
Premiums will vary from person to person and vehicle to vehicle are affected by a range of factors, including –
Make and model of the bike
Engine type and capacity
Year of registration
Place of registration
Area of residence
Owner's age and driving record
Coverage and type of policy
Number of add-ons
No-claim bonus
Installation of safety devices
Modifications done to the bike
Membership of approved automotive associations
Benefits Of Comparing Two-Wheeler Insurance Online
One of the best ways to get affordable quotes on your bike insurance premium is to compare policies online before purchasing.
Browsing through various policies gives you an idea of the inclusions and exclusions. Not all providers will have the same set of inclusions and exclusions. These will vary from company to company.
Some insurance providers may not offer the add-ons that you're looking for. Browsing through different policies online will help you find relevant offers.
Comparing premium quotes online can also help you choose the most affordable rates.
Browsing through two-wheeler insurance offers online also lets you find quotes for a policy term of your choice.
The best part is that you can do all this from the comfort of your home! No need to step out and wander from office to office in search of the best deals.
How to Purchase Two-Wheeler Insurance Online?
Buy on Official Site
To purchase a two-wheeler insurance policy through the company's official site:
Visit the official website of the insurance provider.
Enter the requisite details of the bike and the owner.
Select the policy type, tenure, and add-ons to get the premium quote.
Pay the premium online and receive the policy document in your mailbox.
Purchase Through Probus
To purchase a policy on the Probus website:
Log on to the company's website and click on Motor Insurance
Type out basic details such as your city, vehicle make, model, variant, registration year, previous insurer, and policy expiry date.
Fill in a few more details for an accurate quote such as manufacture month & year, purchase date, customer type, license validity, etc.
Compare the pros and cons of a few plans and choose one that fits your requirements.
Select the most relevant policy and pay the premium online. Get your policy document in your email inbox in a jiffy.
Quick And Easy Renewal Of Two Wheeler Insurance Policy
Renewing your two-wheeler insurance policy is of utmost importance. If found without a valid policy, you may be subjected to legal action under the Motor Vehicles Act of 1988.
To renew your policy on Probus website:
To renew your policy on the official website:
Two Wheeler Insurance Claim Filing Process
The thought of filing a claim when the need arises can seem daunting, but the process is easy and simple. You can reach out to a claims expert who will guide you through the entire process.
To File a Claim
Intimate the insurance provider of an impending claim. If a third party is involved, let your provider know.
Take pictures of the vehicle at the spot of the accident and gather any information that you can about the witnesses.
Take your vehicle to the nearest garage approved by your insurance provider.
File an FIR if the situation calls for it. In case of theft, after an investigation, the police will issue a no-trace certificate if the vehicle cannot be found. Keep this safe.
Provide the requisite documents to your insurance provider along with a duly filled claims form.
A representative of the company may be assigned to assess the damage. They will file a report with the insurance company after an inspection.
If the claim is deemed valid, the insurance company will release the funds. The process will be cashless if your vehicle is at a network garage. The insurance company will directly settle the claim with the garage. In case your vehicle is at a garage that is not part of the insurance provider's network, you will need to settle the amount with the garage and the claim cost will be disbursed to the account number that you provide to the company.
Documents To Be Submitted For A Claim
While filing a claim, you will need to submit the following documents.
No-trace certificate in the event of a theft
A copy of the policy document
A copy of and the original two-wheeler registration certificate
The original and a copy of your driving license
Frequently Asked Questions
What Client Say's About Us Vinay
I purchased SBI General Two-Wheeler Insurance from Probus Insurance, and I appreciate how thoroughly the team explained everything to me. The team had been well-trained, and their behaviour was impeccable. Vasudesh
I renewed my bike insurance, which I purchased without documents from Probus Insurance. Because I was renewing the plan for the first time, I anticipated that paperwork would be required, but the entire process did not require any documentation or inspection. Thanks to Probus Insurance for such a smooth renewal process! Rohan
Probus Insurance helped me purchase HDFC Ergo Two-Wheeler Insurance. The team assisted me in selecting the ideal two-wheeler insurance as per my requirements. I compared the plans without difficulty and chose the best one for my budget and needs. Overall, Probus Insurance has been a positive experience for me. Alok
My bike was in an accident last week, and one side of it was entirely destroyed. Fortunately, I had purchased ICICI Two-Wheeler Insurance through Probus Insurance. My bike was restored for free when I approached Probus Insurance for claim settlement. The entire claim process was so simple and effective. Pranjal
I looked for bike insurance provider companies and found a lot of them on Google. I went through each webpage one by one. Probus Insurance appealed to me because of the incredible features it offers, particularly the 24/7 customer support option. I purchased SBI General Two-Wheeler insurance from this company.