Commercial General Liability Insurance
Compare Premium.
Buy Now.
* Subject To Underwriting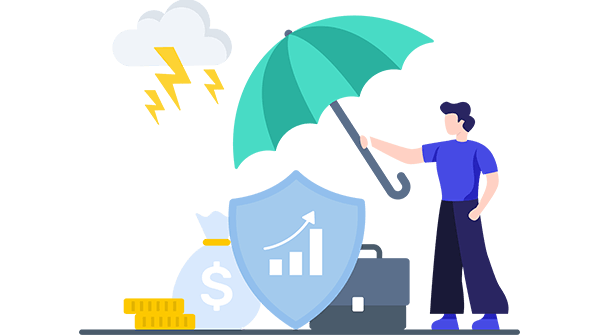 Compare Commercial General Liability Insurance
Commercial General Liability Insurance
Commercial general liability (CGL) is a type of insurance policy that protects a company from bodily harm, personal injury, and property damage resulting from the company's operations, goods, or injuries that occur on its premises. Although commercial general liability insurance is considered comprehensive business insurance, it does not cover all hazards that a company may encounter.
Understanding Commercial General Liability Cover (CGL)
Different levels of coverage are available for commercial general liability plans. A policy may contain premises coverage, which protects a company from claims that occur at the company's physical site during normal business hours. It may also cover bodily injury and property damage caused by a finished product or service provided at a different place.
Excess liability coverage can be added to a CGL policy to cover claims that exceed the policy's maximum. Exclusions to what activities are covered may exist in some commercial general liability plans. A policy might not cover the costs of a product recall, for example.
It is critical for a company to understand the difference between a claims-made and an occurrence policy when acquiring commercial general liability insurance. A claims-made policy covers you regardless of when you file your claim. An occurrence policy is distinct in that it covers claims that occurred while the policy was in effect, even if the policy has since expired.
Businesses may also obtain insurance that covers other business hazards in addition to commercial general liability plans. For example, to defend itself from allegations of sexual harassment, wrongful termination, and discrimination, the company can obtain employment practices liability coverage. It may also obtain insurance to cover financial reporting statement errors and omissions, as well as covering for losses caused by the activities of its directors and officers.
Why is it Important to have a Commercial General Liability?
All types of business people need to defend themselves and their companies from litigation and the costs that come with them. For anyone in business, commercial general liability insurance (CGL) is a must-have coverage. It guards against all types of liability threats that a business can face.
A business owner and/or the business itself might be held accountable in a variety of ways. Whether the injury or damage occurs on the business's premises or as a result of a product or service offered by the business, bodily injury and property damage are two substantial hazards. There are also personal and advertising injuries, medical bills, property damage incurred by a business in a rented location, and other factors to consider. All of these scenarios are undesirable for business owners.
The consequences of these damages and losses can be astronomical, particularly for smaller enterprises that lack the same capital access as larger corporations. According to some estimates, defending and settling a general liability claim can cost more than $75,000 each case. Slips and falls, reputational damages, product liability, customer injury or damage, and product liability can all be very costly lawsuits. Every firm requires commercial general liability insurance to protect itself from financial disaster, long-term reputation harm, and big legal fights.
Here's the list of the features of commercial general liability insurance that you should know:
Non-employee injuries that happen on your property.

Legal costs when you're sued over the incident.

Lawyers' fees

Court expenses

Immediate medical expenses for the injured person.

Settlements, and judgments, if the case goes to trial and you're found liable for wrong-doing.

Repair costs for damaged property.

Replacements for lost or destroyed property.
The following are the benefits of commercial general liability insurance;
1. Protects Your Business Assets
You must interact with your customers, other companies and entities, vendors, and the general public while running a business. Human errors do happen in business; no one is perfect. Any mistakes or ignorance in business operations can lead to incidents that injure the individuals you're interacting with (third parties). Your company will be held liable for losses if something goes wrong.
Though you may be able to handle some minor claims, a large claim might cost your company a lot of money. For example, an accident involving hazardous substances might severely harm the environment and those nearby, resulting in a costly lawsuit. You can protect your business asset by transferring your legal and financial liability to the insurer if you have CGL coverage.
2. Protects Your Customers
Having adequate insurance portrays your company as well-run to your customers. Customers are more likely to trust a company that has liability insurance because they believe it will be dependable if something goes wrong. A commercial general liability insurance policy ensures that your customers are protected, giving them confidence and putting their minds at ease.
3. Helps in Enhancing Client Base
Today's business is fraught with danger. As a result, clients want the company to be appropriately insured before doing business with them. Insurance is a fantastic lifesaver for businesses that involve a significant degree of risk, such as the construction industry, and may help you beat the competition. Having proper insurance might help you attract new clients and expand your client base.
4. Reputation
You can utilize your general liability insurance to promote your business by indicating that you are licensed and covered, providing an official guarantee to your customers. Promotions like these can boost a company's reputation, especially for small businesses.
5. Peace of Mind
To stay stress-free as a business owner, you must first obtain commercial general liability insurance. The current corporate environment is stressful, necessitating the need for a safety net. For stress-free business operations that can help the company expand, general liability insurance is a must.
What's Covered Under CGL Insurance?
This type of insurance policy generally provides comprehensive coverage against:
Bodily injury and damage to the property: If a person is injured while on the premises of your business or after receiving your services, the insurance company is responsible for paying compensation to that individual.
Damage resulting from a misleading advertisement: If a customer's image was harmed as a result of a misleading advertisement, the insurance provider will compensate you for issues such as false arrest, insult, defamation, loss due to violation of the copyright, stealing of an idea, and so on.
Medical Expenses: Payments for injuries suffered by a third party (not an employee) as a result of an accident on the insured's property or as a result of the insured's business operations will be covered. Medical expense coverage can be used without having to file a lawsuit (like small medical claims without litigation). All reasonable medical, ambulance, hospital, or professional nursing charges, as well as burial expenses, will be covered for the injured/deceased person.
Riders or add-on coverage are extra advantages that can be purchased for a fee. The following riders can be added to the base policy to increase coverage for an additional fee:
Act of God Perils Extension

Liquor Liability
Sudden and Accidental Pollution Extension

Transportation Liability Extension

Personal & Advertising Injury extension

Fire Damage Extension

Medical Expenses Liability Extension

Limited Vendors Liability Extension

Lift, Elevator & Escalator Liability Extension

Food and Beverages Liability Extension.
Commercial general liability insurance does not cover all events and situations. These are referred to as exclusions. The following are some of the events that are not covered:
A deliberate or malicious act of neglect or mishandling that could lead to financial liability

Automobile manufacturers cannot claim this protection if their vehicles are recalled owing to an error in the vehicle caused by a flaw or poor quality during the production process.

Any intentional conduct that has the potential to cause bodily or physical harm to anyone on the insured premises.

Workers' compensation and other comparable rules may expose you to financial obligations.

Some insurance firms exclude Professional Liability Insurance and Business Owners Policy from this policy.

War or allied threats, acts of terrorism, invasion, nuclear risks, and other such dangers are not covered.
Apart from the above-mentioned details, there are a few additional crucial components of this strategy to consider:
This sort of insurance policy is typically offered to Indian enterprises of all sizes, whether they are based in India or abroad, as well as foreign organizations working in India.

It is critical for the insured to keep their business premises clear of potential hazards.

All appropriate equipment must be installed on the premises to deal with minor fire, short-circuit, and other incidents.

Liabilities originating from abrupt or inadvertent pollution, items in storage by the insured, terrorism, and other events can be avoided with this policy's add-ons.

Under this policy, the policyholder can pick from a variety of flexible payment alternatives for the premium amount. Customers have the option of paying premiums on a monthly basis.

Policyholders can take advantage of flexible premium payment alternatives that make it easier for businesses that don't want to pay their premiums on a yearly basis.
Claim Process For Commercial General Liability Insurance Policy
The following are some key elements to remember when filing a claim under a Commercial General Liability Insurance policy:
Inform the insurance provider in writing, using their toll-free number and/or other means recommended in the policy paperwork.

When the insurance company verifies the information, a case is typically formed for claims settlement and assigned to the claims department.

Following the completion of the investigation procedure and submission of the Survey Report, an investigator or surveyor is assigned to verify the veracity of the claims requested.

You may be required to produce a variety of papers to back up your claim.

The insurance company then refers to the policyholder's policy paperwork and analyses the Survey Report submitted by the surveyor to determine the claim amount.

Based on the terms and conditions of the policy agreement as well as internal approvals, the insurance company pays out compensation for the claims filed.
Documents Required for Claim Process
The following are the documents needed by the policyholder while filing claims.
ID Proof of the insured/ claimant

FIR report, if any

A document that can explain the type of claim, the extent of loss, area of the loss, etc.

Copy of the policy document

Any other documents asked by the insurance company
Frequently Asked Questions
Here's the list of the most frequently asked questions that you should know;
Other Corporate Insurance