D&O Liability Insurance Plans.
Compare Premium.
Buy Now.
* Subject To Underwriting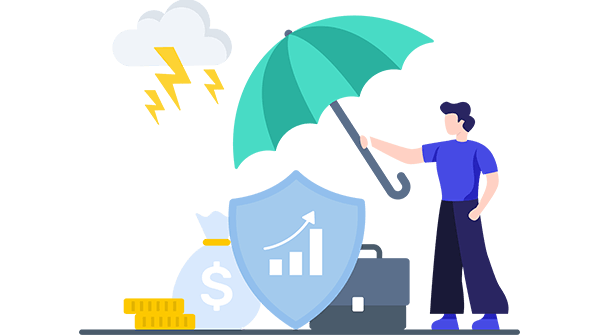 Compare Director And Officer Liability Insurance Plans
Director and Officer Liability Insurance
D&O insurance protects firm executives from lawsuits arising from choices and actions performed in the course of their regular responsibilities. As a result, D&O insurance is now a standard aspect of risk management for businesses.
D&O insurance is purchased by businesses because managers sometimes make mistakes. D&O insurance protects managers financially from the consequences of actual or alleged "wrongful behaviour." Policies cover not only the personal liability of business directors but also the repayment of the insured company if it has paid a third-party claim on behalf of its managers.
Current, future, and former directors and executives of a firm, as well as its subsidiaries, are routinely included. D&O insurance provides coverage based on the number of claims filed. This means that claims are only covered if they are filed when the policy is active or within a contractually agreed-upon extended reporting period, which in some countries can last up to 72 months or even longer.
Acts of fraud, criminality or intentional non-compliance are not covered, nor are incidents in which directors received illicit remuneration or acted for personal gain.
Because claims from employees, stockholders, and clients can be made against the firm or its directors at any time, directors and officers liability insurance are important. Given that directors and officers can be held accountable for wrongful acts while performing their duties as directors and officers of the company, the majority of them will seek to protect themselves to avoid such situations and avoid jeopardising personal assets.
Importance of D&O Insurance
If there is any doubt about the significance of director and officer insurance, we may go back to the 2008 financial crisis to observe how financial firms' crimes supported the need for D&O insurance. Another factor that has enhanced directors' and officers' risk is the growth of corporate governance practices in the aftermath of the financial crisis.
While D&O insurance covers considerably more than most people believe, directors and officers must be informed of what D&O insurance coverage will and will not cover.
Amidst the rising number of Corporate Frauds and tightening regulatory framework, getting D&O insurance is more crucial than ever.
Because they are active in the day-to-day activities of a company, the top management of a corporation is more exposed.

Executive Directors (EDs) and Key Managerial Personnel, in particular (KMPs). The Ministry of Corporate Affairs recently underlined the importance of EDs, KMPs, and Independent Directors (IDs) within a firm, as well as their scope of operations.
While a business may indemnify its directors for legal actions taken against them, the scope of protection is restricted, and it could be revoked if-

The company becomes insolvent

The company is the claimant

The protection is withdrawn

The company has insufficient funds

They are no longer directors of the company.
The Company's most crucial indemnification is only permitted when a claim is disputed.
D&O Insurance for Small & Medium-Sized Companies
Here are few reasons which make D&O insurance policy essential for companies of all size and shape.
Directors and officers liability insurance aren't just for huge, publicly traded corporations. In fact, compared to larger enterprises with greater resources and cash, small and medium-sized businesses are significantly more exposed to litigation-related financial chaos.

If your business is small and has only a few stockholders, you may believe that directors and officers' insurance is unnecessary. Regrettably, your assumptions may turn out to be incorrect.


Small and mid-sized business executives may be held liable for a variety of external risks. A company doesn't need to have shareholders for its senior executives to be sued individually.

If you're looking for venture capital, lawsuits might come from a variety of places, including vendors, customers, government agencies, employees, and other financial investors. Every corporation is vulnerable to executive liability in the current legal and economic context.


Executive responsibility lawsuits are frequently not covered by umbrella policies or general liability insurance policies.
Features and Benefits of Director and Officer Liability Insurance
In the event that corporate directors and officers are personally sued by competitors, investors, workers, customers, vendors, or other parties for actual or claimed wrongful or unlawful activities in operating a firm, directors and officer's liability insurance protects their personal assets.
For the directors and officers of a corporation, organisation, or firm, D&O insurance has a wealth of priceless benefits to offer.
The corporation is protected by directors and officers liability insurance, which also covers settlements, legal fees, and other expenditures. The D&O policy provides financial support for a basic indemnity clause, which protects officers and directors from losses caused by their participation in the organisation.
This could be one of the reasons why many officers and directors prefer to work with a firm that offers both indemnity and D&O coverage.
2. Legal Cost Reimbursement
When a claim is submitted, D&O insurance policies can pay the expense of legal representation in a variety of situations. Directors and Officers Liability Insurance, in particular, can compensate private company leaders in the event of charges of wrongful actions, negligence, mistakes in judgement, and financial management.
Given that D&O cases can arise out of nowhere and without warning, it's critical for private company executives to have the correct D&O policy in place.
3. Protection against Tax Liability, Civil Fines and Penalties
If the company goes bankrupt and the Director is held personally liable for unpaid corporate taxes, the D&O liability insurance coverage will cover it. The penalties and civil fines imposed by a court of law or any appellate or statutory authority might also be covered by Directors and Officers Liability Insurance.
These covers can be added to your D&O insurance as a bespoke add-on.
4. Covers Directors Personal Liability
According to the Companies Act, 2013, directors and chief officers of a business can be held personally liable for activities that violate their authority. In such a case, the directors and executives' assets could be seized or, on a more serious note, they could be arrested.
Directors and Officers Liability Insurance provides protection against such claims by covering the costs of releasing the restrictions on a director's personal assets and liberty through bail bond expenses.
D&O insurance policies can provide worldwide coverage for both jurisdiction and territory if the company operates in foreign locations. As a result, Directors and Officers Liability Insurance may provide protection against claims brought by shareholders, suppliers, and clients based in other countries.
Directors and officers liability insurance protect directors and officers from lawsuits brought by shareholders, customers, employees, vendors, and members of the general public. When the insured is functioning as a nominated director, the D&O insurance also covers lawsuits originating from the actions of another corporation.
7. Availability of Side A Cover
Side A and Side B coverage are included in a D&O policy. When the corporation is unable to compensate Directors and Officers directly, the Side A cover is designed to cover them. When the firm falls bankrupt or is barred by law from doing so, it may not be able to compensate its directors. Under Side, A coverage, directors and officers can seek indemnification from the insurer without having to go through the corporation. In usually, the Side A cover has Nil Excess.
8. Employee Related Claims
Employees may file a lawsuit against a firm for conduct such as discriminatory termination, sexual harassment, and so on. The directors and officers insurance includes an extension called Employment Practices Liability Insurance (EPLI) and Entity EPLI. The Entity EPLI extension extends coverage to the entire organisation.
The legal fees for defending a case in court can be covered by the Director Liability Insurance policy. It can also compensate expenses for acting in response to an inquiry by authorities, a regulatory notification, and the cost of engaging a PR consultant to reduce losses through add-on covers.
D&O claims can come from a variety of sources, including clients, workers, contractors, and government authorities, without warning. In general, disputes from competitors and creditors are fairly prevalent for private enterprises. D&O insurance ensures that private company leaders are covered regardless of where disputes arise by providing timely and effective coverage.
Who is Covered under Director and Office Liability Insurance?
Directors and Officers (D&O) liability insurance protect directors and officers from personal liability resulting from any unlawful or wrongful act performed in their administrative position. The following items are covered under D&O insurance:
The organization's Board of Directors and Officers.
Subsidiary company directors and officers.
Independent or non-executive directors.
A company employee who serves in a managerial or supervisory capacity for the company.
A risk manager who works for the company.
Secretaries to corporations.
A company employee who is not a director or officer and is functioning as a lawyer for the company.
Any employment or security claim.
All other claims against a director only if they are made on a regular basis.
Who is Excluded under the Policy?
Directors and officers liability insurance, like any other insurance policy, has specific exclusions. That is, under certain conditions, the D&O insurance policy will not provide coverage. The following are the general exclusions from the Directors and Officers Liability Insurance policy:
Fraud.
Personal profiting.
Pending and prior litigation.
Accounting of profits.
Property damage.
Pollution.
And any other illegal compensation exclusions.
Many of the areas stated in the exclusion, however, are covered by a different type of insurance, such as Fiduciary or General Liability coverage.
Many private organisations and businesses continue to neglect the need of having directors and officers liability insurance, believing that they do not require it. This is risky reasoning because a single D&O claim can wipe out a company's personal assets in one fell swoop.
The D&O Policy protects litigation arising from actual or claimed improper acts committed by league officials. The local league/organization, as well as its directors, officers, and other volunteers, are covered under this policy. The following are some examples of litigation that might be coated:
Discrimination (age, sex, handicap, etc.)

Violation of state and federal laws (anti-trust, IRS, EEOC)

Acts beyond authority granted in bylaws

Failure to deliver services

Suppression of First Amendment Rights (speech, expression, etc.)

Failure to properly manage league financial affairs
Regardless of whether you believe there is a liability or not, we recommend that you disclose any claims (formal demands for payment of damages or other measures). This is something that the insurance company's lawyers can determine.
The majority of D&O claims are compensated on a reimbursement basis. In the event of a claim, you will be required to pay the whole amount up front, whether for lawyer fees or other expenses. The insurance company will later reimburse the same to you.
When it comes to avoiding significant financial losses, directors and officers insurance is a must-have. Choosing a plan like this could help you cover claims from overseas shareholders, as well as international suppliers and clients.
Frequently Asked Questions
Other Corporate Insurance