Cover Your Health in 5 mins
Compare Premium.
Buy Now.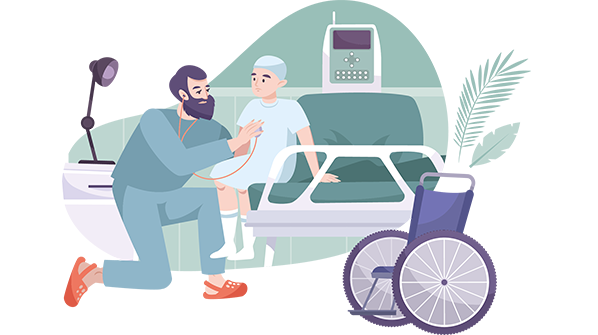 Compare Cancer Insurance Plans
What is Cancer Insurance?
A cancer-specific policy offers cover for various costs arising due to cancer treatment like radiation, chemotherapy, hospitalization, surgery, and many more. The money can be paid at different stages of the treatment including minor, major and critical stages. But usually, cancer insurance policies do not generally provide death, maturity, or surrender benefits.
Cancer is a deadly ailment and unfortunately, its treatment is so costly that sometimes many families cannot bear the expenses of the treatment and they fall into the trap of miserable conditions. For this reason, the cancer insurance policy is specially designed to provide financial help to those who are diagnosed with cancer. After the free look period mentioned in the Policy Document, the insured can avail of the benefits of the cancer insurance policy.
If you are already diagnosed with cancer, or if you have undergone some treatments of cancer, you are not eligible for this policy. You are also ineligible for this plan if you are suffering from any pre-existing cancer conditions.
What are the features & benefits of cancer insurance?
This policy comes with a wide range of benefits if the insured goes under the treatment of cancer. The key highlights are as follows.
Coverage for multiple stages – A cancer insurance plan provides you coverage for multiple stages of that ailment including minor, major, and critical stages.

Lumpsum amount – A lump sum amount will be paid to the insurer if he is diagnosed with cancer.

Premium waiver – The facility of premium waiver is available on certain grounds as prescribed by the insurer, like, an early-stage cancer diagnosis.

No claim benefit – If there are no claims during one policy year, the sum assured is increased automatically as per the pre-specified percentage.

Monthly income benefit – Under certain conditions, monthly income is paid out to the family of the policyholder for a specific number of years in case of loss of income of the insured. One such condition is in the case of a major cancer diagnosis.

Death benefit – At the event of the death of the insured cancer patient, the family will continue to get income benefit for a specified number of years, subject to specific terms and conditions. The nominee receives the income per month.

Wide range of cancer – This policy provides financial protection against different types of cancer like lung cancer, breast cancer, prostate cancer, stomach cancer, and some more.

Tax benefit – Since cancer insurance is a type of health insurance, the premiums you pay for the plan qualify for tax deduction under Section 80D up to INR 25, 000.

Premium discount – Most of the insurance companies that provide cancer insurance policies also offer a discount on the premium that is to be paid by the insured over a certain amount.

Duration – Most insurance companies provide lifelong cancer protection at an unbeatable price.

Insurance cover has not ceased after the first diagnosis.
Types of cancer insurance plans
Most cancer insurance policies can be divided into two distinct types of plans. Here are the mentions.
Hospital Coverage Plan – This type of cancer insurance plan usually covers the hospital expenses of the insured when he is admitted to a hospital due to cancer treatment. In this case, the insured does have to pay the hospital bills but anything other than hospital expenditure like transportation costs and more is not covered by this type of cancer policy.

Lump Sum Payment Plan – This type of cancer insurance policy usually pays out a single lump sum amount against a positive cancer diagnosis. To avail of this type of cancer policy, very few medical questions are asked usually and easily available for adults.
Best Cancer Insurance Plans 2023
Most of the insurance companies in India offer cancer insurance policies. The major ones among them are listed below in the table.
Health Plans with Critical Illness

Suitability

Entry-Exit Age

Sum Insured (INR)

Survival/Waiting Period

Aditya Birla Activ Cancer Secure Plan
Family cover

Adults – 18 years

Children 6 years

50% of SI for early stage

100% for major

150% for advanced stage

Survival Period – 7 days
Bajaj Allianz Critical Illness Insurance Plan
10 critical illnesses covered
91 days to 80 years
1 lakh – 50 lakhs
Survival Period – 30 days
Bharti AXA Critical Illness Insurance Plan
9 critical illnesses covered
3 months to 55 years
N/A
Waiting Period – 30 days
Survival Period – 30 days
Chola MS Critical Healthline Plan

Standard plan covers 10 critical illnesses

Advanced plan covers 10 critical illnesses

18 – 65 years
3 lakhs, 5 lakhs, and 10 lakhs
90 days
Digit Cancer Health Insurance Plan
N/A
20 – 65 years
10 lakhs – 50 lakhs

Waiting Period – 60 to 180 days

Survival Period – 7 to 30 days

Edelweiss Platinum Health Insurance Plan
Standalone Plan
No maximum entry age
Up to 1 crore
Waiting Period – 30 days
Future Generali Cancer Protect Plan
Family Cover

Adults – 18 to 65 years

Children – 1 to 17 years

Adults – 10 lakhs to 40 lakhs

Children 10 lakhs

Waiting Period –180 days

Survival Period – 7 days

Iffco Tokio Family Health Protector Policy
Family cover
18 to 65 years
1.5 lakh – 5 lakhs
N/A
Kotak Critical Illness Plus Rider Benefit Plan
Rider plan
18 to 65 years
Up to lakhs
Waiting Period – 90 days
Survival Period – 30 days
MAX Bupa Criticare Health Insurance Plan
Individual care
N/A
3 lakhs to 2 crores
48 months
Manipal Lifestyle Protection Critical Care Health Plan
Up to 30 critical illnesses
18 to 65 years
Up to 25 crores
Waiting Period – 90 days
Survival Period – 30 days
National Critical Illness Policy
Family cover
18 to 65 years
1 lakh to 75 lakhs
Survival Period – 30 days
New India Assurance Cancer Medical Expn-Individual Plan
Provided to members of Indian Cancer Society only
Up to 70 years
50,000 – 2 lakhs
Waiting Period – 90 days
Oriental Happy Family Floater Policy
Family Floater Policy
Up to 65 years
12 lakhs to 20 lakhs
Waiting Period – 1 year to 4 Years
Religare Cancer Insurance Policy
International second opinion cover
5 – 50 years
10 lakhs to 2 crores

Waiting period

PED -48 months

Initial -90 days

Raheja Cancer Insurance Plan
Self-declaration of good health is required
1 – 70 years
1 lakh to 10 lakhs
48 months
Royal Lifeline Elite Health Insurance Plan
Worldwide emergency hospitalization
18 years above
25 lakhs to 1 crore
90 days
Reliance Critical Illness Plan
10 major critical illnesses
18 to 65 years
5 lakhs, 7 lakhs, and 10 lakhs
3 months
Star Cancer Care Gold Insurance Plan
Individual coverage
5 months to 65 years
3 lakhs to 5 lakhs
48 months
SBI Critical Illness Insurance Policy
Individual plan
Up to 65 years
Up to 50 lakhs

Waiting Period – 90 days

Survival Period – 14 days

Tata AIG Critical Illness Health Insurance Plan
N/A
18 to 65 years
2.5 lakhs to 15 lakhs
90 days
United India UNI Criticare Health Insurance Plan
11 critical illnesses
21 to 65 years
1 lakh, 3 lakhs, 5 lakhs, and 10 lakhs
90 days
Universal Sompo Critical Illness Health Insurance Plan
N/A
5 to 65 years
2.5 lakhs to 20 lakhs

months
What All To Consider Before Buying Cancer Insurance?
The cancer insurance policy is a dedicated type of health insurance plan that differs from other health insurance plans and critical insurance policies as well. So, before buying a dedicated cancer insurance plan, one needs to check various factors and some important mentions are as follows.
Medical History of The Family and The Policy-seeker – If in your family you have a strong medical history of cancer, then you must go for this policy. It is very necessary to have a thorough medical check-up of the policy seeker before buying such a policy. One thing to be remembered is that, if you are diagnosed with cancer only then this policy comes into force. Otherwise, it does not cover any other chronic disease.

Two Policies Do Not Mean Extra Coverage – If you have comprehensive health insurance and a dedicated cancer insurance plan, it does not necessarily mean that you can avail of double benefits. Most of the insurance policies come with a 'coordination of benefits clause, stating that one plan will not cover the expenses that the other plan does.

Coverage For All Types of Cancer – Not all insurance companies provide coverage for all types of cancer under this policy. Skin cancer is a major general exclusion among them. So you need to choose one that offers coverage for maximum types of cancer.

Coverage For All Atages of Cancer – Your cancer insurance plan should not leave you amid illness. So, before selecting any cancer insurance plan, make sure that not only does it provide benefits when you are detected with cancer in a minor stage, but also offers you coverage in the major stage of cancer when the treatment costs become skyrocketing.

Be Thorough With The Exclusions – There are some exclusions in a cancer insurance policy. You need to go through them carefully. These may vary from one company to another. So always be aware of the exclusions.

Look For Premium Waivers – On being diagnosed with cancer, the premiums are waived off for a set period depending upon the plan. This offers financial help and saves you from the obligation of paying the premiums regularly. Check the premium waiver clause of your cancer policy before you opt for it.

Check For Waiting Period – The waiting period is one of the most important factors when it comes to health insurance policies. The policy comes into force after a certain period as mentioned in the Policy Document. This varies from insurer to insurer. The less the waiting period is, the faster you will be able to avail of the benefits.

Claim Settlement Ratio – It is important to look for the claim settlement ratio of the company. You can compare that online too. If the ratio is higher, you can go for that insurer.

Pay-out Conditions – If you are diagnosed with cancer and your income is hampered in that case, for a certain period, the insurer provides timely payments for the wellbeing of the family. But this pay-out benefit comes with different conditions that vary from one insurer to another. So it is vital to check all the conditions and if only it seems to be satisfactory, go for it.

Use Health Insurance Premium Calculator – You do not need to pay high premium costs to get cancer cover when you can protect your health with a low-cost cancer care insurance plan. You can use our health insurance premium calculator to estimate the cost of a cancer policy tailored to your specific needs.
Difference between cancer insurance and critical insurance plan
Sometimes cancer insurance sounds synonymous with a critical illness to us. But they are not actually. A critical illness insurance policy provides financial help in case of expensive treatments for a wide range of specific critical diseases that are mentioned in the Policy Document such as stroke, major organ transplant, paralysis, cardiac arrest, multiple sclerosis, kidney failure, total blindness, deafness and some more. Some insurance companies also cover life-threatening cancers as well.
A standard critical insurance plan pays the lump sum amount of money only after the insured is diagnosed with a covered critical illness. This money can be used for different expenses related to the disease such as deductibles, treatments, co-pays, therapy, and many others.
The critical insurance plan is usually cheaper than a comprehensive health insurance policy as it has to cover only the specified critical illnesses. This can be bought as individual policies or as riders with an existing life or health insurance policy.
But the major problem with this policy is that it only provides cover for cancer when it is at an advanced stage. At the initial or minor stage, it does not offer any cover. On the other hand, a cancer insurance plan generally covers all the stages of cancer treatment including minor and major ones. Cancer insurance pays for various types of cancers and the range is wider than the critical illness plan. Additionally, a critical illness plan does not waive off future premiums and no claim benefit (an increase of the sum insured at a certain percentage) is not under this plan as well, whereas, a dedicated cancer insurance plan has all these features.
If I already have health insurance, do I still need a cancer insurance plan?
Often people get confused between a health insurance plan and a cancer insurance plan. And it is a common question whether a dedicated cancer insurance plan is required while the person already has a health insurance policy. Here ends your doubt.
A standard health insurance plan is a basic indemnity based plan whereas cancer insurance is a benefit-based policy. Standard health insurance reimburses the hospital expenses or offers cashless treatment. It is ideal for covering the rising cost of hospitalization, treatments, diagnosis, medical aid and some more. On the other hand, the cancer insurance plan not only provides the medical expenses but it also has a payout option that offers financial support if the family's monthly income is hampered due to cancer.
Sometimes, health insurance plans do not cover all the stages of cancer like the minor stages. Additionally, there are different types of cancer that might not be covered under the health plan. There are also limitations like co-payment of treatment cost, treatment at network hospitals only, etc.
So if you have a medical history of your family related to cancer, a dedicated cancer insurance policy is a must-buy for you along with the health insurance policy. It not only safeguards you from the expenses arising out of the costly treatment of cancer but also comes with multiple other benefits that offer you a financially stress-free life while you undergo cancer treatment.
Exclusions of Cancer Insurance Policy
There are multiple exclusions that this policy does not cover. This might vary from one insurer to another. Some of the major exclusions are as follows.
Cancer Due to STD – If the policyholder is diagnosed with cancer that is a direct or indirect result of sexually transmitted diseases (STDs), mainly HIV or AIDS, most insurers offering cancer insurance plans do not cover this.

Congenital Condition – If the insured has a congenital condition that has led to cancer, in that case, he will not be provided benefits under the cancer insurance plan in most cases. This exclusion is regardless of whether cancer is diagnosed at a minor or major stage.

Intoxication – If the policyholder gets diagnosed with cancer arising out of intoxication such as alcohol, narcotics, or any other drug abuse, that is not prescribed by any legal, registered medical practitioner, that person cannot avail of the benefits of this policy.

Nuclear Radiation – Any cancer that is the contribution of nuclear radiation, or any biological and chemical resources is not covered under this policy.

Pre-existing Conditions – If there are any pre-existing conditions of cancer or any signs or symptoms that fall under the category of exclusion.

Skin Cancer – Some insurance companies that offer cancer insurance policies keep skin cancer outside of their coverage.

Cosmetic Surgery – If you get the disease due to cosmetic or plastic surgery or any other similar kind of surgery, you cannot avail of the benefits of this policy.

Self-inflicted Injury – Due to suicidal attempts or self-inflicted injury if you are diagnosed with cancer, the company does not compensate for that.
How Much Cancer Insurance Cover is Enough?
Your ideal cancer insurance amount depends on multiple factors that you have to assume after doing thorough research. It should be based on the future cost of the treatments, including recovery, medicines, chemotherapy, hospitalization, additional living expenses, and diagnostic tests.
Moreover, if you are a smoker or alcohol user, no matter if you do it occasionally or not, you need to declare yourself while purchasing the cancer insurance policy. In that case, the premium amount becomes higher. You need to select a plan that covers all the stages of cancer and most of the types of cancer. A higher sum assured is always beneficial in this case.
The most effective way is to analyze your needs and compare the cancer insurance plans offered by different insurance companies online based on the aforesaid factors and then only fix the sum assured.
Let us take an example to understand in a better way, how a cancer insurance plan works.
Mr. Sharma, a 35-year-old male, opts for a sum insured of Rs. 50 lakhs with a policy term of 30 years. He has no pre-existing condition at the time of purchasing the cancer insurance. According to his profile, his cancer insurance quotes include an annual premium of Rs. 10,763 (includes 18% GST) or Rs 897 Per month. Two years after his purchase, Mr.Sharma is diagnosed with Stage 1 cancer and the total medical amount comes out to be Rs.30 Lakhs. Luckily, his cancer plan takes care of his medical expenses and he doesn't have to pay the bills from his wallet. If Mr. Sharma didn't own a cancer plan, the pressure to pay all the expenses would have come to his head and could have endangered his lifetime earnings.
How To Buy Cancer Insurance?
In two ways you can buy a cancer insurance plan – online and offline.
If you want to purchase it online, then you can go to the official website of the selected insurance company. After selecting the 'Buy' option, you need to follow the necessary steps as commanded by the website itself. Or, you can also call on the company's toll-free number and they will assist you with the further buying process.
If you are more comfortable with the offline buying procedure, visit the nearest branch of the chosen insurance company. They will assist you manually to fill the form and with the other necessary steps. Other than that, you can also contact an agent who will help you smoothly throughout the entire process to purchase the selected cancer insurance plan.
How To Claim Cancer Insurance?
For availing a smooth and easy claim settlement process you can follow the below-mentioned steps:
If you are diagnosed with cancer and want to file a claim, you need to intimate the insurer immediately. For the intimation, you may visit their nearest branch or can do it online by visiting the 'Claim' section on their official website or also can call on their toll-free number for further assistance.

All the proofs and required documents are needed to be submitted along with the duly filled and signed claim form.

Medical reports, statements of the doctor, doctor's prescriptions, discharge documents, everything is needed to be kept securely and wherever required, you have to produce them. Though, in most cases, hospital bills are not required.

On the registration of the claim, a surveyor will be appointed on the behalf of the insurance company to assess the case and to make a report on that. It would be advisable to keep a copy of that report as it may help you in future reference.

Your claim approval highly depends upon the report of the surveyor. So do not produce any wrong or misleading information. And, cooperate with the surveyor and the insurer.

It is advisable to keep a copy of your Cancer Insurance Policy and to produce it before the insurer and the surveyor if needed.

In case of any issue, it might get rejected otherwise you will be reimbursed on the approval of the claim.
Frequently Asked Questions
Most frequent questions and answers about cancer insurance plan