* Subject To Underwriting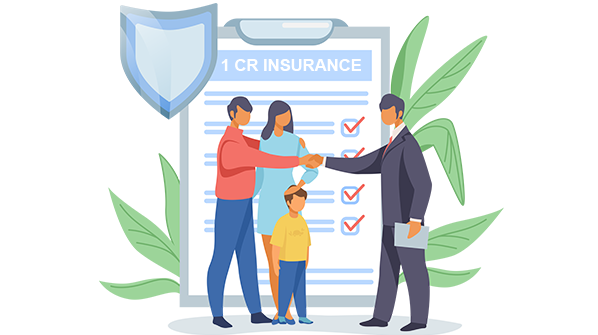 How To Get 1 Crore Term Insurance?
Doubtless of anything, what we see is day to day the cost of living is going higher and standards have changed and people find it expensive to leave in the present condition.
Surely everyone wants to live a good life and have a good lifestyle and the ultimate goal is to buy an insurance policy. This not only secures yourself but also your family. An insurance policy is the best option to overcome any hurdles.
Compare Term Plans Online to Get 1 Crore Term Insurance
When there are multiple choices with different companies, it becomes difficult to choose term insurance. Most of the insurance providers assure you 1 crore rupees Term Insurance.
Every insurance provider has their perspective of rating the premium for the term insurance, only after IRDA intervened and passed a regulation standardizing the rates, many insurance providers have brought down their rates making it more comfortable for customers to buy term insurance.
Company

Policy

Settlement Ratio

Sum Assured

Premium Amount (approx)

Covers upto

SBI Life Insurance

eShield

(Basic Plan)

89%
1 Crore
6400 Per Annum
N/A
AEGON Life Insurance

iTerm

(Basic Plan)

89.8%
1 Crore
8892 Per Annum
70 years
Reliance Life Insurance

Online Term

(Basic Plan)

83.8%
1 Crore
7950 Per Annum
N/A
HDFC Life

Click 2 Protect Plus

(Basic Plan)

90.5%
1 Crore
11145 Per Annum
70 years
PNB Metlife

Metlife Mera Term Plan

(Basic Plan)

92.9%
1 Crore
9011 Per Annum
N/A
Bajaj Allianz Life Insurance

iSecure

(Basic Plan)

91.9%
1 Crore
14513 Per Annum
N/A
Max Life

Online Term Plan

(Basic Plan)

95.5%
1 Crore
9046 Per Annum
70 years
Star Union Dai Ichi Life Insurance
Premier Protection Plan (Basic Plan)
94%
1 Crore
22000 Per Annum
N/A
ICICI Prudential

iCare II Term Insurance

(Basic Plan)

93.8%
1 Crore
18293 Per Annum
70 years
LIC

e-Term Plan

(Basic Plan)

98%
1 Crore
14600 Per Annum
N/A
Why 1 Crore Term Insurance? Don't Forget Inflation
In the current world where life is uncertain, we look forward to coverage or insurance in all aspects of our lives and protecting our loved ones. We look forward to protecting our loved ones financially making them stable in case of any uncertainties.
Inflation has been to its pick. One individual working and being the only breadwinner in the house, could opt for a 1 crore term insurance which is much more enough to protect your family financially in the event of the sudden death of the policyholder.
Make up your mind as you need to protect your family financially. You need a source of income running within the family in the event something happens to you as the family is relying upon you. So while choosing the best policy you will come across a lot of insurance companies providing the benefits of 1 crore term insurance.
While choosing the policy please ensure that you run through the policy documents carefully understanding the pros and cons involved. Take a note of the following factors while choosing your policy.
Rate of premium – your premium will be decided on the coverage you are looking for. Take precautions to be certain that the premium fits your budget. You can always make use of online premium calculators which will help you get an exact quote for your policy. Always compare the premium rates with another insurer before buying.
Settlements of claim – A little research on the insurance plan will be a must to be assured that the insurance provider is providing claim settlement. To be safer choose the insurer who has over and above 90% claim settlement ration. This will give you peace of mind and leave you to worry-free.
Add-ons – Most of the insurers provide additional benefits, these benefits only enhance your policy. Be wise to choose the right policy and do not get tricked by the add-ons.
How Your Sum Assured is Calculated in Term Plan?
The ultimate reason why one opts for an insurance plan is to keep their family or their loved ones safe and financially free. Looking at the standards of living and the rate of inflation you need to be pretty accurate of the coverage required. You can do so by estimating the exact amount you spend each year on different aspects like
Your monthly expenses for utility, household items, and groceries.
In the case of children their school or tuition fees.
Payments of all premiums of the family.
Other miscellaneous expenses of dining out, partying travelling, etc.
Once you come up to a monthly expense table multiple the same amount into 12 and you get your yearly figure or expense. Considering that this is your first year of expense, it may not be necessarily the same amount in the next of upcoming years. There will be inflation, so consider the inflation which calculating your expenses.
Add your liabilities if any to the expenses. Add up other expenses like a marriage of children etc.
For example, your monthly cost if Rs.20000/- multiple it into 12(months) = Rs.2,40,000/- into the number of years you want to cover say 20 years = 48,00,000/- plus per year inflation say at 10% = Rs.480000/-.
Add up your other expenses life marriage functions celebrations, say another Rs. 15,00,000/-.
Monthly expenses for 20 years + inflation + other cost = sum required
Rs.4800000/- + 480000/- + Rs.15,00,000/- = Rs.67,80,000/-.
So you have got a figure for 20 years. That is the coverage that you are looking for in the next 20 years for your family.
Your Annual Income Plays a Key Role in Getting 1 Crore Term Insurance
The key factor or the objective we can say is that insurance is a replacement of individuals' income for the family in the event of untimely death. So to derive to the sum assurance the insurance company needs to know your annual income to evaluate and provide the same in return to you.
The applicant here might have to undergo a process of financial undertaking or stating your income proof.
Financial underwriting helps in
Avoiding over insurance to the applicant.
Avoiding taking higher risks.
The below table will provide a rough estimate of your insurance coverage
| | |
| --- | --- |
| Age Group | Insurance cover |
| 18 – 30 | 25 times the income |
| 31 – 40 | 20 times the income |
| 41 – 50 | 15 times the income |
| 51 – 55 | 10 times the income |
| 56 and above | 5 times the income |
For example, if Montu is 31 of age and his annual income is Rs.5,00,000/- so he can apply for Rs.5,00,000/- x 20 = Rs.1,0,000,000/-.
How To Calculate Annual Premium for 1 Crore Term Insurance
A specifically designed tool know as a Term insurance calculator will help you to draw an annual premium for the insurance policy. These calculators are available on the insurance companies' portal which is very easy and simple to use. With the aid of the insurance calculator, you can derive to the sum assured that you are looking to protect your household.
The term insurance calculator will help to determine the exact amount of premium payable as there are many companies providing insurance policies. This will also make it easy to compare different policies and choose the best suitable one.
The Term insurance calculators have been a blessing as it works in saving time rather than manually calculating the premium amount. It is a quick tool to compare variously available policies and thus become cost-effective.
Next time you plan to calculate your premium always remember to make use of the Term insurance calculators.
List of Companies Offering 1 Crore Term Insurance Online
| | | |
| --- | --- | --- |
| Aegon Term Life Insurance | Aviva Term Insurance | Bajaj Allianz Term Insurance |
| Bharti Axa Term Insurance | Birla Sun Tern Life Insurance | Exide Life Term Insurance |
| HDFC Term Life Insurance | ICICI Prudential Term Life Insurance | IDBI Federal Term Insurance |
| Max Term Life Insurance | PNB Metlife Term Life Insurance | Reliance Nippon Term Life Insurance |
| SBI Term Insurance |   |   |