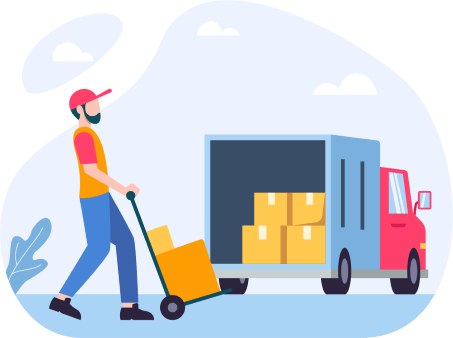 Commercial Vehicle Insurance
What Is Commercial Vehicle Insurance?
All businesses require a dependable means of transport for delivery of merchandise and raw material, heavy-duty tasks on construction sites, ferrying clients, or simply driving company executives on their work commitments. These vehicles include commercial buses and lorries, bulldozers and tractors, taxis, trucks, and other carriers that are imperative for the growth and enhancement of a company.
The constant operation of commercial vehicles on the road adds to the threat of accidents exposing the driver to continuous and stressful situations which can increase the chance of mishaps, loss of commodities, or even loss of life of the driver or commuters or both. Damage to the vehicle can incur enormous financial setbacks in repairs. This, in turn, can impact the financing of forthcoming business projects, causing a decline in the profit margin, and the business may eventually suffer enormous losses. To prevent such hazards, it is important to safeguard commercial vehicles from all sorts of calamities.
This is where the necessity for commercial vehicle Insurance arises. It protects the policyholder from bodily injury, death in the event of an accident, and covers third-party liability and property damage as well. Commercial vehicle insurance covers company-owned vehicles involved in a collision, theft, vandalism, or other damage.
Purpose Of Commercial Vehicle Insurance
It is mandatory by law for every vehicle on the road to have a Third-party Liability only policy that protects third parties against any injury and losses that could be caused by a commercial vehicle.
Commercial vehicle insurance protects and safeguards an individual's business from adverse situations and financial drain that may result from loss and physical harm caused to the commercial vehicle(s).
If the business involves vehicles such as private buses, school buses, or a taxi service then commercial vehicle insurance will reassure passengers that they will be protected and covered for.
Key Features And Benefits Of Commercial Vehicle Insurance
Commercial vehicle insurance lets the owner remain tension free regarding the vehicle's security in the following ways:
Comprehensive coverage for public and private vehicles against fire, natural calamities, accidents, and theft
Personal accident cover for driver and owner which includes permanent disability or death
The comprehensive cover allows innumerable add-ons at a nominal premium to enhance the security benefits
Most insurance providers allow a wide choice of insurance plans
A commercial vehicle insurance policy provides financial protection against personal injury and liabilities, as well as safeguards you against collisions and uninsured motorists
Unlimited liability for third party death/injury claims, when the insured vehicle is involved.
Indemnity for third-party property damage up to a maximum limit of Rs. 7.5 lakhs
Types Of Commercial Vehicle Insurance
Commercial vehicle insurance has two types of policies you can choose from:
Third-party liability cover
Comprehensive commercial vehicle insurance policy
Plan
Coverage

Third Party liability Insurance only

(The Motor Vehicles Act, 1988, makes it mandatory for every commercial vehicle owner to invest in third party insurance)

Protects the policyholder against any liability because of damages suffered by a third person or damage to their property.
This policy does not provide any benefits to the policyholder's vehicle and only covers third-party liability.
In the event of death or permanent total disability, 100% compensation is provided to a third-party.
50% compensation is given to the third-party in case of loss of one limb or sight of one eye.

Comprehensive Insurance plan

(This plan is optional but highly recommended)

It includes coverage for damages caused to the owner's vehicle and third-party person or property.
This insurance safeguards the owner's vehicle against damages arising out of man-made and natural calamities such as floods, cyclones, storms, landslides, earthquakes, fires, and explosions.
Acts of rioting and vandalism and theft of the vehicle are covered too.
 It also covers the policyholder's third-party liability arising out of death, injury, or property damage caused to a third-party by the insured's vehicle.
The factor of depreciation is not covered
Does not cover electrical and mechanical breakdown.
Does not safeguard the driver if they are intoxicated or not carrying a valid license.
Quick Summary Of The Types Of Insurance And Coverage
| | | |
| --- | --- | --- |
| Coverage | Third Party liability only | Comprehensive |
| Damages caused to a third-party person or property | Covered | Covered |
| Damages caused to a third-party person or property of the vehicle being towed by the insured commercial vehicle | Covered | Covered |
| Loss or damages to own commercial vehicle due to natural calamities, fire, theft, or accidents | Not covered | Covered |
| Injury/death of owner-driver | Covered | Covered |
Types Of Commercial Vehicles Covered By Commercial Vehicle Insurance
Commercial vehicle insurance can cover all vehicles that are not used solely for personal use. These can be:
Light commercial vehicles that carry passengers on a daily basis such as taxis, cabs, auto rickshaw, school buses, private buses, ambulances and pickup vans.

Goods carrying vehicles that include trucks, tempos, and lorries. As these vehicles are large, heavy commercial vehicles, they are more prone to the risk of accidents and will benefit greatly from the commercial vehicle insurance cover.

Diverse vehicles like JCBs, tractors, harvesters, threshers are used for agriculture, mining, and those on construction sites.

Multi-utility vehicles, passenger vans whose rear seats can be removed to accommodate cargo.
What Does Commercial Vehicle Insurance Cover?
Commercial vehicle insurance gives protection insured commercial vehicles:
Liability: Protects the business by providing cover for accidents, injuries, and property damage caused by the owner, insured vehicle. Also provides legal aid in case of a lawsuit.
Uninsured: If another driver is at fault for the accident but either does not have any auto insurance even then this cover will pay for your injury or property damage. 
Medical payments: This covers anybody occupying the insured vehicle regardless of fault.
Collision: covers physical damage to the insured vehicles if they get damaged from colliding into any solid object, such as a tree or rock.
Comprehensive cover: pays for damage to the insured vehicle from theft, vandalism, flood, fire, and other disasters.
Add-on Covers in Commercial Vehicle Insurance
When a customer buys commercial vehicle insurance online, he can also choose a range of add-ons at a nominal premium
No Claim Bonus – Claim-free years during the policy term entitles the policyholder to avail of a discount of up to 50% on the insurance premium for 5 claim-free terms. In case the insured is at fault, they must relinquish the NCB.
Roadside Assistance Cover – Where the insured is stranded in the middle of a highway with no help in hand, they can make a phone call to the insurance provider to immediately get emergency services like medical help, towing, battery, and fuel support, on the spot minor repairs, etc.
Invoice Protection – This guarantees that the claim is settled in a way as to recover the entire amount of loss (the price of the car at the time of buying) in case of wreckage. It bridges the gap between the invoice value of the vehicle and its Insured Declared Value (the cost of the car after depreciation has been deducted from the original sale price). However, this benefit is for vehicles not older than 3 years.
Zero Depreciation – The policyholder recovers the costs for the repair/replacement of the depreciated parts of the vehicle. This is good for vehicles in crowded city conditions.
Consumables Cover – This provides coverage for bolts, screws, washers, brake fluid, oil, coolant, etc. However, the cover is not available for older vehicles.
Accessories Cover – This is for costly vehicle accessories against theft and damage. For example, curtains, laminated windscreen, and bus flooring.
Who Needs Commercial Vehicle Insurance?
Commercial vehicle insurance is needed when:
Businessmen travel regularly to and from job sites
Transport of tools and equipment used for business purposes
Transporting employees or clients
The following industries use heavy and light commercial vehicles regularly and are probable purchasers of commercial vehicle insurance:
Hospitals
Construction and contracting
Consulting
Food and beverage industry
Landscaping and building
Real estate
Mining
Simple Guide To Buying Commercial Vehicle Insurance Policy
To garner the most benefits from an insurance policy, you must be judicious and cautious while selecting an insurance plan. Time should be spent on research and careful comparison of offers before making a final choice.
A prospective customer can opt between consulting an agent or office of the insurance provider (offline) or visiting a company website (online). Online procedures are time-saving and more convenient.
Then again, you can seek the assistance of an agent or aggregator such as Probus to make a deal or connect directly with the insurance company of your choice through its official website.
A simple guideline to buying commercial vehicle insurance online on Probus
Visit the Probus Insurance website and select commercial vehicle insurance.
Fill in the requested details/vehicle registration number/ model etc. and click to access quotes and offers from different companies.
Choose the type of insurance policy – third party liability only/ comprehensive.
Choose from a wide range of suitable plans, add-ons as per your budget and preference.
Online premium calculators will calculate the commercial vehicle premium.
Revise your entries and make any changes you desire.
Select the premium payment
Make the online payment through a secure gateway.
The policy will be delivered instantly to your registered email address.
If the customer wishes to purchase directly from the company of their choice, there will be no need to compare offers from different insurance providers. The prospective buyer can log on directly to the chosen company website and follow the stepwise directions as above.
How To File A Commercial Vehicle Insurance Claim?
Vehicle insurance claims can be cashless or non-cashless. In both cases, you have to:
Inform the police immediately and procure an FIR without which no claim can be initiated.
Make a video recording of the incident as accurately as you can to support your claim
Inform the insurance provider. Who will then alert their team for the next steps like surveying?
It's better you wait before for the survey of the vehicle before repairing
Read your policy document carefully so that you are up to date with everything.
What You Need:
Policy number
Name and contact numbers of the insured person
Date and time of the accident
Vehicle number, make, and model
Location
Name of driver
1. In the case of the cashless process
The insurance company will shift the vehicle to the nearest approved garage for the repair work to be done within the set time structure.
It will also arrange a cashless medical treatment of affected persons with the nearest company-approved hospital.
2. In the case of the non-cashless process
In case the cashless process cannot be carried out, the policyholder needs to carry out repair work at their own expense, which can later be reimbursed by the insurance company.
It is important to produce the original bill and payment receipt for the repair work for the insurer to process the claim.
Documents Required For The Claim Process
Properly filled and signed claim form.
Registration Card of the vehicle along with a photocopy.
Driving license of the driver who was driving at the time of the accident.
Valid fitness certificate.
FIR in case of third-party death or injury or property damage.
Exclusions of A Commercial Vehicle Insurance
Damage due to the following situations are not included in the claim benefits:
Wear and tear, depreciation, and other faults due to the age of the vehicle.
Technical breakdown not caused by accident.
Driver under the effect of intoxicants.
Overloading
Driving the vehicle on incorrect routes, or outside geographical limits.
Damage during the time of war
A vehicle was driven by. someone other than the driver
Damages due to wear and tear of a vehicle over a period of use.
Electrical and mechanical breakdowns that are not connected to the collision or accident.
Damage due to overloading the vehicle.
Driving under the influence of drugs or alcohol.
An accident caused by breaking traffic rules.
Accidents beyond the geographical limits covered by the policy.
If the vehicle is driven by someone other than the appointed driver.
Damage due to acts of war or invasion or nuclear attacks and accidents.
Why You Should Renew Your Car Insurance Policy On Time?
Failing to renew your vehicle insurance policy regularly can cause a lot of trouble. A vehicle insurance policy is an annual contract to be renewed every year to provide financial support in times of mishaps. It is therefore wise to renew the policy before its expiry date to benefit from continued protection. Failure to renew the policy renders it void and you will need to buy a fresh policy. This means a repetition of the entire process and protocols for buying a new policy.
Process To Renew A Commercial Vehicle Insurance Plan
Visit the official website of your insurance provider
Go to the policy renewal option
Enter the required details, such as the policy number
Submit the details
Pay the premium amount online
Your policy is renewed
Commercial Vehicle Insurance Premium Calculator
A vehicle insurance premium calculator is an online means that enables the buyer to obtain a quote from a range of car insurance companies along with the premium that the buyer must pay. Vehicle insurance premium calculator helps the buyer calculate their vehicle insurance premium online, of new as well as used vehicles. 
Benefits Of Online Calculator
Guides the buyer to purchase the correct insurance policy
Helps buyers decide on add-ons depending on their premium paying capacity
Instantaneously calculates the premium, considering details such as the vehicle's make, model, RTO details, Insured Declared Value (IDV), etc. Using a vehicle insurance calculator saves time by immediately exhibiting the premium amount for your vehicle. This enables the buyer to make a studied choice.
Most frequent questions and answers about commercial vehicle insurance FAQs