Renew in just 5 mins.
No Inspection.
No Paper Work
* Subject To Underwriting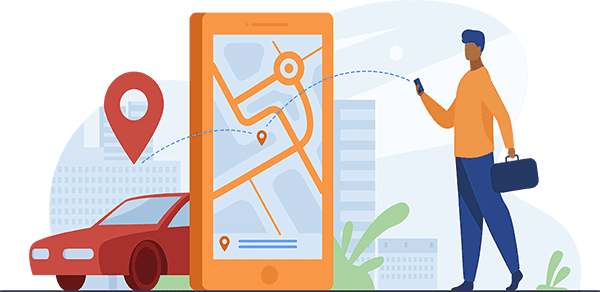 Compare

Passenger Carrying Insurance
The city is filled with tens of thousands of e-rickshaws. They are crucial because of their dependability. E-rickshaws are a convenient and affordable form of short-distance transportation. However, obtaining e-rickshaw insurance is required to operate the e-rickshaw safely and with protection on Indian highways.
E-Rickshaw insurance is a type of commercial vehicle insurance that acts as a contract between the insurer and the insured, requiring the insurer to pay for any unanticipated losses or damages. Insurance coverage is useful for covering losses brought on by accidents, theft, natural disasters, etc. The coverage can be used by you if you pay a reasonable price.
What is E-Rickshaw Insurance?
Numerous insurance companies offer e-rickshaw insurance. It functions as a contract between the insurer and the insured, under which the insurer is responsible for covering any unforeseeable loss or damage incurred to the e-rickshaw.
This coverage typically includes legal fees if a third party sues you following an accident involving your e-rickshaw, as well as medical costs for the driver and passengers. It also covers liability claims if you are held accountable for harm your rickshaw causes, repairs, and replacements.
Reasons To Consider Purchasing E-Rickshaw Insurance
Here are some of the reasons behind purchasing e-rickshaw insurance. They are as follows:
According to the Motor Vehicle Act of 1988, purchasing third-party e-rickshaw insurance is needed. If your e-rickshaw destroys a third party's vehicle, person, or any of their personal property, this insurance plan will protect you from any third-party liability.
Buying a comprehensive insurance plan is advised because it covers both your damages and damage from theft, fire, natural disasters, terrorism, and other causes.
Buying e-rickshaw insurance demonstrates your responsibility and concern for the security of your customers, which is a nice touch.
This insurance policy ensures that you are covered for any unanticipated loss or damages if your company uses e-rickshaws.
Type of E-Rickshaw Insurance Policies
Here are the types of e-rickshaw insurance policies that one should know about.
Comprehensive Insurance Plan
It is advised to buy a comprehensive insurance policy because it covers both your damages and damages brought on by theft, fire, terrorism, natural disasters, etc. A thorough plan also pays for all legal fees if there are any disagreements about who is to blame or whose fault an accident involving your e-rickshaw is.
Third-Party Liability Coverage
No matter how terrible the situation may be, this kind of coverage guarantees that you won't be held responsible for any damage your e-rickshaw may cause. In these situations, the insurance compensates you for the losses you suffer by making a payment on your behalf.
What is Covered & What is Not Covered Under E-Rickshaw Insurance?
Here is the list of the things covered under E-rickshaw insurance.
Accidental Damage: The comprehensive insurance policy will pay for any damage done to the e-rickshaw as a result of an unlucky event. This covers things like the e-rickshaw tipping over or colliding with something else.
Man-Made Disasters: This insurance policy also covers any loss or damage to the e-rickshaw resulting from unnatural catastrophes including riots, strikes, and malicious acts. By doing this, you may be sure that any damages brought on by uncontrollable outside causes will be covered.
Natural Calamity: An e-rickshaw insurance coverage also covers damage brought on by any natural disaster, including earthquakes, floods, hurricanes, typhoons, and others. You can rest easy knowing that even if a natural calamity severely damaged your e-rickshaw, your insurer would still be able to compensate you financially in some way.
Personal Accident: Personal accident insurance will cover the costs if an E-rickshaws' passengers are hurt or are to blame for the owner or driver's death. This means that if something were to happen while a passenger is in your e-rickshaw, you wouldn't have to shoulder the entire burden by yourself; instead, your insurance company might offer some kind of monetary compensation for everyone concerned.
Third-Party Liability: An e-rickshaw insurance coverage will also cover any loss or damage to a third party's property brought on by your e-rickshaw. By doing this, you can prevent having to pay hefty sums of money out of pocket if you unintentionally hurt someone or damage their property while operating your vehicle. Instead, your insurer will take care of those costs on your behalf.
Theft: The insurance provider offers coverage for the e-rickshaw in the event of theft that falls under the total loss provision of the insurance policy.
It's critical to comprehend what is not covered when buying e-rickshaw insurance coverage. You can decide if this form of coverage is appropriate for your needs by understanding the exclusions linked to it.
Here are a few typical items that are not usually protected by an e-rickshaw insurance policy.
Own Damage For Third-Party Policyholder: For your e-rickshaw, the insurer will not pay for any damage if you have simply purchased third-party liability insurance. This implies that you will be responsible for paying for any repairs needed if your e-rickshaw is damaged in an accident.
Electrical or Mechanical Failure: E-rickshaw insurance coverage often does not cover electrical or mechanical problems. This implies that the insurer will not pay for the price of repairing or replacing the damaged parts if your e-rickshaw has any form of electrical or mechanical breakdown.
Consequential Loss: Additionally, coverage is often excluded for any additional losses or harm your e-rickshaw sustains as a result of an accident. This covers any losses brought on by an accident, such as those brought on by fire, theft, and vandalism.
Driving Without a License: Lastly, the insurer will not pay for any repairs or replacements if they discover that you were operating your e-rickshaw without a valid driver's licence at the time of the collision. Maintaining your eligibility for coverage in the event of an accident requires that you operate your e-rickshaw at all times while in possession of a current driver's licence.
Factors to Consider While Buying E-Rickshaw Insurance
To make sure you have the correct coverage for the price you pay, you must take into account many things when buying e-rickshaw insurance.
Insured Declared Value: When acquiring an insurance policy for an e-rickshaw, check out the insured declared value that the insurer provides. It is the highest amount of financial coverage you are eligible for when filing a claim. If you can afford it, choosing a higher IDV is advised.
Services: Examine the insurance provider's service standards before buying a policy, and see if they treat you well if you file a claim. If not, you can pick the provider of better services.
Claim Settlement Ratio: Check the claim settlement ratio of the insurance company you want to work with when buying e-rickshaw insurance. This ratio displays the percentage of claims that the insurance provider successfully resolved in the preceding years.
No Claim Bonus: An insurer may offer a no-claims bonus as compensation for a year during which no claims were filed. Make careful to verify whether the company takes into account the NCB in their insurance policy because companies typically deliver this bonus as a reduction in a premium amount in the subsequent year's plan.
What Are The Add-On Covers Under E-Rickshaw Insurance?
Here are the add-on covers under e-rickshaw insurance.
Zero Depreciation Cover: Over time, the parts of an e-rickshaw may lose value. The value of the insurance claim is ultimately reduced by this depreciation. The zero-depreciation add-on cover makes sure that depreciation is not taken into account. This increases the amount of compensation you get when you file your claim.
24×7 Roadside Assistance: Compared to private vehicles, commercial e-rickshaws are more prone to breakdowns because of their long operating hours. Having access to 24-hour roadside help at such times is a blessing.
Motor Protection Cover: Your commercial EV's motor is its beating heart, thus any damage to it would result in significant financial losses.
Damages can be protected for times when a repair is necessary with motor protection insurance.
Consumables Coverage: Purchasing a commercial EV and keeping it maintained are two separate activities. Your business requirements may influence the vehicle you select.
To maintain it operating at its best, the necessary replacements and parts must be regularly changed. Thus, the cost of replacing the components is covered by consumables cover in addition to your usual insurance coverage.
Motor Protection Cover: Since the motor is the brains of your business electric vehicle, any damage to it would result in huge financial losses.
Damages can be insured with motor protection insurance for instances when a repair is necessary.
Steps To File a Claim Under E-Rickshaw Insurance
By purchasing this e-rickshaw insurance policy, you can be protected against any unanticipated event that results in loss or damage and then you can file a claim. The actions you can take to raise a claim are listed below.
Inform your insurer of the accident and the full circumstances.
You should document the damaged vehicle and the accident site with photographs so that you can later use them as evidence.
To ensure a smooth process, get your documents ready so you can submit them with a properly filled-out claim form.
To start the claim procedure from their end, the insurance will send an inspector to inspect the entire situation and physically assess the damages.
When the inspector is satisfied, they will let the business knowledge make arrangements for coverage of the damage.
The insurance company will later pay for the E-rickshaws repairs. If you send the e-rickshaw to a network garage, the insurance will pay the bill on your behalf; but, if the e-rickshaw needs to be fixed in a non-network garage, you will be responsible for payment and reimbursement within the allotted time frame.
How To Buy E-Rickshaw Insurance?
If you are looking to buy e-rickshaw insurance, then you can simply buy it offline or online mode.
Online Mode:
To purchase e-rickshaw insurance online, all you need to do is visit the company's website.
On the other hand, you can consider third-party service providers, such as Probus Insurance, which can help you find and buy the best e-rickshaw insurance.
Offline Mode:
If you wish to purchase insurance coverage in person, all you need to do is simply visit the nearest branch. When you visit the branch, you can obtain all the information you require regarding commercial e-rickshaw insurance. However, if the issues continue, you might get assistance by getting in touch with the insurance company.
Frequently Asked Questions