Renew in just 5 mins.
No Inspection.
No Paper Work
* Subject To Underwriting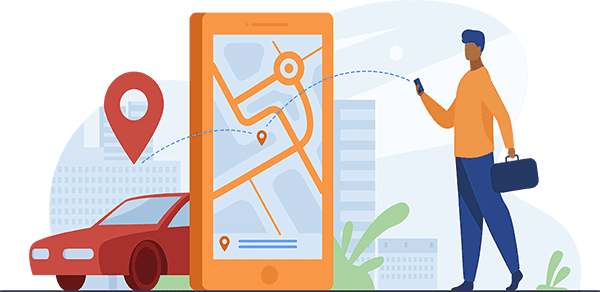 Compare

Passenger Carrying Insurance
Businesses all across the world rely on commercial vehicles to provide value to their clients. Risks bring fresh opportunities for business owners, but they also carry expenses, such as the potential for unexpected road accidents. For instance, your ability to run a successful hotel or transportation company depends on the efficiency of your fleet of commercial vehicles. If an unfortunate accident does happen, you can find yourself facing a significant loss of income, frequently because of legal issues. Not to mention the indirect losses caused by unhappy clients and missed business chances!
Commercial vehicle insurance, commonly referred to as heavy vehicle insurance, shields your vehicle against third-party liabilities and aids in reducing such losses. Despite the difficulty of predicting accidents, vehicle Insurance can spare you from having to cover the costs of any related litigation.
What is Heavy Vehicle Insurance Policy?
Heavy vehicle insurance policy provides coverage for losses and damages incurred by or on behalf of a commercial vehicle and its owner-driver. This might cover losses and damages from mishaps, collisions, natural disasters, fires, etc. Commercial vehicle insurance must be purchased by all companies for their fleets of vehicles, including taxis, school buses, tractors, commercial vans, and trucks, among others.
What are the Types of Heavy Vehicles Covered?
There are various types of vehicles covered under heavy vehicle insurance, namely:
Insurance is specifically designed for vehicles like taxis, cabs, auto rickshaws, school buses, private buses, and others that typically transport at least one passenger. Due to their constant ability to transport many passengers, passenger-conveying vehicles—especially school buses and regular taxis—have a tremendous amount of duty.
Driving these vehicles is essential to certain people's livelihoods and means of subsistence in India. In the event of any unforeseen occurrences, commercial vehicle insurance assures them that they will always be protected against damages.
vehicles used to transfer items from one location to another regularly. These mostly consist of tempos, lorries, trucks, and micro trucks. Vehicles that transport goods are frequently very large and subject to a great deal of risk as a result. Commercial vehicle insurance shields the driver and the vehicle from losses that may result from collisions, natural disasters, or other unforeseen circumstances, in addition to shielding damages and losses to third parties.
Miscellaneous & Special Vehicles Insurance
There are various vehicles regularly used for and by businesses, including cabs, taxis, trucks, and buses. Some of these might include specialised vehicles for mining, building, and other activities. Heavy vehicle insurance for the same would protect the covered vehicle from any accidents and losses caused to and by the vehicle and its specific owner-driver.
Tractor
A type of commercial vehicle insurance known as tractor insurance offers total coverage for both the insured vehicle and third parties. The Own Cover portion protects the tractor and its owner from external dangers like theft and vandalism. Ranch and commercial tractors are insured under different sections of the Motor Vehicles Act. Any damage or loss caused by the insured tractor to another vehicle or person is covered by outside responsibility.
What Does Heavy Vehicle Insurance Offer You?
Here is the list of the things included under the heavy vehicle insurance policy.
Accidents
You are protected from Third Party claims and liabilities resulting from any harm your vehicle causes to them. The responsibility amount determined by the court will be covered by your commercial insurance coverage in the event of any accidental death or injury.
Natural Calamities
To recover from natural tragedies, enormous financial outlays and resource use are necessary. You can claim if any damage to your vehicles occurs as a result of a disaster, either directly or indirectly.
Fire
Getting fire coverage is crucial when there is machinery involved, regardless of the source of the fire. Commercial insurance offers a safeguard against the catastrophic consequences that can result from any irresponsible action on your behalf.
Theft
Theft, burglary, and housebreaking are all covered by commercial vehicle insurance. You may be confident that you will get returns and claims for the material you lost with the Own Damage Cover.
Terroristic Acts
This action is protected by commercial vehicle insurance and falls within the area of Own Damage Cover. Any damage to your car resulting from such riots or other events is fully covered by the policy.
Personal Accident Cover
In the event of an accident, damage to, or loss of, the vehicle, the personal accident cover, which is offered under the own damage cover, offers compensation for the driver or owner of the motor vehicle.
Travel
The heavy vehicle insurance policy covers any damage to the commercial vehicle while it is being transported by rail, road, inland canal, air, or lift. Damage to any material being moved during the transit using the vehicle is also included in this.
What are the Add-Ons For Heavy Vehicle Insurance?
Here are the popular add-ons for heavy vehicle insurance. 
Consumable Cover
Your commercial vehicle will receive protection beyond what is typically provided by a consumable cover. In the event of an accident, it will cover the expense of small parts for your car, such as screws, engine oil, and grease.
Revenue Loss
Many people depend on their vehicles for work. This add-on aids in making up for any income you might lose while your business vehicle is out of commission for repairs after damage.
Additional Towing Expenses
Your vehicle will need to be towed to a garage after an accident so that it may be fixed. This add-on will pay for any additional costs you may incur whilst your car is being transported from the scene of the accident to the closest garage or safe location.
Replacement of Keys and Locks for Passenger-Carrying Vehicles
Sometimes the lockset on the car needs to be changed, and other times the keys get lost or forgotten. In these situations, the add-on coverage aids the policyholder in receiving compensation for the price of replacing the insured vehicle's locks and keys, installing a new lockset, etc.
Engine and Gear Box Protect
In an accident, the engine or gearbox of your car is harmed because of things like water ingress or lubricating oil leaks. The consequential damages that result from the accident (but because of it) will also be covered by this add-on, such as engine damage from hydro static loss, which is not covered by a regular policy.
What Are The Exclusions Under Heavy Vehicle Insurance?
Listed below are the things that do not include under heavy vehicle insurance. 
Driving under the Influence
If you cause an accident while under the influence of alcohol or drugs and your automobile is damaged or destroyed, your insurance will not pay for the repairs, replacement, medical expenses, or legal fees.
No Legitimate Licence
You forfeit your insurance coverage if your car is damaged or stolen after an accident but you do not have a valid licence to drive. For individuals who drive without the proper authorization, it does not provide coverage.
Wilful Negligence
If it is determined that your negligence caused the accident, which resulted in damage to the vehicle or to the passengers who were in it, you will no longer be covered by insurance.
Contributory Ignorance
A claim under business insurance cannot be made for any action that contributes to the negligence, often known as contributory negligence. This type of carelessness occurs when the owner or the driver engages in behaviour that exacerbates present negligence.
Loss Caused By War or Other Connected Events
Customers will not be covered by commercial vehicle insurance for any loss, damage, or accident to the vehicle brought on by war, its effects, or other connected events like rioting.
Vehicle Malfunction Due to Mechanical Issues
Any expenses incurred as a result of mechanical or electrical failure, wear, and tear, or complete malfunction of your insured vehicle will not be covered by the business insurance.
How To File a Claim Against Heavy Vehicles Insurance?
The following actions should be performed in the case of an incident giving rise to a claim under the policy:
If the vehicle is accidentally damaged:
Step 1: Immediately notify the policy issuing office or the closest office in writing.
Step 2: The business would also set up a spot survey at the scene of the accident in the event of a substantial loss to the vehicle.
Step 3: Obtain a claim form and submit it properly filled out and
Copy of the Registration Certificate
Copy of the driving license of the driver of the vehicle at the time of the accident
Copy of permit & fitness certificate in case of commercial vehicles
Start the vehicle repair after it has been inspected by an IRDAI licenced surveyor that has been designated by the insurance provider.
In case of theft of the vehicle:
Step 1: Report the incident to the police right away.
Step 2: Immediately inform the concerned Regional Transport Office and the policy-issuing office.
Step 3: Obtain a claim form and properly complete it.
Step 4: As soon as you have the final police report, submit it.
Step 5: Offer the investigator the insurance company has hired your complete cooperation.
In case of third-party liability claim:
Immediately notify the insurance provider of any incident that could result in a liability claim.
The summons must be sent to the corporation right away when it is received by the court.
Completed claim forms must be filed with copies of the registration certificate, diving license, and FIR.
How To Buy Heavy Vehicles Insurance Policy?
If you are looking to buy heavy vehicle insurance, then you can simply buy it offline or online mode.
Online Method:
To purchase heavy vehicle insurance online, all you need to do is visit the company's website. On the other hand, you can consider third-party service providers, such as Probus Insurance, which can help you find and buy the best insurance.
Offline Method:
If you wish to purchase insurance coverage in person, all you need to do is simply visit the nearest branch. When you visit the branch, you can obtain all the information you require regarding heavy vehicle insurance. However, if the issues continue, you might get assistance by getting in touch with the insurance company.
Frequently Asked Questions
Even if you move, the policy is more or less unaffected. Your new address and phone number are the details you need to update your contact information.
Following the sale of the vehicle, the new owner can add their name to the insurance policy by following a fairly straightforward process. However, the transfer procedure must be completed within 14 days after the date the new owner registers the vehicle.
The no-claims bonus is still applicable for up to 90 days beyond the prior policy's expiration date. The No Claim Bonus will become 0%, and no benefit will be carried over to the renewed policy if the policy is not renewed within 90 days.