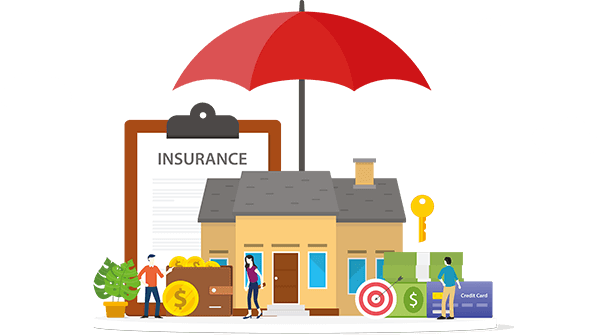 Housing Society Insurance
What Is Housing Society Insurance Policy?
A co-operative housing society is basically formed to manage all the society related issues by the committee members involved in the committee. The management of all the issues of a cooperative housing society with considerable good number of people is quite daunting at times; there are other concerns apart from keeping a track of billing, accounting, visitor management, management of staffs etc that needs attention. There are various risks and liabilities to which your building may be exposed to, which your committee might not be able to cope up with.
So, what could be done under such situations?
Well, the answer is quite clear, opting for an insurance plan which is designed in such a way that it covers all your society's needs and is also an ideal fit for the risks or liabilities that might struck in the future. What works best for society is an ideal one stop solution that would cover your society from various perils such as burglary, riot, earthquake, malicious damage, fire, property damage etc. This article will help you understand more about what a housing society insurance plan is and how it can benefit you against various perils or unforeseen situations.
Key Features of Housing Society Insurance Policy
The housing society insurance policy is the best way to insure multiple homes under one single plan. Some of the key features of the policy include:
Higher Coverage
Under the housing society insurance policy, you get the flexibility to select the coverage amount depending on the size of your building and the needs of the society. To keep your housing society secured against man-made and natural perils, this policy is definitely a beneficial choice considering the perks it offers.
Coverage for common amenities
Any sudden fire incident might cause severe damage to the amenities of your building which includes gym, play courts, etc. Opting for an optimum housing society insurance plan will help you to get all of these areas covered under one plan.
Fire
The plan covers the losses and damages caused to your housing society due to the fire incident.
Damage or loss caused due to Lightning Explosion / Implosion.
Aircraft damage
Loss, damage or destruction caused due to riot strike and malicious damage.
Missile testing operations.
Impact damage due to railroad vehicle or animal not belonging to insured, subsidence and landslide including rock-slide.
Protection of your possessions against natural calamities – storm, cyclone, tempest hurricane, typhoon, tornado, flood and inundation.
Coverage against accidental damage – Leakage from automatic sprinkler installations and bush fire, bursting and/or overflowing of water tanks apparatus and pipes.
Terrorism optional cover offers coverage against acts of terrorism for a nominal premium.
Benefits of Housing Society Insurance Policy
Housing Society Insurance Policy comes with its own set of perks which makes it ideal to protect against various perils. Some of the common benefits of the Housing Society Insurance policy are listed below:
It offers coverage to all contents (covered under standard fire & special perils), against burglary or housebreaking (theft following upon an actual forcible, violent entry of or exit from the premises), or robbery.
It covers loss of money which includes banknotes, currency notes/coins, bank drafts, money orders, cheques, postal orders, treasury notes, and revenue stamps) belonging to the business of the insured whilst securely kept in the insured premises.
The policy also offers coverage to loss or damage to any safe, strong room or cash box securing money
It covers you for your liability under the Workmen's Compensation Act' 1923 and /or Fatal accidents Act'1855 and / or Common law to pay compensation to employees for bodily injury or death caused due to accidents / occupational diseases arising out of and in course of employment.
It protects you against your legal liability in respect of accidental bodily injury to third parties and or accidental loss and /or damage to property belonging to third parties
Exclusions of Housing Society Insurance Policy
There are certain policy provisions in any insurance policy that eliminates the coverage for some risk types. These are termed as "exclusions". Some of the common exclusions of housing society insurance policy are listed below:
There are certain consequential losses which are uncovered under this plan.
Few standard fire and special peril are also not uncovered under this plan. Those include loss or damage caused by war or warlike operations, the destruction caused due to ionizing radiations, contamination's caused by the hazardous radioactive, nuclear fuels or waste, pollution or contamination losses, losses of earnings or fall of the market
The housing society insurance plan covers completed constructed buildings. Any building which is under construction or not under possession is not a part of the coverage of this plan.
This plan also does not cover the cost of the land.
Also, if there is any kind of damage caused to your property wilfully that is out of your policy's scope then it not covered under this plan.
In addition to this, any loss, damage or destruction caused due to fire or explosions, inmates or member of the insured's household or business staff is not covered in this plan.
Any kind of loss of money, destruction or damage caused by collusion by any employee or agent of the Insured, use of keys or duplicate keys, use of counterfeit money is excluded from the coverage of this plan.
In addition to the above exclusions, liability arising out of willful or intentional non-compliance of any statutory provision, fines, penalties, punitive and/or exemplary damages does not come under the plan.
Housing Society Insurance Premium Calculator
Before opting or finalizing on any plan, one should compare with the various options available online. By making use of the housing society insurance calculator online, one can save on the amount which otherwise is added as the commission of the agent if one opts through the offline mode. The housing society insurance premium calculator helps to solve the tricky tasks of calculating the premiums for your plan as per the needs of your housing society.
Compare Co-operative Housing Society Insurance Online
It is very important to compare the housing society insurance plans online from different insurers before buying one, as it will help you to figure out the optimum plan as per your needs or expectations. There are various ways of finding the best pick which includes insurance broker's website, web aggregator's website, online insurance company's website etc.
On comparing different policies online, the policy seeker gets the necessary details about the plan such as benefits, features etc which later makes the task of selecting the plan much easier for you. Moreover, you get a detailed and comprehensive data about all the plans in one go without even spending time on visiting the website of different insurance companies through the broker or aggregator's website.
Most frequent questions and answers about housing society insurance claims