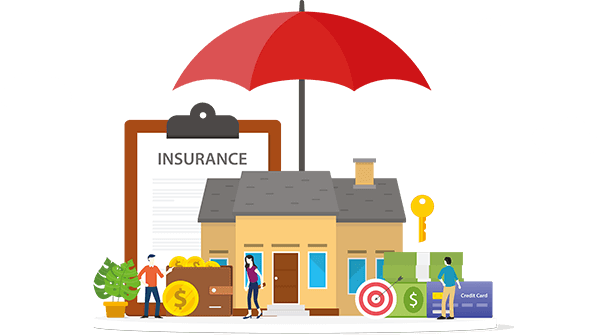 Housing Society Insurance
What is covered by Homeowners Insurance?
Property insurance that shields against the damages caused to the house or secures its belongings is termed as homeowner insurance policy. This policy ensures safety from various catastrophes that can cause losses to the house and loss or damage to its belongings, and other liabilities associated with the home. It is highly recommended to opt for homeowner insurance plan as this plan may help one redeem or recover the damages so that it doesn't cause emotional or financial stress; since one could take their entire life and monetary savings to build and live in a functioning household.
What does homeowner insurance plan protect you from?
Home Owner Insurance covers numerous perils under its plans that would protect one's home. Some of the common peril coverage offered by many companies is listed below:
Fire
Lightning
Damage from an aircraft collision
Storm/Cyclone/Typhoon
Flood and Inundation
Riot, strike and other malicious damage
Subsidence and Landslide/Rockslide
Other perils covered under this plan include missile testing operations, leakage from automatic sprinkler installations, bush fire and terrorism.
Why is the homeowner insurance plan required?
Having Homeowners insurance plan is very essential as it not only offers security to your house but also to its belonging along with cover for your liabilities which include injuries or property damage. One or one's immediate family members that are accountable for the house and its belongings will be eligible for the cover. Homeowner Insurance plan will not only save you from unanticipated expenditures but will also help you make your home more resistant to natural catastrophes. It is a way to insure oneself from the potential financial burden or emotional distress that may be caused by the damages that occurred to the house.
What are the benefits of homeowner insurance plan?
Homeowner Insurance plan has a bunch of features and benefits which is why it is a no brainer that one should opt for it. Some of them are listed below:
Comprehensive Cover:
It ensures that one's house and all the assets and liabilities are protected from almost all the types of catastrophes that will result in damage to property.
Coverage limits:
Each coverage in a homeowner insurance policy is governed by a limit i.e. the maximum amount your policy would pay to cover a loss. However, one can adjust the maximum coverage limits based on their inventory and the items that they would want to cover to avail the best benefit.
Temporary living expenses:
If the catastrophe is devastating enough to make a house uninhabitable then some of the policy offering companies may allow some monetary benefits that would help one obtain a permanent place wherein one can relocate until the damaged property is repaired/rebuilt.
Flexibility in cover options:
Some insurance companies allow individuals to choose the perils of their cover policy from the available option to make the policy as suitable as possible.
Less paperwork:
The homeowner insurance plan requires comparatively less and simple documentation owing to the seamless online process.
Easy application process:
The process of applying for this plan is quite easy and can be applied through the online mode as well.
Coverage for home structure or additional structure
Homeowner insurance plan offers cover not only to the house, household belongings but also to some additional structure that would fall within the surroundings of your house. The additional structure includes:
A fence or a boundary outlining the household territory
A detached Garage
A small outhouse
A swimming pool
There may be some more depending upon the policy that is being chosen and the insurance company.
Coverage for Personal Property
The Homeowner Insurance policy would not only offer cover the personal property but also offer coverage for a rented property, additional structure alongside the house and all the belongings associated with the household.
Does the homeowner insurance plan offer coverage for an additional living expense?
Yes, if the mishap is quite serious and cannot allow an individual to live in that house anymore then the policy would offer some monetary benefits to be redeemed so that one can look out for other temporary living options and is able to bear those benefits.
Coverage for personal liability and medical payments
Personal liability and medical payments are two of the key components of the Homeowner Insurance policy that would ensure safety towards the damage of expensive personal items like jewelry, watches, electronics, etc. Medical payments are also issued in case of an injury or death, visitor injury in one's house, etc. However, the coverage might differ from insurer to insurer.
Can one opt for partial cover for contents?
Yes, one can opt for a partial cover for the contents that comply with the coverage options listed for the policyholder so that one can design the policy, premium and redemption plans as per one's needs; thereby making the service flexible and user-friendly.
What is not covered under the homeowner insurance plan? (Exclusions)
There are certain exclusions or features that are not covered under this plan. They are listed below:
Loss of cash
Damage due to a nuclear attack
Loss or damage that might be due to wear or tear
Damage or loss due to war
Wilful destruction of the property
Loss or damage to paintings, antiques or other works of art
Loss or damage to electronic equipment due to over usage or excessive pressure
Homeowner insurance claim process
Every insurer has their own claim process and if the insured wants to make a claim he or she has to file the claim as per his or her company (from where the policy is purchased) standards. The claim process differs from insurer to insurer. At some instances, the insured might need to file an FIR for certain claims and its copy needs to be submitted to the insurer. Documents such as Medical Officer's Certificate for death/disability, fire brigade report, supplier's original invoice for replacement, repair estimates, court summons, police investigation report and invoice of owned articles must be submitted while filing a claim.
Most frequent questions and answers about personal accident insurance