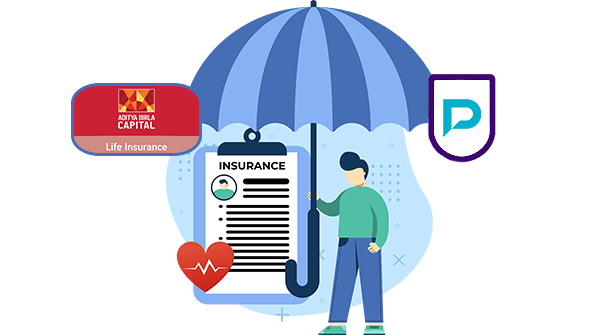 Aditya Birla Sun Life Insurance Customer Care
Aditya Birla Sun Life Insurance Customer Care
Aditya Birla Sun Life Insurance (ABSLI) was incorporated on August 4th, 2000, and commenced operations on January 17th, 2001. ABSLI is a joint venture between the Aditya Birla Group and Sun Life Financial Inc., an international financial services organization in Canada. ABSLI offers a range of products across the customer's life cycle, including children's future plans, wealth protection plans, retirement, and pension solutions, health plans, traditional term plans, and Unit Linked Insurance Plans. has a nationwide distribution presence through 340+ branches, 8 bancassurance partners, 6 distribution channels, over 49,000 direct selling agents, other Corporate Agents, and Brokers, and through its website. One can get easily connected to this company using its customer care services to resolve their problems or to know anything about their insurance policies. 
Facilities To Avail of Via Customer Care of Aditya Birla Sun Life Insurance
If one gets connected to the customer care service of Aditya Birla Sun Life Insurance, he/she can avail of the following benefits.
To know about a plan – If someone wants to buy an insurance plan from this company and wants more details about the plan, he/she can contact the company's customer care service to get detailed information.
To buy a plan – If anyone faces any hindrance to purchasing a policy, either online or offline, the customer care service will always be at service to resolve the issue.
To renew a plan – If a plan is not renewed on time, the policy will lapse, and the insured person cannot avail of the benefits of the policy. To avoid this hazard, renewing the policy on time is important. One can also take the help of the customer care facility of this insurer to complete the process smoothly.
To create an online customer portal – Creating an online customer account under this company is very important to avail of the benefits of the company. in this case, the customer care of the company will help him/her throughout the process. Even if anyone faces a problem signing in to the portal, the customer executives are always there.
Claim-related issue – For any type of claim-related issue, be it filing a claim or tracking a claim, one can always get help from the company's customer care.
To avoid fraud – If anyone calls and offers a great discount on the premium amount, the policy-seekers get easily attracted to the offer due to its low price. Often, these cases are proved to be frauds. To avoid this unfavourable situation, one can contact customer care service to enquire about the validity of the offer.
Different Ways To Get Connected To Aditya Birla Sun Life Insurance Customer Care
This company believes in the customer-centric approach. Therefore, its customer care is always available to serve the consumers' needs in the following ways.
Customer Care Service option
Available on the official website of the company
Phone number

Toll-free number 1800-270-7000, available daily from 10 am to 7 pm (For Indian citizens only).

+918045860777 – For customers outside India

Email ID

For Indian customers – care.lifeinsurance@adityabirlacapital.com

For NRI customers – absli.nrihelpdesk@adityabirlacapital.com

WhatsApp service
To get registered, one needs to give a missed call at +91 7676690033 or SMS 'OPTIN' on 567679 from his/her registered mobile number. After that, save+91 8828800040 as 'ABSLI Contact', and say 'Hi' to the company on WhatsApp and resolve your query.
Offline method
Visit any of the official branches of the company.
Facebook
https://www.facebook.com/abslifeinsurance/
Instagram
Their official Instagram ID is https://www.instagram.com/abclifein/.
Twitter
The company has also made its presence on Twitter. Here is the ID https://twitter.com/abslifein.
YouTube
Their official YouTube link is https://www.youtube.com/channel/UCSki2tX_5kadIdz3m8Q4Fvg.
Linkedin
One can get connected to ABSLI by visiting their official Linkedin profile, https://in.linkedin.com/company/birla-sun-life-insurance.
Aditya Birla Sun Life Insurance Branches and their contact details:
Though the company has more than 340 official branches spread all over the country, the following table contains the contact details of a few important branches of the company. Have a look.
| | | |
| --- | --- | --- |
| City Name | Place | Postal Address |
| Gujarat | Ahmedabad | Upper Plaza, Panchratna Building, Opp. White House Nr. Panchwati Circle, C.G. Road, Navrangpura, Ahmedabad. |
| Andhra Pradesh | Vijayawada | D.NO.40-1-52/6, Kanuru Punnaiaha Towers, First Floor,Acharya Ranga Nagar, M.G. Road, Near Benz Circle, Vijayawada |
| Maharashtra | Mumbai | 2nd FLOOR,Apeejay Premises Co-Operative Society Ltd, 130, Mumbai Samachar Marg, Fort, Mumbai – 400 023 |
| West Bengal | Kolkata | 3rd Floor, P-190/1, C.I.T. Scheme No. VII (M), Ultadanga Main Road, Kolkata – 700067, West Bengal Relocated/ Active |
| Madhya Pradesh | Bhopal | 2nd Floor, 162, Modi Heights, Zone no.2, Maharana Pratap Nagar, Bhopal – 462011 |
| Haryana | Chandigarh | Second Floor,SCO 226-277, Sector 34-A, Chandigarh |
| Uttar Pradesh | Lucknow | Shalimar Square, 1st Floor, 126,B. N. Road, Opp. Punjab National Bank, Lalbagh, LUCKNOW |
| Rajasthan | Jaipur | rd Floor, Fortune Heights, C 94, Subhash Marg,C Scheme, Jaipur |
| Bihar | Patna | First Floor, Twin-Tower Hatwha, South Gandhi Maidan, Patna-800001. |
| Odisha | Bhubaneswar | Plot No. N-1/257 (1st floor),IRC village, CRPF square, Nayapalli, Bhubaneswar |
| Karnataka | Bengaluru | 2nd floor, Skip House, 25/1, Museum Road, Next to Girls Showroom, Bangalore-560025 Karnataka |
| Kerala | Thiruvananthapuram | TC-29/3961-1, 1st Floor, KJK Wellness Centre, Ganapathy Kovil Road, Bakery Junction, Vazhuthacaud, Trivandrum, Kerala ? 695 034 |
Frequently Asked Questions