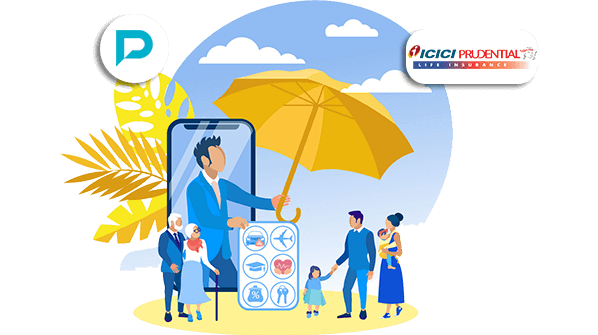 ICICI Prudential Term Life Insurance Plans
ICICI Prudential Term Life Insurance
ICICI Prudential Life commenced operations in 2001. It's promoted by Prudential Corporation Holdings Limited and ICICI Bank Limited. 
Since its inception, it's been one of the leading organizations in the insurance sector in the country. They're also the first Indian insurance company to be listed in the National Stock Exchange (NSE) and Bombay Stock Exchange (BSE).
The plans they offer are cost-effective as well as are designed to meet different life stage requirements. All in all, with superior quality products, an excellent market reputation and customer support, they are a go-to choice.
Quick Glance At ICICI Prudential Life Insurance
| | |
| --- | --- |
| Company Name | ICICI Prudential Life Insurance Company Limited |
| Headquarters | Mumbai |
| Year of Establishment | 2000 |
| Company Type | Public |
| Parent Company | ICICI Bank Limited |
| CEO | Narayanan Srinivasa Kannan |
| Number of Branches | 5,266 |
| Claims Paid (FY 2020-21) | 234.81 bn |
| Amount Paid (in Rs Cr) | 1504.64 (Benefit Amount) |
| Claim settlement ratio (the financial Year 2020-21) | 97.9% |
| First Year Premium (Up to 31st March 2021) | 5187.20 |
| No. of Policies (Up to 31st March 2021) | 14518 |
| No. of lives covered (Up to 31st March 2021) | 56.8 mn (In Force) |
| Sum assured ((Up to 31st March 2021) | 20.30 tn |
ICICI Prudential Term Life Insurance Plans
Find below the different types of ICICI Prudential Term Life Insurance Plans available to you:
1. ICICI Pru iProtect Smart Term Plan
A top-selling term Insurance product, the ICICI Pru iProtect Smart Term Plan provides complete protection at an affordable cost. It offers critical illness cover along with the option to add additional accidental benefits.
Key Features:
Affordable rates – Slash down on expenses with ICICI Pru iProtect Smart's affordable premiums.
Long Term coverage – Get coverage until the age of 99 and enjoy hassle-free living.
Critical Illness coverage – Ensure complete protection for your family from up to 34 critical illnesses with claim pay-outs on the first diagnosis.
Eligibility Criteria:
Age Criteria

Minimum: 18 years

Maximum: 65 years (Except for Limited Pay); 55 Years (For Limited Pay)

Maturity age

Minimum: –

Maximum: –

Policy term 

Regular pay: 5 years/ 85 years less age at entry or Whole Life (99 years less age at entry)

Single pay: 5 years/ 20 years

Limited pay: PPT+5 years/ 85 years less age at entry or Whole Life (99 years less age at entry)

Sum Assured 

Minimum: Subject to the minimum premium

Maximum: Unlimited
Why Choose ICICI Pru Term Life Insurance Plan?
Term life insurance plans are those life insurance policies offered by most top insurers like ICICI Prudential Life Insurance Company. Under such schemes, your family will receive a huge lump sum of money in case of your natural or unnatural death. Apart from this, ICICI Prudential Term Insurance Plans offer a range of benefits, at very low premium amounts. Some reasons to pick ICICI term plans are:
Customer-centric approach – The brand focuses on the customer at every stage, from the point of purchase to claims, so you know you're in good hands and can expect to be treated the way you like.
Assets under management – In the financial year of 2015, this company was one of the first to attain an AUM of 1 trillion. As of 31st December 2021, the assets under management were 2375.60 billion.
Claim settlement ratio – With a claim settlement ratio of 97.80%, the settlement ratio is extremely high.
First Listed Insurance Company – This is one of the first companies to be listed in the National Stock Exchange and Bombay Stock Exchange.
Key Features of ICICI Pru Term Plans
ICICI Prudential Term Insurance Plans offer the following features:
Low Entry Age
Long-term Protection
Easy To Buy
Easy Premium Payment Options
Adjustable Cover
Liability Protection
Benefits of ICICI Prudential Term Insurance Plans
ICICI Prudential's Term Insurance Plans offer a vast range of benefits to those with dependents. The primary benefits include:
Affordable Premiums for High Life Insurance Amounts – Individuals can buy ICICI Prudential Term Insurance plans at affordable premiums and secure their family's future with a large lump sum of life insurance money. This amount usually suffices to cover a significant number of years of lost earnings/ income.
Critical Illness Cover – The latest term insurance plans like ICICI Pru iProtect Smart, which protects income-earning individuals and policyholders during critical illnesses as well. The cover comes at a small additional premium and safeguards you and your family during critical illnesses like cancer, heart attacks, kidney failure, etc.
Disability Support – The ICICI Pru iProtect Smart cover also offers additional benefits. It pays your future premiums in case of any total or permanent disability. Because of this cover, your life insurance can continue despite your inability to pay the future premium amounts.
Tax Benefits – Under Section 80C of Indian laws, a term insurance policyholder is entitled to certain tax benefits. For term insurance plans, you get tax benefits up to an amount of Rs. 46,800, whereas for the critical illness cover, you get additional tax benefits of up to Rs. 7,800 as per Section 80D. Section 10(10D) further offers tax benefits to your family on the life insurance amount received in case of any unforeseen and unfortunate situations.
Financial Security – Apart from the huge life insurance amount lump sum, you can secure your family with an additional Rs. 2 crores in case of accidental death. You can opt for the Accidental Death Cover by suffering a nominal increase in your premium amount and secure your family with the extra insurance payout.
Death Benefits – In case of your unfortunate death, your family can claim the death benefits under your term insurance policy. Death benefits allow your family to claim a regular monthly income along with the lump sum insurance amount.
Survival Benefits – In case you survive the term of your life insurance policy, you or your family can no longer enjoy its benefits. However, if you take the return to premium term plan, your insurer pays you back a lump sum or regular income at least equivalent to the total premium you have paid through the term of your policy.
Reasons To Buy ICICI Term Insurance Plans Online
With the ease and convenience that technology offers nowadays, it makes more sense to buy your term insurance policies online. Here are the reasons why:
Easy and Convenient – Buying policies online is easy, hassle-free, and convenient. You can purchase your policy from anywhere and at any time, without having to visit any offices. 
Saves Time – With no time wasted on travel, documentation, etc., you can purchase your ICICI Prudential Term Insurance policy within just a few clicks.
Saves Premium – By comparing deals and discounts offered by various insurers, you can get yourself a good bargain on the premium amount you need to pay. 
Make Well-informed Decisions – By reading the offerings and terms and conditions of different insurers, you can make easy comparisons, and also make well-informed decisions regarding the policy you finally opt for.
Steps To Find Right ICICI Prudential Term Insurance Plan Online
Finding the right term insurance plan online can be a very crucial task. Here are some tips on how you can choose the term insurance plan best suited to your needs.
Before you can choose your plans, first think about the stage and age you are at, and the number of family members depending on you financially. 
Then, think about the costs involved in running a basic livelihood for your family every month. 
Decide on the covers based on your family's needs rather than the premium amount. 
Add the cost of any liabilities you may have to your coverage amount. 
Look for insurers who have a high claim settlement ratio.
You can opt for riders on your term insurance policy that helps you optimize the benefits of your term insurance plan.
How To Buy ICICI Prudential Term Insurance Online?
The process of purchasing a term insurance plan from most insurers is almost the same. You can buy your ICICI Prudential Term Insurance Plan online by following these simple steps:
Visit the ICICI Prudential Life Insurance website and on the homepage, click on 'Term Insurance'.
You will see a box that allows you to check the premium applicable to your profile.
Enter all the necessary details and click on 'Check Premium'.
Choose the add-on covers you prefer.
If the premium suits you, click on 'Proceed'.
Enter details of the policyholder as asked.
Proceed to payment and make the payment online via credit/ debit cards, NEFT, or UPI.
How To Renew ICICI Prudential Term Insurance Policy?
You can renew your ICICI Prudential Term Insurance Plan by:
Visiting the ICICI Prudential Life Insurance homepage.
Click on the 'Customer Services' tab.
Next, click on the 'Pay Renewal Premium' button.
Enter details like policy number, and date of birth.
Make the payment online via credit/ debit cards, NEFT, or UPI.
How To Claim Under ICICI Pru Term Insurance Policy?
In case of any unfortunate events regarding the policyholder, an insurance claim can be made in the following manner:
Report the incident to your insurance provider. This is known as 'Raising a claim'.
Fill the claim form available on the insurer's website or taken from their branch office. 
Submit the necessary documents to prove the genuineness of the claim.
The insurer reviews your claim request and assesses its validity.
If the documentation and information prove to be genuine, your insurer will approve your claim.
Once approved, the insurance company pays the benefits specified in your policy document. 
The insurer might provide an upfront lump-sum amount or it might stagger the payout as regular payments based on the terms of your policy.
Buying an ICICI Prudential Term Insurance plan can be the best decision for you and your family. Choose your policy and add-covers wisely before deciding on the insurance plan best suited for you.
Frequently Asked Questions