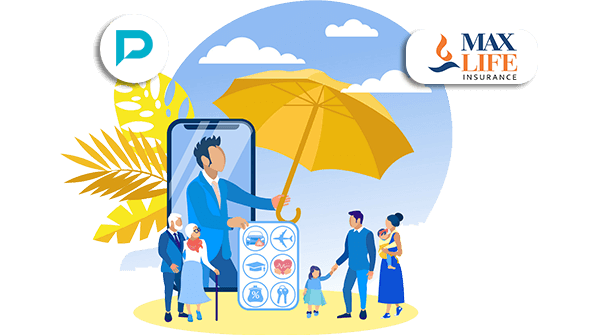 Max Life Term Insurance Plans
Max Life Insurance Company Ltd is a joint venture between Axis Bank and Max India Ltd and is a subsidiary of Max Financial Services. The company primarily provides life insurance products, along with offering coverage for health, annuity, and pension.
Term insurance is a life insurance product. Being covered by one provides financial security to the nominee in the event of the policyholder's demise. The nominee is entitled to receive the sum assured as the death benefit as outlined in the policy agreement.
Max Life Company Ltd – At a Glance
| | |
| --- | --- |
| Name | Max Life Insurance Co. Ltd. |
| Parent Company | Max Financial Services |
| Founded In | 2000 |
| Operations Started In | 2001 |
| Headquarters | New Delhi |
| MD & CEO | Mr Prashant Tripathy |
| Settlement Ratio | 99.35% |
| No. of Offices | 277 |
| No. of Employees | Over 14,000 |
Max Term Insurance – Why Should You Buy It?
Term insurance is designed to safeguard the policyholder's family from financial risks if the policyholder dies. Max Life offers affordable term insurance plans, provides assistance through its customer care services and provides a simple and easy claims process.
You should consider getting term insurance for the following reasons:
As someone who may be the primary breadwinner or contributes to the family's income, loss of life will, apart from the emotional impact, will also put a strain on the finances.
People invest in assets, such as a vehicle or a home, and may opt for loans. Without a term insurance plan, the loan EMIs may impact your family's finances and assets. Having a term insurance plan makes it easier for your family to pay off these loans.
Life can be unpredictable. What you have today may be gone tomorrow. Safeguarding your family's future with a term plan can be one of the smartest and most pragmatic things to do.
Paying your term insurance premium also makes you eligible on receiving a tax rebate.
Types Of Max Life Term Plans & Features
1. Max Life Smart Term Plan
| | |
| --- | --- |
| Eligibility | 18 to 60 years |
| Sum Assured – Base Death Benefit | INR 10 lakh onward |
| Accelerated Critical Illness Sum Assured | INR 5 lakh onwards |
| Policy Tenure | 10 to 50 years |
| Free Look Period | 15 days (30 days if policy sourced through Distant Marketing modes) |

Plan Features:
Maturity benefit
Return of premium
Increase in sum assured at
any time during the policy term
Coverage for your spouse
Rider benefits
2. Max Life Super Term Plan
| | |
| --- | --- |
| Eligibility | 18 to 65 years |
| Sum Assured | INR 25 lakh onward |
| Policy Tenure | 10 to 35 years |
| Free Look Period | 15 days (30 days if policy sourced through Distant Marketing modes) |
Plan Features:
Sum assured is 10 times that of the annual premium and any other extra underwritten premium, if applicable
Death benefit includes 105% of the total premiums paid by the policyholder, plus any other extra underwritten premiums if any, as on the date of the insured's passing
Maturity sum paid out on the date the policy matures
On the policy anniversary coinciding with or before the date of death, sum assured will remain in effect
Increasing life cover
Flexible options for payout
Flexible policy term
3. Group Term Life Insurance Plan
This plan is ideal for employers who want to insure multiple employees.
Eligibility
Minimum – 18 years Maximum –

For death benefit – 80 years
For accelerated critical illness – 69 years

Sum Assured
INR 1000 per member onwards
ACI Sum Assured
INR 1000 + up to 50% of sum assured (max of INR 1 Cr)
Policy Tenure
1 year – renewable annually
Group Size
10 to 50 individuals
Free Look Period
15 days (30 days if policy sourced through Distant Marketing modes)
Plan Features:
Base cover
An option for accelerated critical illness or ACI
An option for an accident cover
Choose your policy term between 10 and 67 years
Premium payment term options include single pay, regular pay, 5 pay, 10 pay, 12 pay, 15 pay, and pay till 60
Select between life cover and increasing life cover
Choose from lump sum, monthly income, or part lump sum and part monthly income pay-out options.
Max Life Term Plan Exclusions
One of the most standard exclusions that are common across all of Max Life's term plans is the death of the policyholder by suicide within 12 months from when the policy came into effect. Any premium amount paid, however, will be refunded in this case.
Max Life Insurance Riders
A rider is basically like an add-on that you purchase with your term insurance policy to enhance its coverage and benefits. Max Life offers the following riders on its term plans:
Comprehensive Accident Benefit – This rider provides additional benefits if the policyholder is involved in an accident leading to their death or dismemberment.
Premium Plus Waiver – A premium plus waiver offers the policyholder waiving of all future premiums in the event of death, dismemberment, or diagnosis of certain illnesses.
Critical Illness Benefit – A critical illness benefit rider provides a periodic or a lump sum benefit to the policyholder who has been diagnosed with a critical illness that is outlined in the policy.
Max Life COVID-19 One-year term rider – This rider offers benefit on diagnosis of or death due to COVID-19.
Max Life Term Plan Premium And Calculation
Your term plan's premium primarily depends on the coverage and benefits you opt for along with details like your age, whether or not you smoke, and the current status of your health. Ideally, you'd want to go for a higher base cover, but you would also need to bear in mind how much out of your budget you could afford in order to pay the premium. It's a balancing act.
Here's an estimate of the monthly premium you could be expected to pay.
| | | | | |
| --- | --- | --- | --- | --- |
| Gender | Age | Smoker | Cover Amount | Estimated Monthly Premium |
| Female | 32 years | Yes | INR 1 Cr | INR 1737 |
| Female | 32 years | No | INR 1 Cr | INR 1086 |
| Male | 25 years | Yes | INR 2 Cr | INR 2679 |
| Male | 25 years | No | INR 2 Cr | INR 1674 |
| Female | 19 years | No | INR 1.5 Cr | INR 971 |
| Male | 19 years | Yes | INR 1.5 Cr | INR 1622 |
*Disclaimer- Premiums vary from plan to plan, person to person. This is just an estimate.
How To Purchase Max Life Term Plan Online?
Purchase via Official Site
To purchase a Max Life term plan on the official site:
Log in to the company website
Select the Max Life term plan you wish to purchase
Select your coverage and riders
Provide the requisite details
You'll receive a premium quote, which you can then pay online
Check your email for your policy document.
Filing a Max Life Term Insurance Policy Claim
In the unfortunate event of the policyholder's demise, the nominee can follow these steps to file a claim:
Fill in the details on the claim form that is available at all Max Life Insurance offices.
Attach all the requisite documents.
Submit the form and the documents to the branch.
Typically, Max Life Insurance settles all claims within 10 working days.
Documents Required For Filing a Claim
While filing a term insurance claim with max Life, you need to submit the following documents –
Original policy document
Original and attested copy of death certificate issued by the local municipal authorities
Death claim application form – Form A
NEFT mandate form attested by bank authorities
Canceled cheque or account passbook
Nominee's photo ID proof copies

Passport
PAN Card
Voter's ID
Aadhar

For medical or natural death –

Attending physician's statement – Form C
Medical records

For accidental or unnatural death –

Copy of the FIR or Punchnama / police complaint
Copy of the post-mortem report or autopsy and viscera report
Copy of the final police investigation report or charge sheet.
Frequently Asked Questions
1. While paying my Max Life term plan premium online on Probus, what modes of payment are available?
While paying your premium for the Max Life term plan online, you can pay via – Credit card, Debit card, Netbanking.
2. I bought my policy 10 days ago, but I would like to cancel it. Is it possible to do so?
Max Life's term plans have a 15-day free look period. If within 15 days of purchase, you happen to change your mind or need to cancel the policy, you can do so without incurring any charge.
3. What are the benefits of purchasing a Max Life term policy online?
Buying a term plan online lets you –
Quickly and easily compare different plans and choose the one that suits your requirements
Pay a premium amount that is comparatively lower than the amount you would pay in person
Pay your premium through a secure payment gateway.
4. What riders do Max Life's term plans offer?
With a Max Life term plan, you can choose from:
Premium plus waiver rider
Max Life COVID-19 one-year term rider
Comprehensive accident benefit rider
Critical illness benefit rider
5. What factors affect the premium amount of my term policy?
The following factors impact the determination of your term insurance premium amount:
Your gender
Your age
Whether or not you smoke
Your current health status.