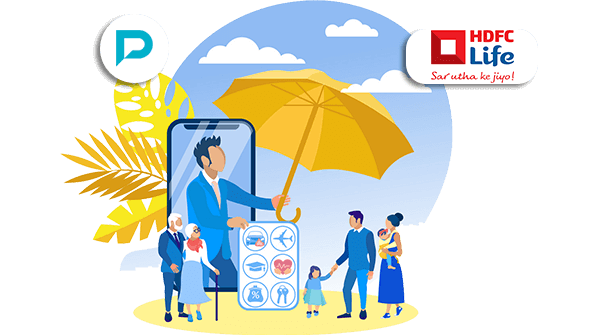 HDFC Life Term Insurance Plans
Operating since 2000, HDFC Life has been around for over 2 decades. It's a joint venture between abrdn plc (formerly Standard Life Aberdeen plc) a global investment company and HDFC Ltd.
With passing time, they're only increasing their presence in the country. Currently, HDFC Life has around 372 branches and a network of partnership tie-ups and touch-points scattered around India.
Among their 38 individual offerings, term insurance is one of them. They're specifically designed solutions that cater to various needs of individuals.
| | |
| --- | --- |
| Company Name | Housing Development Finance Corporation Limited (HDFC) |
| Headquarters | Mumbai |
| Year of Establishment | 2000 |
| Company Type | Private |
| Parent Company | Housing Development Finance Corporation |
| CEO | Vibha Padalkar |
| Number of Branches | 421 |
| Number of Employees | 16,544 |
Benefits & Features of HDFC Term Insurance Plans
You've worked hard your entire life to ensure your family's financial security. But what if something happens to you that you weren't expecting? In your absence, who will look after your family's financial needs? While you can't anticipate what the future holds, you can ensure their future by taking a few measures today. And a term insurance policy can help in this situation. Below are some of the benefits of purchasing an HDFC Term Insurance policy.
High protection at low premiums – Life insurance policies are affordable to a wider population since they provide a high amount of coverage for a low premium. The sooner in life you buy your HDFC term insurance, the lower the premium.
Add ons – Due to the unfortunate type of situation, the policyholder may be incapacitated due to an accident or the diagnosis of a major illness. This affects their ability to earn. To protect yourself against such circumstances, consider adding various add-ons or riders to your HDFC term insurance policy. Examples of certain add-ons tend to involve critical illness protection, and accidental disability rider, etc. A critical illness cover can provide a lump sum payment which would be equivalent to the death benefit if a policyholder is diagnosed with any of the covered major illnesses. The unexpected disability rider ensures that the policyholder receives a monthly basis income equal to a percentage of the sum assured for a set period.
Financial security – The death of the main source of livelihood is not only upsetting, but it also carries about financial liabilities. The HDFC term policy ensures that everyday costs are not affected if the policyholder dies. The remuneration resulting from the insurance policy could be received in the form of a lump sum and also in the form of installment payments to allow the family to deal with their daily expenses.
Types of HDFC Term Insurance Plans
1. HDFC Life Click 2 Protect Life Plan
A term plan for every requirement, designed to safeguard families from uncertainties and an assurance of a 98.01% Claim Settlement Ratio
Key Benefits:
Death Benefit: Receive additional Sum Assured on Accidental Death (Through ADB option)
RoP: Return of Premium option to receive all premium payments made on survival till maturity
Critical illness: Premium waiver if the policyholder is diagnosed with a critical illness.
Eligibility Criteria:
Age Criteria
18 years to 85 years
Policy Term
10 to 40 years
Maturity Age
85 years
Sum Assured:

Minimum Sum Assured: ₹ 50,000

Maximum Sum Assured: No limit
2. HDFC Life Protect Option Plan
A term plan for every requirement, designed to safeguard families from uncertainties and an assurance of a 98.01% Claim Settlement Ratio.
Key Benefits:
Death Benefit: One-time lump sum payment upon death of the policyholder
Coverage: Option to choose term cover for a limited period or whole life
Payment Frequency: Option to reduce the frequency of premium payments.
Eligibility Criteria:
Age Criteria
Fixed Term:18 years to 65 yearsWhole Life:Minimum: 45 years | Maximum: 65 years
Policy Term

Fixed Term: 10 to 45 years

Whole Life: Whole life

Maturity Age
85 years
Sum Assured:

Minimum Basic Sum Assured: ₹ 50,000

Maximum Basic Sum Assured: No limit
3. HDFC Saral Jeevan Bima Plan
This plan is simple, straightforward and hassle-free with an easy process that provides financial protection at an affordable rate.
Key Benefits:
Premium options: Option to pay either regular, limited or single premium payments.
Riders: Enhance your protection with rider add-ons.
Death benefit: Payable upon insured's demise.
Eligibility Criteria:
| | |
| --- | --- |
| Age Criteria | 18-65 years |
| Policy Term | 5- 40 years |
| Maturity Age | 23-70 years |
| Sum Assured: | Minimum: Rs. 5 lakhs | Maximum: No limit |
What's Not Included in HDFC Term Insurance Plans
HDFC's term plans exclude the following situations:
Death by Suicide – Regardless of the policyholder's mental health status, if death occurs by suicide within 12 months of the beginning of the new policy term or upon renewal, the nominee cannot avail of the death benefit. 80% of the premiums paid, however, will be paid to the nominee.
Accidental death benefit exclusions –

war, riots, revolutions, or civil war
a flying activity that is not in a licensed passenger aircraft
criminal activity or any activity with criminal intent
adventure sports or races, unless the situations are outlined in the agreement

If the policyholder dies after 180 days of the accident by suicide, regardless of mental health status, or due to self-inflicted injury, the nominee is not entitled to receive the accidental death benefit sum.
If death occurs as a result of drug abuse unless the overdose occurs when under the guidance of a registered medical practitioner, the nominee will not receive the accidental benefit.
The nominee is not entitled to the accidental death benefit if the policyholder participates in –
Critical illness exclusions –

If the policyholder dies within 30 days of receiving the diagnosis, the nominee is not entitled to receive the critical illness cover sum.
The nominee will not receive the critical illness cover sum if the policyholder is afflicted with any condition within 90 days of the beginning of the cover.
Riders Offered with HDFC Term Insurance
The riders of these plans include:
Income benefit on accidental disability – This rider offers the benefits of an additional income over and above the amount of your sum assured in case of a permanent disability as a result of an accident.
Critical Illness Plus – If you are diagnosed with an illness specified under the Critical Illness Plus rider, you would be eligible to receive a lump sum amount of the rider sum assured.
Protect Plus – In case of accidental death, permanent or total disability due to an accident, or a cancer diagnosis, the Protect Plus rider pays out a proportion of the sum assured.
Purchase HDFC Term Insurance Plans - Step to Follow
You can buy an HDFC term plan online through the official website or via the Probus portal.
Purchase on HDFC Life official site
Visit the company's website and log in.
Choose the plan with the required coverage and select any riders that you wish to purchase.
Provide the requisite details.
Pay the premium online through a secure payment gateway and receive the document in your email inbox.
You also have the option to purchase an HDFC term plan through an agent, a bank, or a broker.
Documents to Submit While Purchasing HDFC Term Insurance
While purchasing a term plan online, you will need to submit the following documents:
Identity proof –

passport, voter's ID
PAN card
Aadhaar
National Population Register with applicant's name, address, and Aadhaar number
Any central government-issued document
Address proof – any of the above-mentioned documents, or –

property or municipal tax receipt
utility bills like electricity, telephone, postpaid mobile, piped gas, or water that is not more than two months old
pension or family pension payment orders
Income proof for a salaried individual –

bank statement showing salary credit for the previous three months
Form 16 for the latest year
IT returns for the last two years
Income proof for those who are self-employed –

Form 26 AS
Audited balance sheet and profit-loss account for the last two years verified by a chartered accountant
IT returns for the last 2 years that are not filed in the same year plus the computation of income
IT returns for the last 3 years if the computation of income is not available.
HDFC Term Insurance Plan Renewal or Premium Payment
To renew your HDFC term insurance plan on Probus –
Login to the portal with your credentials.
Select the HDFC term plan that needs to be renewed. If the details aren't on the site, you can add them manually.
Select or modify riders.
Pay the renewal premium amount through a secure gateway.
Check your inbox for the renewed policy document.
Filing a Claim For HDFC Term Insurance
Filing a term insurance claim can be emotionally devastating, especially when you've lost a loved one. HDFC's term insurance makes this a little easier on you by making the claims process swift and seamless.
To file a claim online –
Visit the HDFC Life portal and click on CLAIMS.
Verify the details of the term insurance policy.
Submit the requisite details of the life assured.
Submit the details of the nominee.
Additionally, you can also file a claim at your nearest HDFC Life branch. To do so –
Download and fill the claims form that is available on the HDFC term insurance website.
Compile copies and originals of the requisite documents.
Submit the documents at the branch along with the duly filled claims form.
Documents to Submit While Filing a Claim
While filing a death claim, you need to submit the following documents based on the manner or circumstance of the policyholder's demise.
Death certificate issued by the government or relevant authorities
Death claim form along with NEFT details
Original policy document unless DEMAT
Proof of residence of the claimant
Proof of photo identity of the claimant
Medical records at the time of death and any past illnesses
Annuity claim documentation list for money back, maturity, and pension
If the death occurred at a hospital, medical cause of death certificate
FIR, Panchanama, police inquest report
Post-mortem report
Canceled cheque or bank passbook.
Frequently Asked Questions