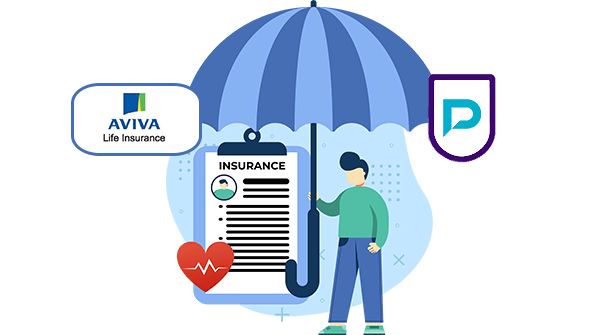 Aviva Life Insurance Premium Calculator 
Aviva Life Insurance Premium Calculator 
After doing a lot of research, once you have selected a life insurance company ideal for you, you feel relaxed. But in reality, your job is half done only because the main thing is still left, that is to find out a suitable life insurance plan for yourself. When this stage arrives, many policy-seekers get confused about how to get that. Here, premium calculators kick in as they not only help you to find out a suitable plan on the basis of your given data but also show you the approximate premium that you need to pay for that plan. Aviva Life Insurance premium calculators also function in the same way. The company always tries to develop the customer experience, and for that, their premium calculators are super easy to use. So, today we are going to talk about every detail that you need to know about these premium calculators under this insurer.
Importance of Aviva Life Insurance Premium Calculator
Life insurance calculators has become an indispensable part of the process of getting a life insurance policy. To know more about the advantages of this, have a look at the below mentions.
Smooth and Easy – The company has built the website in such a way that anyone can calculate the premiums very easily without facing any hassles. You just need to follow the steps correctly, and boom, you are done.
Saves Time and energy – Calculating the premiums manually is always very time-consuming, and it drains energy as well. But the same work, if you do online using the premium calculator tools, it will not only save your time that can be invested otherwise but also, it can help you not to get tired.
More Accurate – Manual calculation always comes with the probability of human errors. But online calculator decreases that chance. Likewise, Aviva Life Insurance Premium Calculators can calculate the premium for your given data almost without any mistake as it takes into consideration all the potential factors, including future inflation.
Free of Cost – As it has already been said that this insurer always takes care of its customers, it has kept its premium calculator tools totally free. So, you can use them without even paying a single penny. Therefore, you should certainly take this precious opportunity.
No Paper, No Worries – Once you start doing the work online, the necessity of using paper reduces. Similarly, this online tool focuses the interest on paperless work that helps you get rid of the piles of papers and the tension to keep them properly.
Build Your Financial Budget Easily – Everyone needs to prepare the financial budget monthly or annually to run everything smoothly. Once you get to know the approximate premium that you have to pay for your chosen policy beforehand, you can easily plan your financial budget accordingly, which helps you to save money as well.
Plan Your Finances Accordingly – Apart from the insurance premiums, you have other expenses too. With the help of this tool, you can allocate a certain amount for your premiums, and the rest you can use as per your necessity. In this way, it helps to fulfill your short term and long term dreams.
Types of Premium Calculators Available With Aviva Life Insurance
Aviva Life Insurance Company has come up with a list of life insurance premium calculators to make things easier for its customers. The following table contains their details of them. Have a look.
| | |
| --- | --- |
| Name of the calculators | Brief description of the calculators |
| Wealth Planner | This online premium calculator tool helps customers to find out the approximate amount that they need to save after certain years to fulfill short- and long-term goals. This also helps to suggest a suitable plan on the basis of the given data available with the insurer. |
| Child Education Planner | This is an important tool that offers you almost the correct calculation of the amount that you need for your child's higher studies. This also takes future inflation into consideration, along with the other potential factors. |
| Retirement Planner | Depending on the lifestyle, your future dreams, and other factors, this premium calculator helps you to calculate the approximate amount that you need to build to live your post-retirement days stress-free. On the basis of that, you can opt for a retirement plan available with the company. |
Process of Using Aviva Life Insurance Premium Calculator
Follow the below steps carefully to calculate your premium correctly.
Go to the official website of Aviva Life Insurance Company.
On the top of the homepage, there will be the Why Insurance tab.
Upon clicking on that, two options will appear before you.
Select the Calculators and Planners option.
Under that, multiple calculators will display before you. Choose the required one.
Now, now, you need to put certain details such as your age/date of birth, financial target, growth of investment, inflation rate, desired corpus, etc. The necessary credentials will vary as per the chosen purpose.
Put the information correctly in the right place. Remember, your data is important as on the basis of that only, the premium calculator will calculate the premium. So, do not do any mistakes.
Once you are done with putting the credentials, click on the Calculate option.
Your job is done. The premium amount will display before you. On the basis of that, you can choose the desired plan available with the company. Or else, if satisfied, you can directly purchase the suitable plan by paying the premium amount.
How Does Aviva Life Insurance Premium Calculator Work?
To make the function of the premium calculators more explicit and comprehensive, here is an example that will help you to understand it better.
Mr. Dutta, a 36-years-old Mumbai-based businessman, decided to buy a retirement insurance plan. After researching the insurance market, he finalized Aviva Life Insurance Company. But now he is confused about what type of retirement plan he should opt for, and how much premium he has to pay for that. To ease this problem, he used the life insurance premium calculator facility that is available with the company. For this, he visited the official website of the insurer, and from the homepage, he found the calculators under the Why Insurance tab. As he needed a retirement plan, therefore, he selected the Retirement Planner option. After that, he put the required details such as his age, current monthly expenses, estimated retirement age, an average rate of inflation till retirement, etc. Now, let us find out how much premium amount he has to pay and the other results for the given data.
Parameters
Credentials
Age
36 years
Current monthly expenses
Rs. 50,000
Estimated retirement age
60 years
The average rate of inflation till retirement
7%
Growth of investment
Aggressive (Rate of growth of investment assumed as 6.25% for aggressive & 4.5% for conservative.)
Results
Monthly income required post retirement to maintain your current standard of living
Rs. 253,618
The corpus required by your retirement age (assuming you survive on interest income/annuity)
Rs. 304,341,600
You should start with a monthly contribution of
Rs. 455,189