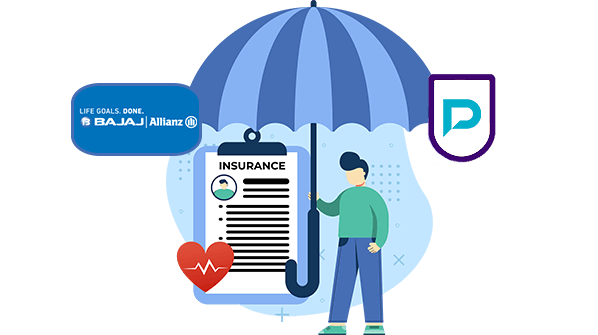 Bajaj Allianz Capital Goal Suraksha Policy
Bajaj Allianz Capital Goal Suraksha Plan
Bajaj Allianz Life Capital Goal Suraksha is a solution that diversifies the investment of the insured person not only to secure his/her invested amount but also to offer the potential of better returns along with life cover. This plan becomes even more important when one is planning for his/her long-term Life Goals so that when he/she is close to achieving them, he/she can be immune to the uncertainties of life. This plan has the potential to offer better returns and is very easy to understand. To know more about this plan, have a look at the following mentions.
Age at entry

Minimum – 18 years

Maximum – 55 years

Age at maturity

Minimum – 28 years

Maximum – 65 years

Policy term
10 years and 15 years
Premium paying term
7 years and 10 years
Premium payment frequency
Yearly, Half yearly, Quarterly, and Monthly
What are the key highlights of Bajaj Allianz Life Capital Goal Suraksha?
This plan has come up with a sack full of benefits and facilities. Some of the important mentions are as follows. 
Option of limited premium payment term:
The insured person can opt for a limited premium payment term between 7 years and 10 years.
Guaranteed returns:
This combo solution guarantees the capital invested at maturity. 
Potential for better returns:
The ULIP exposure in the combo solution provides the potential for better returns. 
Life cover:
The combo solution provides death benefits to the life assured till maturity.
How does Bajaj Allianz Life Capital Goal Suraksha work?
Mr. Agarwal, a 30-year-old businessman purchased Bajaj Allianz Life Capital Goal Suraksha Plan for himself. Let us find out what benefits he will reap from the policy for the given data.
Data
Details
Age
30 years
Policy term
15 years
Premium payment term
10 years
Total premiums paid
Rs. 15 lakhs
Guaranteed benefit
Rs.15,00,427
Non-guaranteed benefit

@4% – Rs. 8,83,007

@8% – Rs. 13,19,504

Total benefit

@4% – Rs. 23,83,434

@8% – Rs. 28,19,931

The death benefit on 7th year
Rs. 15 lakhs
Buying Process of Bajaj Allianz Life Capital Goal Suraksha
Probus Insurance is an IRDAI-certified insurance provider through which one can buy this policy by following the below steps.
Go to the official website of Probus Insurance.
On the right side, there will be the WhatsApp icon. Click on that.
On the landing page, click on the Continue to Chat option.
You will be directed to a new page. click on the Get Started option.
Scan the QR code from your WhatsApp application on your device.
There one can talk with the customer executives to buy this product.
Or else, one can call the customer care number of the Probus Insurance Company. Their customer executives are experienced enough to guide you through the buying process of this policy seamlessly, without any effort. In that case, one needs certain documents such as a valid ID card, address proof, bank details, and any other documents as requested by the company.
Frequently Asked Questions