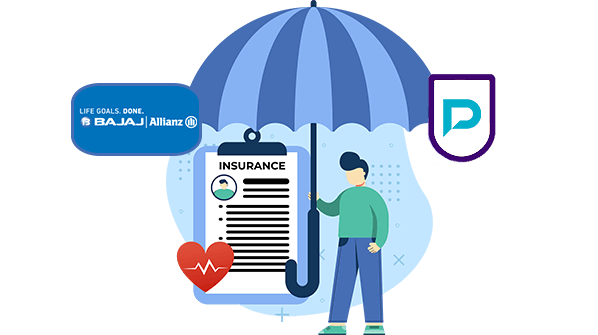 Bajaj Allianz My Wealth Goal Policy
Bajaj Allianz My Wealth Goal Plan
Bajaj Allianz Life My Wealth Goal is an insurance cum investment plan to ensure that the insured person is able to build a healthy corpus and also receive a lifelong regular income. Thereby enabling one to not only have multiple life goals but providing a simpler, more efficient way of achieving them. From preparing a corpus for the child's education to planning the dream holiday or building a retirement corpus, this single plan can address all the different approaches in life. With this plan, one has the flexibility to choose from different fund options. To know more about this plan, have a look at the following options.
Age at entry

Minimum – 10 years

Maximum – 55 years

Policy term
100 minus entry age
Premium payment term

Bajaj Allianz Life Future Wealth Gain – 5, 7, 10, and 15 years

Bajaj Allianz Lifelong Assure – 10, 15, and 20 years

Minimum premium

Bajaj Allianz Life Future Wealth Gain
Annual
Half-yearly
Quarterly
Monthly
Rs. 50000
Rs. 30000
Rs. 15000
Rs. 5000
Bajaj Allianz Lifelong Assure
PPT 10 years
Rs. 18303
Rs. 10000
Rs. 5500
Rs. 2000
PPT 15 years
Rs. 13401
Rs. 8500
Rs. 4625
Rs. 1667
PPT 20 years
Rs. 10811
Rs. 7000
Rs. 3875
Rs. 1471

Maximum premium
No upper limit
Premium payment frequency
Yearly, Half yearly, Quarterly, and Monthly.
What Are The Key Highlights of Bajaj Allianz Life My Wealth Goal?
This plan offers a sack full of benefits and facilities. A few important mentions are as follows.
Lifelong Cover:
This whole-life traditional plan covers the insured person for 100 years by paying a premium for a limited term.
Multiple Portfolio Strategies:
Future Wealth Gain allows one to choose between the Investor Selectable Portfolio Strategy and Wheel of Life Portfolio Strategy in keeping with the risk appetite and requirement. Under the former, one can choose from eight different fund options and in the latter, the money is invested in funds in proportion, depending on the outstanding years to maturity.
Combination of Two Policies:
It combines the features of two Bajaj Allianz Life plans – Bajaj Allianz Life Future Wealth Gain, a ULIP plan, and Bajaj Allianz Lifelong Assure, a Non-Linked whole-life traditional plan – to take care of life goals which may be very different in nature.
Lifelong Income:
Under the Whole-life Traditional Plan, one is eligible for Cash Bonus, if any, from the end of the sixth year, till the age of 99 years. Also, one starts receiving guaranteed cashback of 35% of the guaranteed sum assured every year after the end of the premium payment term till the age of 99 years.
Potential For Higher Returns:
The ULIP plan invests a part of the premium in the market-linked fund chosen by the insured person allowing him/her to benefit from the potential of earning higher returns. 
Illustration Of Bajaj Allianz Life My Wealth Goal
Mr. Bansal, a 35-year-old businessman, purchased this plan for his child's education to combat the growing cost and to ensure that there is no brake in the child's education goal. My Wealth Goal offers a lump sum amount at a fixed term along with regular yearly income till the age of 99 years. Let us find out what benefits he will reap under this policy for the given credentials.
Data
Details
Age
35 years
Annualized premium
Rs. 1 lakh
Sum assured
Rs. 13,89,048
Policy term
65 years
Premium payment term
15 years
Cash bonus from 6th year

Yearly payout:

@8% – Rs. 25288

@4% – Rs. 3890

Total payout:

@8% – Rs. 14,91,999

@4% – Rs. 2,29,538

Guaranteed cash back for 16th years

Yearly payout – Rs. 11671

Total payout – Rs. 5,83.572

The death benefit in the 12th year
Rs. 19,72,620
Buy Bajaj Allianz Life My Wealth Goal Policy
This plan can be purchased offline by visiting one of the official branches of the company. their customer executives are knowledgeable and efficient enough to help you complete the buying process seamlessly without any hazards. In that case, one has to bring certain necessary documents such as valid ID proof, address proof, bank details, and any other necessary documents as requested by the company.
Frequently Asked Questions
The insured persons will get the guaranteed cash back after completing the chosen payment term.
No, only Quarterly & Monthly premium payment frequency will be available under auto-debit options.
The policy offers 3% of Assured Sum Guaranteed Cashback. Each year, the cashback is offered manually after the completion of the Bajaj Allianz Life My Wealth Goal premium payment term until 99 years of age of policyholders.