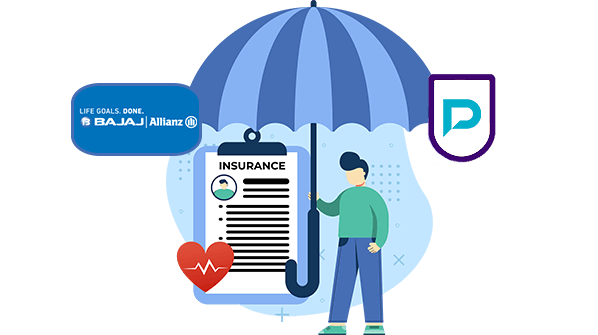 Bajaj Allianz Life Smart Protect Goal Policy
Bajaj Allianz Life Smart Protect Goal Plan
The Bajaj Allianz Life Smart Protect Goal Plan is a comprehensive term insurance plan that is affordable and offers you a comprehensive life cover. It not only gives you the choice to receive a full premium refund at maturity but also guards against financial loss due to many serious illnesses. This strategy is intended to provide a tailored response to meet your particular requirements. Bajaj Allianz Life Smart Protect Goal is an all-inclusive term plan with modern features that keep up with your changing needs.
You may shield your loved ones from any financial strain while you are away with Bajaj Allianz Life Smart Protect Goal. In the terrible event that you pass away, your nominee will benefit from this plan and get a death benefit. If your family depends on you, a term plan is therefore essential!
Here is the eligibility criteria for the Bajaj Allianz Smart Protect Goal Plan.
Parameters
Details
Age

The minimum age is 18 years

The maximum age is 65 years

ROP: Pay-till-60 Option – Minimum: 25 years, Maximum: 55 years

Maturity Age

Maximum age at maturity

With ROP – of 85 years

Without ROP – 85 years

Whole Life – 99 years

Sum Insured

Minimum Sum Assured

Rs. 50,00,000

Maximum Sum Assured- 1 cr. (As per Board Approved Underwriting Guidelines)

Maximum Age at Maturity for Critical Illness Benefit option
80 Years
The whole of Life cover-up
99 Years
Key Features & Benefits of Bajaj Allianz Smart Protect Goal Plan
Listed below are the key features and benefits of the Bajaj Allianz Smart Protect Goal Plan. Let's discuss them in detail!
Customised Plans: Bajaj Allianz Life Smart Protect Goal Plan provides the benefits of a term insurance plan that can be tailored according to the needs of the policyholder.
Return of Premium Option: Under this plan's Return of Premium option, the policyholder is entitled to receive the full amount of the premiums paid upon their survival.
Whole-Life Coverage: After paying for a specified term, the plan offers a whole-life coverage option for a maximum of 99 years. Under this plan, the return of Premium is not available.
Critical Illnesses: If you choose the Critical Illness Cover option, the Bajaj Allianz Life Smart Protect Goal Policy also covers several major and minor critical illnesses. The Plan covers 55 serious illnesses, both major and small.
Tax Benefits: According to Section 80C of the Income Tax Act of 1961, the policyholder is entitled to tax benefits on the premiums paid. Additionally, if one chooses critical illness insurance, they are eligible for tax benefits under Section 80D of the Income Tax Act.
Exclusions Under Bajaj Allianz Smart Protect Goal Plan
Listed below are the exclusions under the Bajaj Allianz Smart Protect Goal Plan.
1) if the critical illness diagnosis was made within 180 days of the start of coverage, or while the patient was still waiting. This would not apply if the member's critical illness insurance was renewed by the employer on successive occasions;
2) If the insured passes away within the defined survival time following the date of the covered CI's diagnosis;
3) Intentional self-harm, attempted suicide, or suicide,
4) For any illnesses the life assured has or medical procedures they have had if the illness or procedure was brought on directly or indirectly by the use of drugs, alcohol, narcotics, or psychotropic substances unless they were taken by the legal recommendations and prescriptions of a licensed physician.
5) Participating in risky sports, such as diving, horseback riding, racing of any type, martial arts, hunting, mountaineering, parachuting, bungee jumping, and underwater activities whether or not breathing apparatus is used;
6) Hazardous Activities are any sport, hobby, or activity that could be risky for the insured member, regardless of training;
7) The insured person's involvement in an illegal or criminal activity with the purpose to commit a crime
8) For any medical illness or operation brought on by nuclear contamination; for the radioactive, explosive, or dangerous properties brought on by nuclear fuel materials; or for any mishap of such a type.
9) Unless the insured person is a genuine, fare-paying passenger or an employee of the aviation business, such as a pilot or cabin crew of a reputable airline, on regular routes and according to a set schedule, they are not covered for any medical condition or medical procedure resulting from their participation in any flying activity.
10) Any external congenital anomaly that is not brought on by a genetic condition.
11) Failure to follow medical advice
Illustration Of Bajaj Allianz Smart Protection Goal Plan
Mr. Kumar Prakash, a 35-year-old software engineer who lives in New Delhi, has just invested in opening a new business & wants to safeguard his family from the financial uncertainties that could arise in case of his untimely death. After discussing with family and friends, he purchases Bajaj Allianz Life Smart Protection Goal. His policy details are as follows.
| | | | | |
| --- | --- | --- | --- | --- |
| Sum Assured | Policy Term & Premium Payment Term: | Premium Payment Frequency | ROP & CI Benefit | Premiums Payable |
| 1 cr. | 50 Years | Annual | No Opted | Rs 20,742 per annum (excluding GST/any other tax as applicable) |
If Rishabh passes away at age 50, the policy expires and his family receives the sum assured of Rs 1 crore in a lump settlement.
How To Buy Bajaj Allianz Smart Protection Goal Plan?
Here are the steps to buying Bajaj Allianz Smart Protection Goal Plan.
Step 1: Simply visit the official website of Bajaj Allianz life insurance.
Step 2: After that, you will see the "Plans" section at the top. Hover over it. Under term insurance plans, you will see "Bajaj Allianz Smart Protection Goal Plan". Click on it.
Step 3: After that, you will see a box wherein you will need to enter "Full Name", Date of birth, mobile number, email Id, and Pincode, select your male, and then click on "I agree and consent to the Terms & Conditions and the Privacy Policy". Click on "Next'.
Step 4: After that, you will need to select your education, occupation, and annual income, and then select the answer yes or no. After that, click on "Get Quote".
Step 5: In the next step, you will need to select your life cover, age coverage, and premium amount. Click on "Proceed".
Step 6: Once you're done entering all the details, you will then need to make the payment using your Credit/Debit card.
Step 7: Congratulations- You've purchased your Bajaj Allianz Life Smart Protection Goal.
By Visiting Official Branch:

In addition to buying the plan via the online method, you can still buy the Bajaj Allianz Smart Protection Goal Plan via the offline method.
Simply visit any Bajaj Allianz Insurance branch office in your area and speak to the customer support staff who are currently present to receive more assistance. Before supporting the consumer in purchasing the package, the salesperson pitching the plan will enquire about a few details.
Alternatively, the customer can call the company's helpline number 1800 209 7272, from 9:00 AM to 6:00 PM (Monday to Saturday). The executive will instruct the client on how to order the plan from the business.
Through Probus Insurance Broker:
Despite all of these options, Probus Insurance is always available to help if a customer still experiences issues when buying the plan. The organization's team members will take every necessary action to resolve the difficulties of its clients.
Frequently Asked Questions