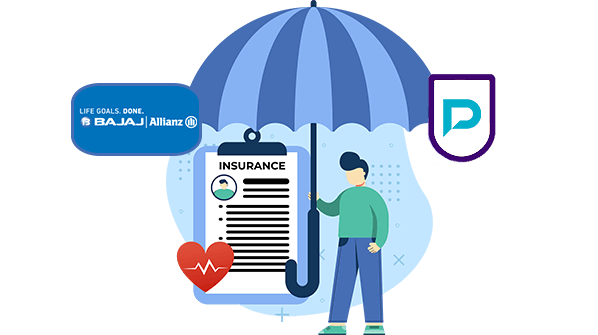 Bajaj Allianz Life Young Assure Policy
Bajaj Allianz Life Young Assure Plan
To ensure that your child meets their life goals, Bajaj Allianz Young Assure, a conventional savings and insurance plan, will help you develop into a disciplined investor. It is a typical, participating, regular, and limited premium payment endowment plan that lets you budget for the financial milestones of your child's developing years.
The plan has been created expressly to effectively lay the foundation for your child's future. With the aid of this strategy, your child's goals can be fulfilled. Anyone who wants to boost their savings for future expenses like weddings, home construction or renovation, children's education, etc., should invest in the Bajaj Allianz Young Assure Plan. This is the best endowment plan if you're looking for one.
Continue reading to know more about the Bajaj Allianz Young Assure's eligibility criteria, features, benefits, exclusions, buying process, premium illustration, and more.
Here is the eligibility criteria for Bajaj Allianz Young Assure Plan.
Parameters
Details
Minimum Age at Entry
18 years
Maximum Age at Entry
50 years
Minimum Age at Maturity
28 years
Maximum Age at Maturity
60 years
Premium
Based on GMB chosen, age, policy term, premium payment term, and premium payment frequency Premium for female life will be based on the premium rate of 3 years younger male
Sum Assured

10 times Annualized Premium

Annualized Premium is exclusive of extra premium, rider premium, GST/any other applicable tax levied, subject to changes in tax laws.

Guaranteed Maturity Benefit (GMB)

Minimum – Rs. 1,00,000

Maximum – No limit

GMB is as chosen by you

Premium Payment Frequency
Yearly, Half yearly, Quarterly, and Monthly
Salient Features & Benefits of Bajaj Allianz Young Assure
Here are the salient features and benefits of the Bajaj Allianz Young Assure Plan.
Death Benefit: One of the biggest benefits of considering the Bajaj Allianz Young Assure Plan is that the nominee of a life-insured person who passes away untimely during the policy's term will be given a death benefit equal to the sum promised, which is equal to 105% of all premiums paid up until the moment of death. Any further bonuses will be paid out upon maturity.
Maturity benefit – The total of the Guaranteed Maturity Benefit, Guaranteed Additions, Vested Bonus, and Interim Bonus will be paid as the Maturity Benefit. You have the option of choosing between three cash payments or cashing in the benefit all at once.
Free Look Period: Policyholders have a 15-day free look period during which they can choose to return this policy if they disagree with any of its terms and conditions. In the case of insurance obtained through distance marketing, this time frame is 30 days.
Accidental permanent total disability benefit: The insurance will be changed to a fully paid policy when the policyholder has a permanent total disability as a result of an accident and if all past-due payments have been paid.
Tax Benefits: Sections 10 (10D) and 80C of the Income Tax Act permit tax deductions for claims received and premiums paid.
Policy termination or Surrender Benefits: The plan with a premium payment period of fewer than 10 years enables a surrender value after one year of premium payments. Once the policyholder has paid his premiums on time for 2 years in the case of a premium payment term longer than 20 years, the surrender value becomes available.
Grace period: If the monthly premium payment is not made by the deadline, a grace period of 15 days is permitted. Additionally, if other premium payment methods are unsuccessful after their due date, a grace period of 30 days is permitted.
Things Not Included Under Bajaj Allianz Young Assure
Listed below are the exclusions under the Bajaj Allianz Young Assure Plan.
The nominee or beneficiary of the Policyholder shall be entitled to receive the greater of 80% of the Total premiums paid or the Surrender Benefit as of the date of death, provided the Policy is in force, if the life assured dies by suicide within 12 months of the date of commencement of risk or the date of the latest revival of the Policy, whichever date is later.
In the following circumstances, the Accidental Permanent Total Disability Benefit will not be paid.
Disability resulting from a criminally motivated legal violation committed by the insured.
Disability brought on by a war, invasion, civil war, insurrection, or riot for the insured individual.
Disability resulting from the use of substances other than those prescribed by and taken in compliance with the instructions of a licensed medical professional while the insured person was under the influence of alcohol or drugs.
Incapacity brought on by the covered person's participation in any naval, military, or air force activity.
Disabilities brought on by an insured person's participation in, preparation for, or use of a vehicle in any type of dangerous sport or competition.
Disability of an insured person resulting from flying, gliding, or any other type of aerial flight, excluding travel as a paying passenger on a commercial airline operating on regular routes and by a set schedule.
Disability brought on by attempted self-harm for an insured person.
Disability brought on by poison, gas, or fume (whether consumed, administered, absorbed, or inhaled intentionally or involuntarily, accidentally or otherwise).
How Does the Bajaj Allianz Young Assure Plan Work?
Mr. Gautam has taken Bajaj Allianz Young Assure for his son Arnav who is 1 year old. Gautam opted for a policy term of 20 years and a premium-paying term of 15 years. He chose a Guaranteed Maturity Benefit (GMB) of Rs. 3,00,000, for which he will have to pay a premium of Rs. 24,363 p.a. He chose the Cash Installment option of 5 years for Arnav and on maturity 5 Cash Installments over 5 years starting from the policy term ends will be paid.
Gautam's Sum Assured will be = 10 times of Annualised Premium = 10 X Rs. 24,363 = Rs. 2,43,630.
| | | | | | |
| --- | --- | --- | --- | --- | --- |
| Cash Installments | 1st | 2nd | 3rd | 4th | 5th |
| 5 years (Option II) | Guaranteed Additions + Vested Bonus, if any + Interim Bonus, if any | 22% of GMB | 25% of GMB | 28% of GMB | 34% of GMB + Terminal Bonus, if any |
| At an Assumed Investment Return of 8% (in Rs) | 4,21,833 | 66,000 | 75,000 | 84,000 | 1,02,000 |
| At an Assumed Investment Return of 4% (in Rs) | 1,80,000 | 66,000 | 75,000 | 84,000 | 1,02,000 |
Note: The premium shown above is exclusive of GST/ any other applicable tax levied, subject to changes in tax laws and any extra premium.
How to Buy the Bajaj Allianz Life Young Assure Plan?
Here are the steps to buy Bajaj Allianz Young Assure Plan.
Step 1: Simply visit the official website of Bajaj Allianz life insurance.
Step 2: After that, you will see the "Plans" section at the top. Hover over it. Under "Child Insurance Plans", you will see "Young Assure". Click on it.
Step 3: When you see the plan page, you will see the "Buy Now" option in the banner. Click on it.
Step 4: Then, you will see two options, "New Customer" or Existing Customer. Since you want to buy the policy, you will need to click on "New Customer".
After that, you are required to select the "Title", and enter your first name, middle name, last name, mobile number, email Id, date of birth, and insured Pincode. Click on the orange-colored arrow below.
Then, you need to select your policy term and premium payment term. At the same time, you will need to enter the cash installment option. Also, you should select the premium payment frequency along with entering "Guaranteed Maturity" and "Sum Assured". And click on the riders that you want to add.
Note: In the below box, you will see the premium amount.
Step 5: Once you're done entering all the details, you will then get the amount that you will need to pay. Then, you should make the payment using your Credit/Debit card.
Step 6: Congratulations- You've purchased your Bajaj Allianz Life Young Assure Policy.
Offline Process:
Though the plan is available online, you may also purchase the Bajaj Allianz Life Young Assure via the offline method.
To acquire additional assistance, you go to any Bajaj Allianz Insurance branch office in your area and speak with the employees who are now on duty. The salesperson pitching the plan will ask a few questions before assisting the customer in purchasing the bundle.
Customers can also call the company's helpline, which is staffed Monday through Saturday from 9:00 AM to 6:00 PM, at 1800 209 7272. The executive will explain to the client how to order the plan from the company.
Probus Insurance is always on hand to assist if a consumer still runs into problems when acquiring the plan, even with all of these alternatives. The staff of the organization will do all possible to help clients with their issues.
Frequently Asked Questions