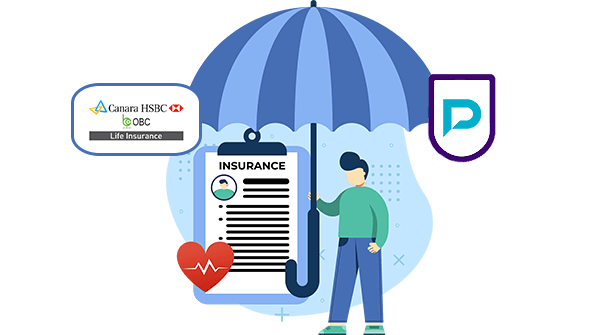 Canara HSBC OBC Life Insurance Claim Settlement Process
Canara HSBC Life Insurance Claim Settlement
Canara HSBC brings to you comprehensive protection plans for your family so that they stay secure even in your absence. With multiple plans to cater to your different needs, Canara HSBC is here as the guardian angel who offers complete protection to your family. They have kept the claim settlement process absolutely easy and convenient. The best part is that Canara HSBC Life Insurance has a claim settlement ratio of about 98.57%. If you are not aware of the claim filing process with Canara HSBC Life Insurance, then his blog will definitely come in handy for you. It is advisable that both the insured and the nominee should go through the intricacies of the claim settlement process.
Steps Required For Filing a Claim With Canara HSBC Life Insurance
The beneficiary or the nominee needs to intimate the insurer regarding the unfortunate demise of the policyholder.
Next, you need to fill in the death application form. Make sure you submit all the necessary documents along with the application form.
If the unfortunate demise has taken place because of a medical reason, then you are required to provide some additional details such as a statement by the physician, a certificate by the treating hospital, and so on.
If it is a case of accidental death, then you have to submit attested documents such as a police investigation report, FIR, etc.
Your claim will get registered once you have submitted the completely filled claim form. Download it in one click from the claims form section of the official website of Canara HSBC.
The insurer will verify and evaluate all the documents and settle the claim soon.
Things To Keep In Mind While Filing a Canara HSBC Life Insurance Claim
If you wish your claim to be compensated by Canara HSBC Life Insurance company, then make sure you keep these points in mind.
The life insurance policy should at least be 3 years old. There should not be any instance of due premium.
Document submission should be done right when you intimate the insurance company about the death.
The maximum claim amount is around 1 crore.
Claim intimation has to be done from Monday to Friday and before 3 pm. If you inform the insurer after 3 pm on a weekday, then it will be considered the next working day.
Documents Needed For Canara HSBC Life Claim Settlement
Below mentioned are the different documents that you will need to file a claim with Canara HSBC Life Insurance:
Compulsory Documents
Original policy papers
Attested or original copy of the death certificate. It has to be issued by the local municipal authority.
Death claim application form which can be downloaded from the website.
NEFT mandate which is attested by bank authorities. 
A cancelled cheque
Bank account passbook
Photo identity proof of the nominee (PAN card, voter ID card, Aadhar card, passport etc.)
Additional Documents Required in Case of Natural or Medical Death
Form P or Physician's statement
Form H or certificate by the treating hospital
Form S or certificate by employer/college/school
Hospital records
Additional documents required in case of unnatural or accidental death
Copy of the Final Police Investigation Report or FPIR or Copy of charge sheet
Copy of the First Information Report (FIR)
Copy of the PMR or Post Mortem Report or Autopsy 
Copy of the Viscera report
How Can You Check Your Canara HSBC Life Insurance Claim Status?
Canara HSBC Life Insurance understands what the family goes through in case of the demise of the policyholder. And hence, to keep things simple and easy for them, the insurer allows claim status checking in just a few clicks.
You are required to visit the official website of Canara HSBC Life Insurance.
As you keep scrolling down, you will find "Register Your Claim" at the bottom right.
Just below it, there is a tab that says "Check Your Claim Status."
You will be redirected to a new page. Here you will have to fill in important details such as policy number, date of birth of the assured life, and date of the event.
Once you are done, click on "Submit" and you will be able to check your claim status.
How To Keep a Tab On The Unclaimed Amount?
Again you need to visit the website of Canara HSBC Life Insurance
Scroll down till you get to see "Register your claim."
There's an option below it that says "Know more." Click upon it.
You will be redirected to the claim section of the website.
Scroll down till you can see multiple tabs in blue.
Click upon the option that says " Unclaim amount."
Here you are required to fill in details like policy number, PAN number, date of birth and name of the policyholder, etc. Then click on "submit" and you are done!