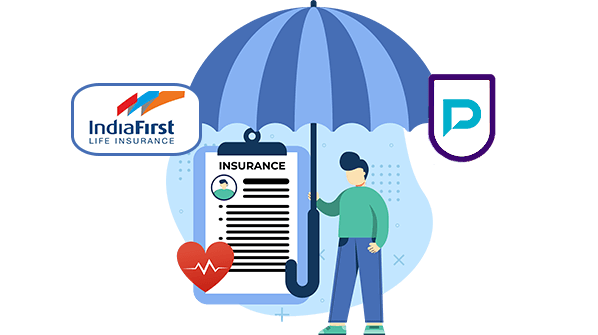 IndiaFirst Life Insurance Customer Care
IndiaFirst Life Insurance Claim Settlement
IndiaFirst Life Insurance offers a comprehensive life insurance program to its customers, along with efficient and devoted customer service to ensure complete client happiness. The customer care team of the company is always ready to respond to customers' requests, even those for the quick fix of minor issues. 
For help with a variety of issues, including premium payment, updating nominees, downloading forms, registering a claim, and much more, one can get in touch with the company. 
Continue reading to know more about the customer care services of IndiaFirst Life Insurance.
Contact Details Of IndiaFirst Life Insurance
Phone Number

Toll-Free: 1800 209 8700

For Callers Outside India: +91 22 62749898

For Online Purchases
8828840199
Address For Writing A Letter
12th & 13th Floor, North [C] Wing, Tower 4, Nesco IT Park, Nesco Center, Western Express Highway, Goregaon (East), Mumbai – 400063.
Email Details

For Service Requests: customer.first@indiafirstlife.com

For Claims: claims.support@indiafirstlife.com

WhatsApp
022-62749898
Branch Offices Of IndiaFirst Life Insurance
The company has various branches across the country. A list of these branches along with contact details is mentioned below:
Location
Contact
No.
Email
Address
Ahmedabad
079-26318700
Swati.Agarwal@indiafirstlife.com
206/207, Zodiac Plaza,
Near Nabard Flats, Opp.
Shambhu Coffee Bar, H L Commerce College Road,
Ahmedabad-380009
Baroda
8291938349
Swati.Agarwal@indiafirstlife.com
302, K. P. Infinity, Opp
YES Bank, Natubhai Circle, Race Course Main Road, Baroda-390007
Surat
0261-4058700
Swati.Agarwal@indiafirstlife.com
304, Titanium Square,
Adajan, Pal Hajira Road,
Surat-395009
Bangalore
080-68280100
Rekha.Jawalkar@indiafirstlife.com
27/7, Professional Court, 15th Cross, Jayanagar, 3rd
Block, Above HDFC Bank,
Bangalore:560011
Chennai
044-61216200
Rekha.Jawalkar@indiafirstlife.com
New No. 14, Old No. 83,
TSS Plaza, 1st Floor, Arcot
Road, Vadapalani,
Chennai-600026
Cochin
0484-6715000
Rekha.Jawalkar@indiafirstlife.com
1st Floor, Palakat Building,
Vytilla Kundanoor, Bypass
Road, Cochin, Kerala-682019
Delhi
011-39621201
Preeti.Chaudhary@indiafirstlife.com
Third Floor- 303-306, Mohan
Dev Building, Near Vandana
Building, Tolstoy Marg,
Connaught Place, New
Delhi-110001
Chandigarh
0172-5068701
Preeti.Chaudhary@indiafirstlife.com
Office No. 3, 2nd Floor, Berkeley's
Square, Plot No. 24, Industrial
Area Phase 1, Chandigarh,
160002
Ludhiana
0161-4636057
Preeti.Chaudhary@indiafirstlife.com
Sco123, 5th Floor, Front Side,
Feroze Gandhi Market, Near
IDBI Bank, Ludhiana-141001
Hyderabad
033-61658700
lillian.dsilva@indiafirstlife.com
3rd Floor, Keerthi & Pride Towers,
Road No. 2, Banjara Hills,
Hyderabad-500034 Telangana
Visakhapatnam
0484-6715000
Jawalkar@indiafirstlife.com
D. No: 47-10-15(2), GF-3, Ground
Floor, AG Avenue Building, Shop
No. 3, 2nd Lane, Dwaraka Nagar,
Visakhapatnam-530016,
Andhra Pradesh
Vijayawada
0484-6715000
Jawalkar@indiafirstlife.com
D No: 40-1-60, 3rd Floor, Chand
Imperia, Opp. Eenadu Office, Near
Benz Circle, M.G. Road,
Vijayawada, 520010, Andhra Pradesh
Kolkata
033-61658700
lillian.dsilva@indiafirstlife.com
3rd Floor, Satyam Tower, Kaikhali,
VIP Road, Next To B.P. Poddar
Institute of Management &
Technology, Kolkata-700052
Bhubaneshwar
0674-2548672
lillian.dsilva@indiafirstlife.com
Unit No. 4 A&B, 5th Floor Block
No.2, BMC Bhawani Commercial
Enclave, Sahid Nagar,
Bhubaneswar-751007
Patna
0612-2575211
lillian.dsilva@indiafirstlife.com
Office No 5 & 6, 2nd Floor, Orchid
Mall, Boring Road, Opp. AN College,
Patna: 800013
Guwahati
0361-2521455,
0361-2521456
lillian.dsilva@indiafirstlife.com
Royal Centre, Office No 305, G S Road, Bora Service,
Guwahati 781007, Assam
Lucknow
0522-6668700
vikash.gupta@indiafirstlife.com
IInd Floor Cyber Tower, Vibhuti
Khand, Gomti Nagar, Lucknow,
226010
Pune
020 61658700
srivastava.shruti@indiafirstlife.com
2nd Floor, Gulmohar Plaza, Above
ICICI Bank, I.T.I. Road, Aundh,
Pune-411007
Mumbai
022-66971235,
022-66971236,
022-66971237
srivastava.shruti@indiafirstlife.com
408, 4th Floor, Sai Infotech, Patel
Chawk, Near Metro Station, R. B.
Mehta Marg, Ghatkopar (E ), Mumbai-400075
Jaipur
0141-3072602
pankaj.pareek@indiafirstlife.com
301, 3rd Floor, Riddhi Tower, SB 57, Opp. SMS Stadium,
Jaipur, Rajasthan, 302017
Indore
0731-4051353
pankaj.pareek@indiafirstlife.com
Princess Business Skyline, Office
No-206, Second Floor, Opposite
Orbit Mall, Vijay Nagar, Indore (MP)-452010
Bhopal
0755-4098700
pankaj.pareek@indiafirstlife.com
Plot No-8, 3rd Floor Ranjeet
Tower, MP Nagar Zone-2, Bhopal: 462011
Udaipur
0294-2424089
pankaj.pareek@indiafirstlife.com
Office No 203, Icon Tower,
2nd Floor, Madhuban, Udaipur,
Rajasthan-313001
Gorakhpur
05512205096
vikash.gupta@indiafirstlife.com
Shop No: 14 & 15, 3rd Floor,
Cross Mall, Bank Road, Golghar,
Gorakhpur-273001
Bareilly
0581-2510463
vikash.gupta@indiafirstlife.com
Office No. 2 [Rear Side], 2nd Floor,
A 2 Square, 154 A, Civil Lines,
Opp. D M Residence,
Bareilly-243001
Kanpur
0512-2398700
vikash.gupta@indiafirstlife.com
301, 3rd Floor, Krishna Tower,
Civil lines, Kanpur-208001
Warangal
033-61658700
lillian.dsilva@indiafirstlife.com
7 & 8, 1st Floor, Kandakatla
Gateway, Kakatia University
Cross Road, Hanamkonda,
Warangal-506009, Telangana
Rajahmundry
0484-6715000
Jawalkar@indiafirstlife.com
2nd Floor, Yasodhan,
Danavaipeta, Rajahmundry-
533103, Andhra Pradesh
What Are The Customer Care Services Offered By IndiaFirst Life Insurance?
The company offers a wide range of services to its customers without even requiring them to log in to their accounts. Some of them are discussed below:
Pay Premiums: Customers can pay their premiums online instantly within the comforts of their homes.
Download Statements: One can also download statements or policy documents, such as a premium receipt, unit statement, GST invoice, and much more.
Track QRC: In case a customer wishes to track his query, request, or complaint, he/she can easily do so with the help of the company's website.
Update Contact Details: In case a customer's contact details, such as phone number or email, have been changed, he/she can update the details on the company's website.
Registering A Claim: This feature allows the customers to register their claims for initiating their claim process with the company.
Downloading Forms: The customer can also download a wide range of forms available on the company's website, including the Customer Declaration Form & Covid Questionnaire, IndiaFirst CSC Shubhlabh Plan, Common Proposal Form, Member Form – Group Loan Protect, Nomination Change Form, and much more.
Track Claim: The official website of IndiaFirst Life Insurance company allows its customers to track their claim status with ease.