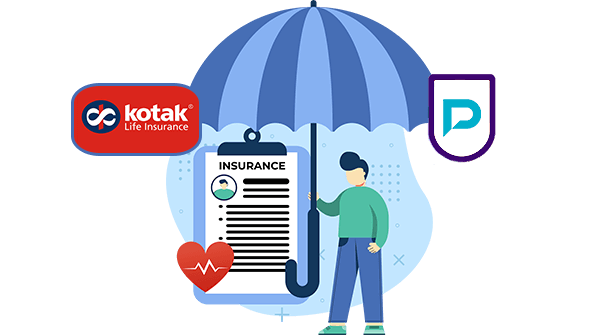 Kotak Mahindra Life Insurance Customer Support
Kotak Mahindra Life Insurance Customer Care
Kotak Mahindra Life Insurance offers quick customer services to its customers so that they can quickly file complaints, look into offers, and ask questions without any hassles. The customer service representatives from the company are accessible to help its clients around the clock. 
For assistance with questions or complaints, customers can contact customer service representatives through a variety of channels, such as toll-free helplines, SMS, email, etc. Customers can also contact city-specific helpline numbers as an alternative. 
Continue reading to know more about the customer care services of Kotak Mahindra Life Insurance.
How To Contact Customer Care Representative Of Kotak Mahindra Life Insurance?
For contacting the customer care team of Kotak Mahindra, one can see the details below:
| | |
| --- | --- |
| Retail Toll-Free Number | 1800 209 8800 |
| For Group Plans | 1800 120 7856 |
| WhatsApp Number | 93210 03007 |
| Email | www.kli.in/WECARE |
| Registered Office | 8th Floor, Plot # C- 12, G-Block, BKC, Bandra (E), Mumbai – 400 051. |
List Of Kotak Mahindra Branch Offices & Their Addresses
The company has established several branches across the nation. However, some of them are mentioned below for reference.
Region
Address
Contact Number
New Delhi
Central Market Building, First & Second Floor, Constructed On Plot No. 40, West Punjabi Bagh, Above Punjab National Bank, New Delhi-110026.
011 47084832
Vishakhapatnam, Andhra Pradesh
Haabia Business Park, 1st Floor, Plot No: 6,7,15 & 16, Block-B, Auto Nagar, Gajuwaka, Visakhapatnam -530012.
08655927987
Unit No. 2B, 2nd Floor, ISNAR PLAZA Situated At Main Road, Dwarakanagar Visakhapatnam – 530 016 Visakhapatnam, Andhra Pradesh, 530016.
08912566673
Ahmedabad, Gujarat
Unit No 306, 3rd Floor, Satyamev Elite, Sardar Patel Ring Road, Bopal, Ahmedabad, Gujarat 380058.
08655989236
2nd Floor, "Swastik Square", Jawahar Chowk, Maninagar, Ahmedabad, Gujarat – 380008.
07925441150
Shop No. 23,24, 3rd Floor, Siddhi Vinayak Complex, Shivranjani Cross Road, Satellite, Ahmedabad – 380015.
07966061640
Faridabad, Haryana
1st Floor, SCO.No.2, Sector 16, Faridabad, Haryana-121002.
0129 4871125
SCO -99, 2nd Floor, Sector-16, Market, Above IDBI Bank, Faridabad-121002, Haryana.
0129 4903763
Cochin, Kerela
2nd Floor, Chicago Plaza, Rajaji Road, Cochin-682035, Kerala.
0484 6605001-02
Maharashtra, Mumbai
1st Floor, Bakhtawar, 229, Nariman Point, Mumbai – 400021 Mumbai, Maharashtra, 400021.
22 66596477
1st Floor, "Tiara" Situated Off Chandavarkar Lane, Maharashtra Nagar, Borivali (W), Mumbai- 400 092 Mumbai, Maharashtra, 400092
022 28900482
Kotak Towers, 7th Floor, Building No. 21, Infinity Park, Off Western Highway, Goregaon-Mulund Link Road, Malad (E), Mumbai-400097. Mumbai, Maharashtra, 400097.
022 66057777
Alwar, Rajasthan
2nd Floor, Jayanti Mall, 1, Indira Colony, Ashok Circle, Nagli Ka Chauraha, Vijay Mandir Road, Raghu Marg, Alwar-301001 Alwar, Rajasthan, 301001.
08976780106
Bareilly, Uttar Pradesh
2nd Floor, Plot No. 1 & 2, Deen Dayal Puram, Bareilly, Uttar Pradesh – 243001.
07208981170
Hooghly, West Bengal
2nd Floor, "SRPL Towers", Situated At 23 B.P. Dey Street, Serampore, Dist – Hooghly, West Bengal – 712 201.
033-26520299/26520233
Chandigarh
S.C.O – No. 359-360, 2nd Floor, Sector 35 B, Chandigarh – 160035.
0172 5076175
S.C.O 141 /42, 2nd Floor, Sector 9-C, Chandigarh-160 009.
0172 5087000
List Of Customer Care Services Offered By Kotak Mahindra Life Insurance
Kotak Mahindra Life Insurance offers numerous services to its customers. Some of them are discussed below:
Pay Premium: The company allows its customers to pay premiums through a variety of methods, including NEFT, online methods, Bill Desk, ATM Drop Boxes, and so on.
File A Claim: The customers can easily file a claim within the comforts of their homes.
Download Application Form: With this feature, the company has made the entire process of application quite simpler for its customers.
Branch Locator: One can easily locate the branch office by using the official website of the company.
Manage Policy: The customer can manage his policy using simple procedures and be guaranteed to get a quick response. Major changes require actual branch forms; whereas, minor alterations can be made online.
Download Statements: The customer can easily download statements from the website, such as a premium certificate, unit link statement, or premium receipt.
Know & Verify Your Life Advisor: Just enter the 8-digit agent ID and the customer can explore more about his/her life advisor from the company.