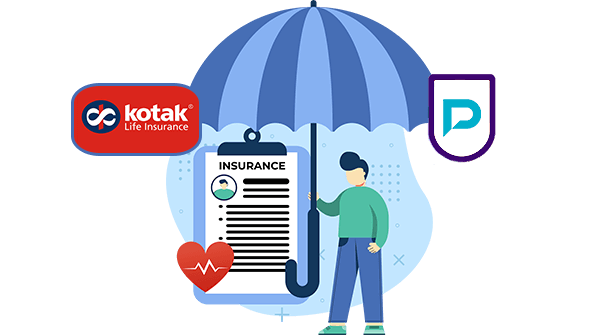 Kotak Mahindra Life Insurance Premium Calculator
Kotak Mahindra Life Insurance Premium Calculator
A premium calculator is a tool you may use online to find out how much of a premium you will have to pay for the life insurance policy you have chosen. It enables you to modify the sum assured in accordance with your budgetary needs and your policy's requirements.
The Kotak Mahindra life insurance premium calculator gives you the option to quickly determine the monthly premium payments necessary to reach the sum assured. By choosing the type of life insurance policy, as well as other variables like the policy term, age, frequency of premium payments, sum assured, etc., you may use a premium calculator to get tailored results.
Benefits of Choosing Kotak Mahindra Life Insurance Premium Calculator
The benefits of using the insurance premium calculators are as follows:
Swift Premium Calculation: The Kotak Mahindra life insurance premium calculator aids in calculating your premium in accordance with the terms of your policy. The client must enter details like gender, age, cover-up, and life insurance. The calculator quickly determines monthly premium payments based on the amount of the sum assured.
Calculating Premiums Correctly: One of the main advantages of using a Kotak Mahindra premium calculator is that it estimates the premium for the policy that you should be paying for your life insurance policy with accuracy.
Cuts Down Costs: The online purchasing option can be accessed through Kotak Life's premium calculator service. As a result, one can immediately purchase the plan and choose how much they want to be insured for as well as how much they want to get as a maturity benefit. A broker or insurance agent is not required to purchase the plan. As a result, the cost of the policy is reduced.
Helps in Decision Making: Making the best purchase selections is made easier with the assistance of Kotak's premium calculator, which also allows you to compare different insurance policies. Using this tool, you may find the most economical plan that meets your needs.
Smooth Usage: The ease of use and simplicity of a premium calculator makes it one of the best options available to calculate your premium and manage your expenses. Anyone can quickly calculate a premium by providing the necessary information.
Time-Saving: It will take a lot of time to call or visit with an agent to inquire about the premium amount payable. On the other hand, the online premium calculator generates the quote in a matter of seconds.
Types of Kotak Mahindra Life Insurance Premium Calculators
The following are the different types of Kotak Mahindra Life insurance premium calculators offered. Let's take a look at them.
| | |
| --- | --- |
| Name of the Plan | Description |
| Kotak e-Term Plan Calculator | You may provide your family with that assurance thanks to the specially created Kotak e-Term Plan. It is a pure-risk cover term insurance policy that offers you high-quality protection at a reasonable cost. |
| Kotak Guaranteed Savings Plan Calculator | A savings and protection-focused plan that offers "Guaranteed" benefits is the Kotak Guaranteed Savings Plan. |
| Kotak e-Invest Calculator | Kotak e-Invest is a thorough unit-linked life insurance plan that can be tailored to meet your objectives and needs. This is an all-in-one solution that can be tailored to match your objectives, whether they are for protection, investment, kid financial security, or retirement preparation. |
| Kotak Lifetime Income Plan Calculator | With the Kotak Lifetime Income Plan, you may be sure that your income will continue both during your lifetime and, in the event of your death, during your spouse's lifetime. |
How To Calculate Premium By Kotak Life Insurance Calculator?
If you are looking to calculate premiums for different types of plans offered by Kotak Mahindra life Insurance, here are the steps you need to follow.
Step 1: Visit the official website of Kotak Life.
Step 2: On the home page, you will see the section of 'Insurance Plans', and click on 'Tools and Calculators.
Step 3: On the redirected page, select the product category under which you plan to buy the life insurance plan and then select the specific name of the product. Then, click 'Proceed'.
Step 4: On the next page, you will need to enter your details like gender, date of birth, income, premium payment mode, etc.
Step 5: Once you're done filling in all the details, click 'Continue'.
Step 6: After filling in all the necessary details, you will be redirected to a page that will present your quote.
Kotak Mahindra Life Insurance Premium Illustration
Let's take an instance to understand!
A man named Mr. C.P Gupta (50 years old), works as a logistics manager looking to buy a lifetime income plan from Kotak to Earn income without having financial worries post-retirement. PFB the details.
| | | | | |
| --- | --- | --- | --- | --- |
| Name | Age | Investment | Lifetime Income | Lifetime Income with Cash Back |
| C.P Gupta | 50 Years | Rs. 10 Lakhs | Rs. 6094 per month | Rs. 5258 per month (lifetime pension) + Rs. 1000000 (Lumpsum after your death) |
| C.P Gupta | 50 Years | Rs. 15 Lakhs | Rs. 9141 per month (Lifetime pension) | Rs. 7887 per month (Lifetime pension) + Rs. 1500000 (Lumpsum after your death) |