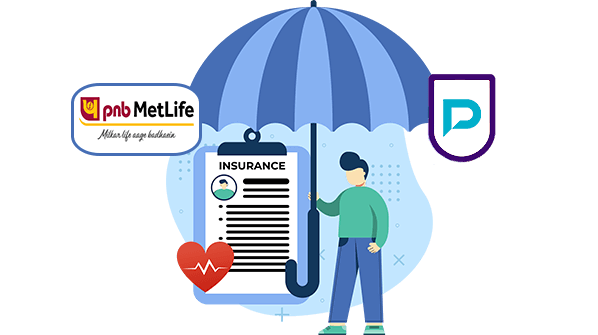 How To Surrender PNB MetLife Insurance Policy?
Surrender PNB Life Insurance Policy
A life insurance policy is a practical financial tool for protecting the financial interests of your loved ones in the future. When you are not physically present to protect your family, it enables you to do so nonetheless. According to your income and expenses, you can select the sum assured and premium, as well as the appropriate riders, to get a better deal on insurance.
Financial professionals advise acquiring PNB life insurance coverage as soon as possible. As a result, you can obtain a large sum assured for a relatively small premium. Additionally, it is advisable to keep the insurance and take advantage of mature benefits after the term. But some unforeseen financial circumstances can force you to cancel your PNB life insurance policy in the middle of the term. If this occurs, the insurance provider might be required to pay you a surrender value.
Read on to know more about surrender value in insurance and how it is calculated in a life insurance plan.
How To Surrender Your PNB Life Insurance Policy?
The following processes must be undertaken if the policyholder wants to surrender their life insurance policy.
Policy Surrender:
Listed below are the documents and steps required to surrender your PNB life insurance policy.
Original policy documents
Cancelled cheque with the policyholder's name on it.
If the cancelled check lacks a pre-printed name or account number or lists a new account, a passbook copy or bank statement with the pre-printed name and account number is necessary.
ID proof (PAN Card, Aadhaar Card, Passport, Driving License, Voters ID)
Policy surrender or cancellation form
A bank statement from the NRE account that shows any premium payments.
If any customer is looking to surrender their PNB life insurance policy, here is the list of the steps that everyone should follow.
Step 1: Customers are required to visit their nearest branch of PNB life insurance (along with the documents mentioned above). If they don't know about their nearest branch, simply visit the PNB life insurance site, go to "Our Services", hover over "Reach Out to Us", and then click on "Find Nearest Branch".
Step 2: They must then proceed to the counter and request the surrender form from the customer service agent, who will also provide them with other relevant information.
Step 3: Then, policyholders are required to submit the above-mentioned documents (self-attested) along with their surrender form.
Step 4: Once the policy surrender is complete, clients will be informed. The customer care representative will collect all pertinent paperwork. They will get the notification on their registered mobile number and email id.
Partial Withdrawal:
The pay-out form, along with the justification(s) for the partial withdrawal, must be turned in at the nearby PNB MetLife Insurance branch.
Original policy documents
Copy of CI or YPD submitted for the withdrawal request (carry original documents for verification in the branch)
Canceled cheque in the insured's name
In case the canceled cheque does not have a pre-printed name and account number or a new account is mentioned on the cheque, then a passbook copy/bank statement having the pre-printed name and the account number is required
ID proof (PAN Card, Aadhaar Card, Passport, Driving License, Voters ID)
NRE bank statement reflecting any premiums paid from the NRE account
What Happens When You Opt to Take The Cash Surrender Value And Give Up Your PNB Life Insurance Policy?
In the short and long terms, giving up your PNB life insurance policy may have the following effects:
You forfeit the death benefit: The death benefit is forfeited if you decide to cancel your PNB life insurance policy. This implies that should the unthinkable happen to you, your family would not be eligible to receive compensation from the insurance company.
You lose your invested money: The money you invested is lost even though you receive the cash surrender value. Based on the premiums you have paid to the insurer and the bonus accumulated up to the moment of surrender, the surrender value is determined. This is less than the maturity benefit or sum assured that you would have gotten when you reached maturity.
You pay discontinuation charges in ULIPs: If you cancel a ULIP before the lock-in period has passed, you will also be responsible for paying the insurance company a discontinuation fee. The surrender value, however, will be the equivalent of the worth of the fund at the time of surrender if you relinquish the plan after the lock-in period.
You lose out on tax benefits: A PNB life insurance policy offers tax advantages that enable you to save money in addition to helping your loved ones in their time of need. You will no longer qualify for these tax advantages if you surrender your coverage.
Connect With PNB Life Insurance Company for Surrendering Your Policy?
Listed below are the ways to connect with PNB's life insurance company.
Parameters
Details
Call

1800-425-6969

Our Toll-Free Number In India

Fax
+91-22-41790203
Email

Write To Us:

For Queries:

indiaservice@pnbmetlife.co.in

For Grievance Redressal:

gro@pnbmetlife.co.in

Registered Office
Unit No. 701, 702, and 703, 7th floor, West Wing, Raheja Towers, 26/27 M G Road, Bangalore -560001, Karnataka
Should You Surrender Your PNB life Insurance Plan?
Avoid surrendering your PNB life insurance policy until it is required. Instead, it is advisable to start saving for unexpected costs by creating an emergency fund. Additionally, giving up life insurance coverage could leave your family stranded at an unfortunate moment.
For every policy and insurer, surrender fees can be different. Therefore, before you buy a plan, it's beneficial to have a thorough discussion about this. Additionally, choosing the greatest life insurance policy that fits your budget and is reasonable might make it simple to pay all of your premiums, regardless of other expenses. PNB MetLife provides a variety of cost-effective life insurance options that can help you protect your family, ensuring that you never feel burdened by your insurance plan.