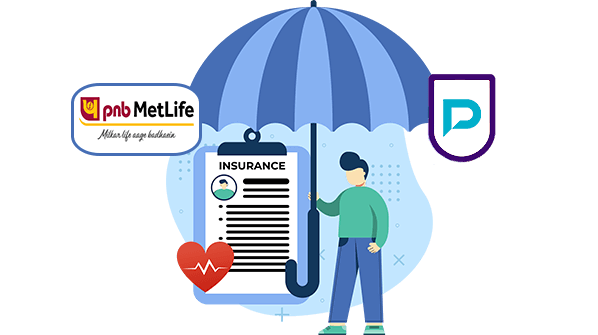 PNB MetLife India Insurance Premium Calculator
PNB MetLife India Insurance Premium Calculator
Before actually purchasing a life insurance policy, you can calculate the premium due using the online tool known as the Premium Calculator. The monthly premiums needed to acquire a sum assured can be calculated using the premium calculator offered by PNB MetLife India.
You can get individualized results using a premium calculator by choosing the type of life insurance policy, Cover-up, and Life Cover. You can change the sum assured using the premium calculator in accordance with your budget and policy requirements.
Read on to know more about the PNB MetLife India insurance premium calculator.
Benefits of Choosing PNB MetLife Insurance Premium Calculator
Here is the list of the benefits of using the PNB MetLife insurance premium calculators.
Instant Calculation: You can determine your premium using the PNB MetLife premium calculator in accordance with the policy's requirements. The customer only needs to submit basic details like gender, age, cover-up, and life insurance. The calculator was created exclusively to calculate the premium amount instantly.
Accurate Premium Calculation: One of the biggest benefits of choosing a PNB MetLife insurance calculator is that you can easily get the right premium amount that you shall pay yearly per year including GST. When you know the right amount that you need to pay, you can easily manage your expenses beforehand to pay the policy amount on time.
Aids in Comparison: If you want to make the most out of your policy, make sure you first compare with the help of a premium calculator and then choose the best one that perfectly caters to your needs and budget. When you compare the different insurance plans, it may help you make the right purchasing decisions without any inconvenience.
Easy to Use: Last but not the least, another benefit of choosing a premium calculator is that it is very simple and easy to use and can be accessed by anybody. The buyer just needs to fill in general information about themselves for instant calculation of premiums.
Types of PNBmetlife Insurance Premium Calculators
The following are the different types of PNB MetLife insurance premium calculators offered. Let's take a look at them.
| | |
| --- | --- |
| Name of the Plan | Description |
| Term insurance calculator | A term insurance calculator helps you find the premium payable for getting the desired coverage and additional plan benefits to secure your family in your absence. |
| Retirement sum assured calculator | A retirement life insurance calculator helps you calculate the exact amount you need for a comfortable and stress-free retired life |
| Savings plan insurance premium calculator | A savings premium calculator gives you an estimate of how much you need to set aside for investing in creating a specific percentage of wealth within a given time frame. |
| Child education/ marriage premium calculator | A child education insurance calculator helps you arrive at an estimate of how much you will need to fund your child's future studies and higher education |
How To Calculate Premium Through PNBmetlife Insurance Calculator?
If you are looking to calculate premiums for different types of plans offered by PNB MetLife Insurance, here are the steps you need to follow.
Step 1. Visit the PNB MetLife website.
Step 2. Go to the 'Buy Insurance' tab and select 'Tools and Calculators.
Step 3. Then, click on the calculator of your choice.
Step 4. Once you have successfully chosen the plan of your preference, all you need to do is enter details like your name, gender, age, income, health history, occupation, etc., followed by the sum assured as requested by the calculator.
Step 5. You can also add riders like critical illness riders.
Step 6. Once you have entered the information, click on 'Calculate Premium'.
Step 7. Based on the data you provide, the premium will be determined and displayed on the screen.
Step 8. Go back and make any adjustments to the inputs that need to be made. The premium can then be calculated once more in order to compare premiums for various sums assured or plans.
PNB MetLife Insurance Premium Illustration
Let's take an instance to understand!
A man, named Om Kumar (30 years old), works in a Cognizant as a software engineer looking to buy a retirement plan to significantly protect the last years of his life.
| | | | | |
| --- | --- | --- | --- | --- |
| Age (in Years) | Desired Retirement Age | Existing savings for retirement | Current Monthly Expenses | Total retirement corpus you need at the time of retirement |
| 30 years | 50 | 5,00,000 | Rs. 10,000 per month | Rs. 34,18,152 |
| 30 years | 60 | 50,00,000 | Rs. 20,000 per month | Rs. 1,01,19,400 |