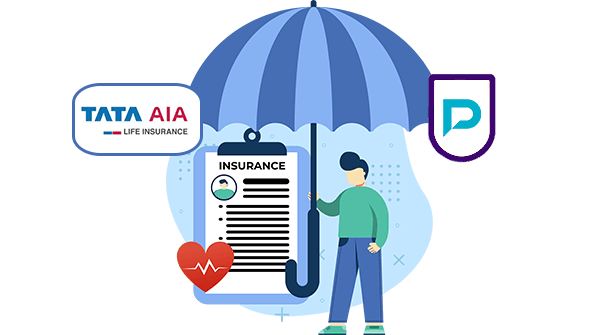 TATA AIA Life Insurance Claim Settlement Process
TATA AIA Life Insurance Claim Settlement
Whether you want to safeguard the financial future of your family or looking to protect your own life against mushrooming medical/living costs, life insurance is inevitable. But the type or amount of life insurance won't matter if you're unaware about its claim process. Unlike other insurance providers in the market, TATA Life comes with a simple and easy-going claim process for its life insurance policies and keeps transparency in the same. Also, a claim settlement ratio of 98.02% proves that the company can and will settle claims on time. 
Read on to know the complete claim process of TATA AIA life insurance policy.
How To Claim TATA AIA Life Insurance Policy?
If you are looking to file a claim against your TATA AIA life insurance policy, then you will need to follow these steps. Let's take a look at them.
Step 1: Go to the official website of TATA AIA.
Step 2: On the home page, you will need to hover over "Customer Service" and click on "Claim With Ease".
Step 3: Once you reach the page, you will need to scroll down a bit and click on "Register Claim" in the red coloured box.
Step 4: You will then be directed to a page wherein you need to enter details like policy number, claim details (Policyholder name, insured name, select event date, claim type), and details of the claimant (Name, mobile number, relationship with insured, email ID, Pincode, state, claimant address).
Step 5: After filling in each detail, you will need to click on "Submit Claim Online" in the red coloured box.
Step 6: After intimation of claim to the insurance company required documents need to be submitted for claim examination. The claim request and documents are assessed by the claims team.
Step 7: When the documents related to the claim are assessed completely a claim decision is made. The claimant is notified about the claim payout.
Through Branch/email/call
Tata AIA Life insurance claim can be intimated at your nearest Tata AIA Life branch office to the claim's teams. The policyholder/claimant can visit the branch office to file a claim. Tata AIA Life has a knowledgeable team of experts that assists the claimant at every step of the claim settlement process. If you want to get all the information prior to your visit, then you can simply call them at 1860 266 9966.
Also, you can send them an email at claims@tataaia.com.
Documents Required During the Claim Process of Tata AIA Life Insurance Policy
Here is the list of the documents required for the claim process of the Tata AIA life insurance policy. Make sure whenever you are making a claim against the TATA AIA life insurance policy, always keep these documents in hand.
In the case of Cashless & Reimbursement Claims
Hospital list
Raksha TPA – Hospital List
Pre-authorization form Download this form in a different language
Photo identity of the life assured with age and address proof
Health Card
Discharge summary of present and past hospitalizations
Hospital bills for the confinement.
All related clinical reports about the claim event
In case of Death
Claimant's statement
Download Death Claimant Statement in other Language
Photo identification proof
Current address proof
Cancelled cheque
(Make sure the name and account number are printed on the cancelled check and include a copy of your bank statement or passbook)
Death certificate
(Issued by a local government body like Municipal Corporation / Appropriate Authority)
Proof of legal title to the claim proceeds
(In case of no nomination (e.g., legal succession paper)
Cause of death – related document
How Much Time Will TATA AIA Take To Settle Your Claim?
This is the company's responsibility to clear your dispute quickly.
Death Claim (Without Investigation) – 30 days are the regulatory TAT from the date that all necessary paperwork was received.
Death Claim (With Investigation) – The regulatory TAT is 90 days to finish the investigation, and then 30 days to make a decision and process the claim payment.
Points To Remember While Claiming Against Your TATA AIA Life Insurance Policy
As soon as feasible following the occurrence of the event, the insurer must be informed of a death claim.
Please submit your claim file on time for a prompt response.
If the policy is older than three years, the likelihood of an investigation is lower.