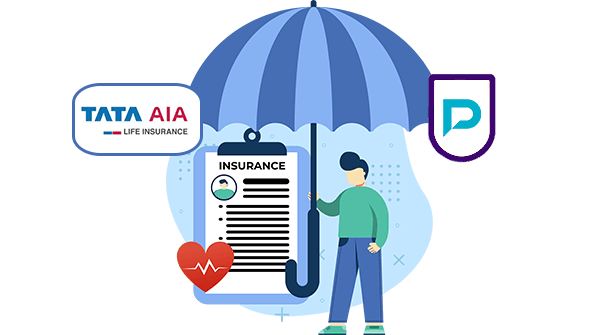 Tata AIA Gold Income Policy
Tata AIA Gold Income Plan
Tata AIA Life Insurance Gold Income Plan is a limited-pay income plan that not only covers today's needs but also safeguards your loved ones and dreams by guaranteeing returns on your investment. This plan provides a guaranteed lump sum payment upon maturity as well as guaranteed income during the income period, with annual increments. When you invest in this plan, you can easily cater to your medium to long-term goals, such as saving for retirement or your child's education. 
Read on to know more about Tata AIA Gold Income Plan's eligibility criteria, key features and benefits, exclusions, premium calculation, and more.
Here is the list of the eligibility criteria for Tata AIA Gold Income Plan.
Parameters
Description
Age at Entry (in years)

Minimum: 5 Pay: 6, 12 Pay: 3

Maximum: 5 Pay: 65, 12 Pay: 55

Age at Maturity (in years)

Minimum: 18 Years

Maximum: 5 Pay: 77, 12 Pay: 70

Basic Sum Assured

Basic Sum Assured" shall be equal

to the Annualized Premium x Basic

Sum Assured Multiple

Policy Term (In Years)
12 & 15 Years
Premium Payment Term
5 & 12 years
Premium Payment Mode
Annual/ Half-yearly / Quarterly/ Monthly
Important Features & Benefits of Tata AIA Gold Income Plan
Here is the list of the features and benefits of Tata AIAI Gold Income Plan.
Maturity Benefit:
100% of the Basic Sum Assured is paid as a lump sum at policy maturity. A Guaranteed Income of 12% of the Basic Sum Assured will also start to accrue at the end of the year after Maturity, and it will grow yearly (compounding rise) thanks to an Income Booster. Each year's ending will result in the payment of Guaranteed Income.
Whereas an additional percentage of benefits known as an "Income Booster" annually raises the guaranteed income. The premium amount, premium-paying term, and income term selected by the policyholder at policy inception will all affect the Income Booster percentage.
Death Benefi­t:
The Sum Assured on Death as defined below shall be payable upon the death of the Life Assured during the Policy Term, provided the Policy is in force and all due premiums have been paid.
The highest of the following shall constitute the "Sum Assured on Death":
a) Eleven (11) times of Annualised Premium
b) 105% of the Total Premiums Paid up to the date of death
c) Guaranteed Sum Assured on Maturity
d) Absolute amount assured to be paid on death
Grace Period:
A Grace Period of 15 days for monthly modes and 30 days for all other modes will be provided if you are unable to pay your Premium before the premium due date. Your policy is regarded as being in effect during this time, providing risk coverage by its terms and conditions. The policy will expire as of the due date of the first unpaid premium and lose all value unless otherwise specified by the Non-Forfeiture Provisions if the full premium for the first two policy years is still unpaid at the end of their grace period.
Surrender Benefi­t:
The policy may be surrendered at any time throughout the policy term, but only if at least two full years' worth of premiums has been paid will the policy gain a surrender value. The Surrender Value payable is greater than the Special or Guaranteed Surrender Value.
Free Look Period:
If the terms and conditions or features of the policy do not satisfy you, you have the right to cancel the policy by giving written notice to the company outlining your concerns or reasons, and you will be entitled to a refund of all premiums paid, less (a) the proportionate risk premium for the period of coverage and (b) the costs of the medical examination and stamp duty (including any applicable taxes, cesses, and levies) incurred to issue the policy.
Policy Loan:
If the policy acquires a surrender value, you may request a policy loan for up to 80% of the surrender value under the Tata AIA Life Insurance Gold Income Plan.
Revival:
You may revive a policy within five (5) years of the first unpaid premium's due date and before the date of maturity if a premium is past due after the Grace Period and the policy hasn't been surrendered, subject to the Company's underwriting and revival criteria. However, the Company would need a) Your written application for resurrection; b) Your most recent health certificate and other acceptable proof of your insurability; and c) Payment of any past-due premiums plus interest.
Tax Benefi­ts:
According to Section 80C of the Income Tax Act of 1961, premiums paid under this plan may be eligible for tax benefits. However, changes may be made from time to time. Furthermore, according to Section 10(10D) of the aforementioned Act, Life Insurance proceeds are tax-beneficial.
What Are The Exclusions Under Tata AIA Life Insurance Gold Income Plan?
The nominee or beneficiary of the policyholder shall be entitled to at least 80% of the total premiums paid up to the date of death or the surrender value available as on the date of death, whichever is higher, provided the policy is in force, in the event of death by suicide within 12 months from the date of commencement of risk under the policy or the date of revival of the plan, as applicable.
How Does Tata AIA Life Insurance Gold Income Plan Work?
35-year-old male Mr. Rohit Ahlawat intends to purchase a limited-pay Guaranteed Insurance Plan. He wants a lump sum benefit for his future objective and an increasing tax-free income. He chooses the Tata AIA Life Insurance Gold Income Plan to meet his needs, paying an annualized premium of Rs. 1,000,000 p.a. for a policy term of 12 years, a premium payment term of 5 years, and guaranteed income for 10 years.
End of Policy Year
Guaranteed Maturity Benefit
Guaranteed Income
Income Booster @9%
Benefit Amount
12
3,29,000
 
 
Rs. 3,29,000
13
–
39,480
12.00%
Rs. 39,480
14
–
43,033
13.08%
Rs. 43,033
15
–
46,906
14.26%
Rs. 46,906
16
–
51,128
15.54%
Rs. 51,128
17
–
55,729
16.94%
Rs. 55,729
18
–
60,745
18.46%
Rs. 60,745
19
–
66,212
20.13%
Rs. 66,212
20
–
72,171
21.94%
Rs. 72,171
21
–
78,666
23.91%
Rs. 78,666
22
–
85,746
26.06%
Rs.85,746
Total Benefit Amount
Rs. 9,28,816
Frequently Asked Questions
You have the option to plan your income for 10 or 15 years with the Tata AIA Life Insurance Gold Income Plan.
Yes, you can adjust the frequency of your premium payments on all active policies to suit your needs. Changes to the frequency of premium payments are only effective as of the policy anniversary date and may be made up to 15 days beforehand.
Your premium allocation reference may alter over time as you progress through life and hit significant milestones. You may alter the investment fund option to meet that need. However, a small fee (if any) may be applied, as specified in the policy contract.