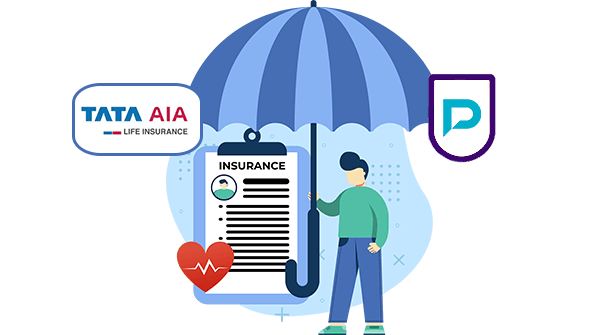 Tata AIA Maha Raksha Supreme Policy
Tata AIA Maha Raksha Supreme Plan
Tata AIA Life Insurance Maha Raksha Supreme is a Non-Participating, Individual Life Insurance Pure Risk Premium Product that gives you a variety of options to meet the unique financial security needs of your family. It gives you a lot of freedom to choose your preferred method of premium payment as well as policy coverage and life insurance benefits. You can add more riders to this plan to increase your coverage, and female applicants are eligible for additional benefits.
Keep reading to know more about Tata AIA Maha Raksha Supreme,'s eligibility criteria, key features and benefits, exclusions, premium calculation, and more.
Here is the eligibility criteria for Tata AIA Maha Raksha Supreme Plan.
Parameters
Details
Age

Minimum- 18 Years

For Non-Pos

70 years for Single Pay, Regular Pay, and Limited Pay 4 and 5

65 years for Limited Pay 6 to 45

45 years for Pay to Age 60

For Pos: 59 years for Single Pay, Regular Pay and Limited Pay 5 to 45

Basic Sum Assured

Min: Rs 5,000,000 & Max: No Limit Subject to Underwriting

Sum Assured should be in multiples of Rs 5,00,000

Maturity Age

For PoS:

Minimum- 23 Years

Maximum- 100 Years

For Non-POS

Minimum- 24 Years

Maximum- 65 Years

Premium payment Modes in Regular/ Limited Pay
Annual/Semi Annual/Quarterly/Monthly
Features & Benefits of Tata AIA Maha Raksha Supreme
Listed below are the features and benefits of Tata AIA Maha Raksha Supreme. 
Life Stage Plus Option
During significant life events/milestones like marriage or childbirth, the Life Stage Plus Option, if selected at policy inception, enables you to increase your life cover with an additional sum assured on the same policy.
Tax Advantages
While the benefits payable upon death during the policy term are tax-free under Section 10(10D) of the Income Tax Act, your paid policy premiums are tax# deductible under Section 80C of the Income Tax Act.
Flexible Plan Options
With a variety of flexible life insurance options, you may tailor your policy to meet your needs and budget by selecting the terms, frequencies, and means of premium payment.
Free Look Period
If you buy your policy online, you have 30 days, and if you buy it offline, you have 15 days to review the terms and conditions or cancel the policy. The paid premiums will be returned after cancellation, provided that it complies with business policies.
High Cover Discount
For the Regular Pay / Single Pay plan choice, your plan offers a substantial cover savings. High cover discounts are incorporated into the premium rates for Limited Pay.
Financial Protection
In the tragic event that the life assured during the insurance term passes away, the nominee will get the sum assured.
Inbuilt Accelerator Payout Benefit
If you are diagnosed with a terminal disease, this plan's built-in Payout Accelerator benefit will pay out 50% of the basic sum assured.
Whole Life Protection
You can obtain comprehensive life insurance up to the age of one hundred by selecting the whole life cover option under this policy. With this life insurance option, your family's security is guaranteed for the maximum number of policy years.
Special Premium Rates
A healthy way of life deserves to be rewarded, and the business provides discounted rates for non-smokers. Additionally, female lives are given preferential rates. Higher protection options come with discounts that lower the cost of the plan.
What is not Included Under Tata AIA Maha Raksha Supreme?
The nominee or beneficiary of the Policyholder shall be entitled to at least 80% of the total premiums paid up to the date of death or the surrender value available as on the date of death, whichever is higher, provided the Policy is in force, in the event of death by suicide within 12 months from the date of commencement of risk under the Policy or from the date of revival of the Policy, as applicable.
How Does Tata AIA Maha Raksha Supreme Policy Work?
Let's take the example of Mr. Rakesh who is 30 years old and a non-smoker looking for a plan that can provide him with financial safety. He works in an MNC at an executive level with an annual package of Rs. 5 lakhs. Here is the amount of premium that he needs to give if he wants a coverage.
Life Cover
Premium Frequency
Cover Upto Age (years)
Pay Premium For (years)
Limited Premium Pay Term (years
Premium
Rs. 20000000
Annual
85
Limited
12 Years

Rs. 67, 732

including GST
Frequently Asked Questions