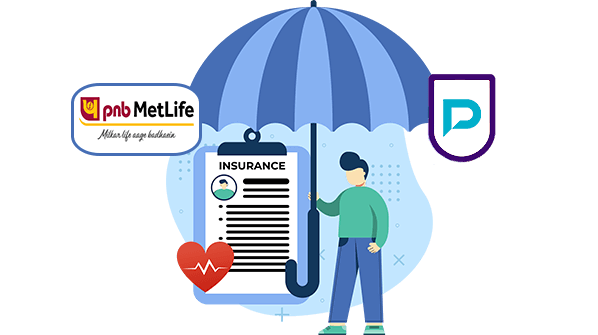 PNB MetLife Mera Term Plan Plus Policy
PNB Metlife Mera Term Plan Plus Plan
PNB MetLife Mera Term Plan Plus is a protection plan that gives you and your family affordable, comprehensive life insurance. You have the option to select protection against Death, Critical Illness, Disability, and Terminal Illness from the plan, in addition to several other options like Spouse Coverage and Whole-Life Protection. Additionally, you can alter your coverage with the numerous cover-enhancement choices offered by the plan. The PNB MetLife Mera Term Plan Plus protects you from financial worries while providing tax advantages by current tax rules.
Under the PNB MetLife Mera Term Plan Plus, there are two extra options: the return of premium and spouse coverage. The three possibilities for cover improvement are the Step-Up Benefit, Life Stage Benefit, and Child Education Support Benefit.
Read on to know more about the PNB MetLife Mera Term Plan Plus's eligibility criteria, key features & benefits, exclusions, premium calculation, and more.
Here is the eligibility criteria for PNB MetLife Mera Term Plan Plus.
Parameters
Description
Age

Minimum- 18 Years

Maximum- 60 (55 if Pay till Age 60 is chosen as PPT)

Age at maturity

Minimum (Without ROP, i.e. Return of Premium)- 28 years

Maximum:

Life, Life Plus: 99

Life plus Health: 75

With ROP:

Minimum- 28 years

Maximum- 75 years

Sum Assured

Minimum- Rs. 2, 50, 000

Maximum- No limit, subject to Underwriting

Premium Paying Term (years)

· Single pay

· Limited Pay (5, 10, 15, 20, pay till 60)

· Regular pay

(Minimum allowed Policy Term for Limited pay option: Premium Payment Term plus 5 years)

Policy Term (years)

Minimum- 10 years

Maximum-

Without RoP: Life, Life Plus: 99-Age at entry.

Life Plus Health: 75 – Age at entry

With RoP: 4
Features & Benefits of PNB MetLife Mera Term Plan Plus
Here is the list of the key features and benefits of PNB MetLife Mera Term Plan Plus.
Life Stage Benefit:
The policyholder has the option to purchase additional coverage, and you may increase your sum insured according to the following life stages:
On the policyholder's marriage: up to $5,000,000 or 50% of the current cover.
Upon the birth of the first and second child: up to $2,500,000 or 25% of the current cover.
Home Loan: 50% of the Basic Sum Assured, up to a maximum of Rs. 50 lakhs (only once during the term of the policy).
Child Education Support Bene­fit:
A separate protection plan that is only for the benefit of your child's education.
Spouse Coverage: A choice to include your spouse in the same plan's protection.
The Basic Sum Assured for the First Life should be at least Rs. 50 lakhs.
Up to 100% of the first life's basic sum assured will be covered for the second life.
The coverage for the Second Life will be limited to 50% of the Basic Sum Assured that the First Life has selected if the Second Life is a housewife or non-earning member.
Step up Bene­fit
One of the major benefits of choosing PNB MetLife Mera Term Plan Plus is that you will have the option to increase your Sum Assured every year by 10% for the next 10 years.
Return of Premium
The policyholder has the option to choose this benefit when the policy is first issued. If the Life Assured survives until the policy's maturity date, the Maturity Benefit equal to the Sum Assured on Maturity will be paid for policies with the "Return of Premiums" option selected. The maximum policy term for this option is 40 years, with a maturity age of 75 years old, whichever comes first.
Tax Benefits
With the plan, you can save more money while receiving tax breaks on the premiums paid and the benefits obtained under Sections 80 and 10 (10D) of the Income Tax Act of 1961.
Whole-Life Protection
Choose whether to remain covered for the rest of your life (coverage up to age 99) OR select the length of coverage that best suits your needs.
What is Excluded Under PNB Metlife Mera Term Plan Plus?
Suicide Exclusion
The Nominee or Beneficiary of the Policyholder shall be entitled to at least 80% of the total Premium paid up to the date of death or Surrender Value available as on the date of death, whichever is higher, provided the Policy is in in-force status if the Life Assured dies by suicide within 12 months from the date of commencement of risk or the Date of Revival of the Policy.
Additional Exclusion for Life Plus / Life Plus Health Option
No payments will be given if any of the following directly or indirectly, completely or partially, causes or aggravates an accident-related total permanent disability or critical illness.
Attempts at suicide and intentional self-harm.
Any existing medical problem.
Armed or unarmed truce, civil war, martial law, mutiny, revolt, revolution, insurrection, military or usurped power, riot or civil commotion, strikes, the act of a foreign enemy, war, terrorism, invasion
Taking part in any peacetime naval, military, or air force activity.
The insured person's involvement in an assault, a crime, an illegal activity, or any violation of the law with criminal intent.
Engaging in or participating in professional sport(s) or any dangerous activities, such as but not limited to bungee jumping, horseback riding, diving, or any other activity that requires the use of a breathing apparatus underwater.
Abuse of alcohol or solvents or use of drugs, narcotics, or psychoactive substances is prohibited unless done so in compliance with a doctor's legitimate instructions and prescription.
Engaging in any flying-related activity as an insured person other than as a genuine, fare-paying passenger or as a pilot and cabin crew of an airline with a commercial license.
Nuclear contamination: The presence of radioactive, explosive, or hazardous nuclear fuel materials on a property or an accident involving such materials.
Additional Exclusions for Critical Illnesses
Any illness that manifests within 90 days of the beginning of coverage (i.e., during the waiting period) or the date of reinstatement, whichever comes first.
Every outward congenital disorder.
How Does the PNB Mera Term Plan Plus Work?
Let's take an example to understand!
Priya, an entrepreneur aged 30 years, is looking for a Comprehensive Protection Plan for their whole life but only wants to pay a premium till her work life.
| | | | | | |
| --- | --- | --- | --- | --- | --- |
| Sum Assured | Policy Term | Premium Payment Term | Pay-out | Additional Option | Annualized Premium |
| 2,000, 0000 | Whole life | Till 60 | Lumpsum | None | Rs. 47,600 |
Frequently Asked Questions