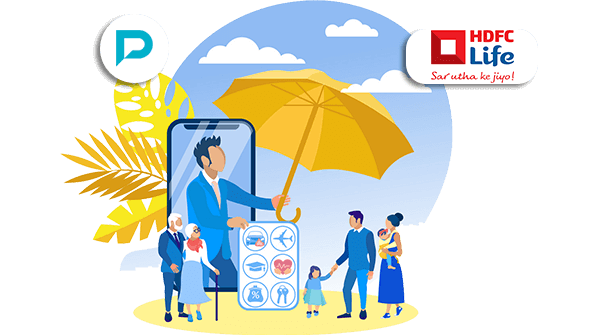 HDFC Life Insurance Cancer Care Policy
HDFC Life Cancer Care Plan
The number of cancer patients in India is expected to rise from 26.7 million in 2021 to 29.8 million in 2025, according to ICMR (Indian Council of Medical Research) reports. Having said that, financial problems should also be anticipated given the high cost of therapy, in addition to the emotional and physical sufferings that result from cancer.
In such a scenario, the HDFC Life Cancer Care plan comes as a life savior for individuals suffering from this deadly disease. It is a comprehensive cancer care program that is meant to provide financial security during the early and severe stages of cancer. It provides three alternatives to accommodate different consumer needs.
Continue reading to know about the plan.
| | |
| --- | --- |
| Minimum Entry Age | 5 Years |
| Maximum Entry Age | 65 Years |
| Minimum Maturity Age | 15 Years |
| Maximum Maturity Age | 85 Years |
| Minimum Policy Term | 5 Years |
| Maximum Policy Term | 85 Years – Entry Age |
| Sum Insured | Rs. 10 Lakhs To Rs. 50 Lakhs |
Key Attributes Of HDFC Life Cancer Care
The HDFC Life Cancer Care plan has the following features:
| | |
| --- | --- |
| Parameters | Status |
| Plan Variants | Gold, Silver, & Platinum |
| Malignant Cancer OR Carcinoma-In-Situ | Covered |
| Early-Stage Cancer | Covered |
| Major Cancer | Covered |
| Grace Period | Grace periods of 30 days are available for annually, half-yearly, and quarterly frequency while grace periods of 15 days are available for monthly frequency. |
| Waiting Period | 180 Days |
| Survival Period | 7 days from the date of benefit payment & date of diagnosis |
| Portability | Yes |
| Loan Facility | No |
| Maturity Benefit | No |
| Surrender Benefit | No |
| Death Benefit | No |
Benefits Offered By HDFC Life Cancer Care
The plan offers the following benefits to the policyholder:
Base Benefit: Under all three plan variants, the policyholder will receive Cancer Diagnosis Benefit for malignant, early stage, and major cancers. For early-stage cancer, 25% of the applicable sum assured will be provided to the policyholder; whereas, for major cancers, 100% of the sum insured will be applicable.
Income Benefit: Under the Platinum plan variant, 1% of the sum insured would be paid out upon diagnosis of the main malignancies indicated for a defined term of the following five policy years. 
Increased Benefit: Under the Gold and Platinum variant of the plan, the sum assured amount increases by 10% each year if no claim is made. 
Waiver On Premium Benefit: For three policy years, premiums will be waived upon a diagnosis of Early-Stage Cancer or Carcinoma-in-Situ (CIS). The premiums for the remaining period would not be charged if it was less than three years.
Premium Discounts: The plan has lower premium rates in case your sum assured is over Rs. 10 lakhs. Moreover, if you buy the policy online directly, a 5.5% discount will be provided on the policy premium.
Tax Benefits: As per the Income Tax laws, you may be eligible to receive tax benefits while buying the policy. It is advised to consult your tax advisor to avoid any kind of misinformation.
Premium Calculation Of HDFC Life Cancer Care Plan
Before you zero in the HDFC Life Cancer Care plan, it is important for you to be cognizant of the estimated amount of premium you need to pay for the plan. Therefore, we have curated a list of premium amounts calculated on the basis of different criteria, including age and gender. The list is for a sum assured of Rs. 20 lakhs.
Name
Age
Gender
Policy Term
Premium Amount
 
 
 
 
Silver
Gold
Platinum
Devika Singh
30 Years
Female
10 Years
Rs. 1025
Rs. 1320
Rs. 1864
Mohan Chopra
40 Years
Male
15 Years
Rs. 2663
Rs. 4223
Rs. 6379
Sakshi Sharma
50 Years
Female
20 Years
Rs. 9171
Rs. 15508
Rs. 23462
Devansh Kalra
55 Years
Male
10 Years
Rs. 12091
Rs. 17272
Rs. 26095
What's Not Included Under HDFC Life Cancer Care Plan?
Major Cancer, Carcinoma in Situ, or Early-Stage Cancer caused directly or indirectly by:
Diseases spread through sexual contact HIV or AIDS
Any existing medical condition
Wilfully consuming or using any drug, medication, or sedative unless it is an "over the counter" drug, medication, or sedative taken in accordance with the directions on the box.
Contamination by nuclear, biological, or chemical agents
If the diagnosis or the first indications or symptoms of the cancer were discovered during the waiting period, the policy would expire and no benefits will be paid out.
Frequently Asked Questions