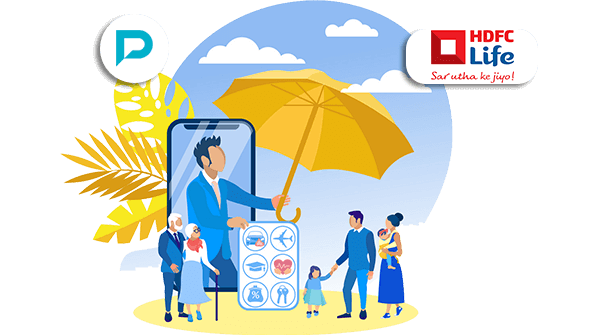 HDFC Life Insurance Click 2 Protect Health Policy
HDFC Life Click 2 Protect Health Plan
You take no chances when it comes to ensuring the general well-being of your family. Whether it's safeguarding the health of you and your family or making sure they have a stable financial future long after you're gone. To help, HDFC Life and HDFC ERGO Health Insurance plan offers you the advantages of life and health insurance in a thorough and cost-effective Click 2 Protect Health. Therefore, nothing stands in the way of you leading a proud life with your family.
You will receive offers from the Life Stage Protection feature under the plan to boost insurance coverage without a medical exam at specific significant milestones. Additionally, the top-up option gives you the freedom to increase your coverage each year. Additionally, you will receive premium rates that are appealing for non-smokers.
Read on to know more about the HDFC Life Click 2 Protect Health, its eligibility criteria, inclusions, exclusions, premium illustration, and more.
Here is the eligibility criteria for Click 2 Protect Health.
Eligibility Criteria
Protection
Health
 

All Options except Life Long

Protection Option & 3D Life Long

Protection Option

Life Long Protection Option & 3D

Life Long Protection Option

 
Min Age at Entry
18 years
25 years
91 days
Max Age at Entry
65 years
60 years
65 years
Min Policy Term
5 years
Whole of Life
1 year or 2-year period (sum insured & benefits will applicable on a policy year basis)
Max Policy Term
40 years
Premium Payment Mode

Single Pay, Regular Pay,

Limited Pay: 5 years to 39 years

Limited Pay : (65 – Age at Entry)

Annual for 1 year policy period

and single for 2 years policy period

Premium Payment Frequency

Single, Annual, Semi-Annual,

Quarterly, Monthly

Annual, Semi-Annual,

Quarterly, Monthly

Min Age at Maturity
23
Whole of Life

Life Long on

continuous Renewals

Max Age at Maturity
75
Min- Max Sum Assured/Insured

Rs. 10,00,000-No Limit

(Subject to Board Approved Underwriting Policy)

3 Lakh/5 Lakh/10 Lakh/15 Lakh/ 20 Lakh/ 25 Lakh/50 Lakh
What Is Covered Under Click 2 Protect Health?
Here are the major details covered under Click 2 Protect Health.
In-Patient Treatment

• Hospital room rent or boarding;

• Nursing;

• Intensive Care Unit

• Medical Practitioners (Fees)

• Anaesthesia

• Blood

• Medicines, drugs & consumables; Oxygen

• Operation theatre

• Surgical appliances;

• Diagnostic procedures.

Day Care Procedures

Any medical or surgical procedure carried out in accordance with general anaesthesia or local anaesthesia, which calls for a stay of fewer than 24 hours at a hospital or daycare facility. This definition does not cover treatment that is often provided on an outpatient basis.

Indicative list of Day Care Procedures

• Cancer Chemotherapy

• Liver biopsy

• Coronary angiography

• Haemodialysis

• Operation of cataract

• Nasal sinus aspiration

Domiciliary Treatment

When receiving medical care for a condition that would typically necessitate hospitalisation but is instead received while confined at home for any of the following reasons:

1. The patient's condition makes it impossible for them to be transferred to a hospital, or

2. Due to a lack of available rooms, the patient receives therapy at home.

Organ Donor

Medical and surgical costs incurred by the organ donor for organ donation when the recipient is an insured person.

Important: An insured person's expenses incurred while donating an organ are NOT reimbursed.
Features & Benefits of Click 2 Protect Health
Here are the features and benefits of Click 2 Protect Health that you should know:
Protection Benefits
This plan has 9 options that are as follows:
1) Life Option: If they are diagnosed with a terminal illness or die, your nominee receives a Lumsum Benefit. In the event of Total Permanent Disability resulting from an accident, the future premiums are waived.
2) 3D Life Option: In addition to the benefits described under "Life Option," you will also receive an extra benefit upon the diagnosis of a critical illness, which is the waiver of your future premiums.
3) Extra Life Option: Your nominee receives an additional Extra Life Sum Assured in the event of death as a result of an accident, in addition to the benefits under "Life Option."
4) Income Option: For a specific number of years, your nominee will receive both a lump sum payment and a consistent stream of income.
5) Extra Life Income Option: In addition to the benefits provided under "Income Option," a lump amount and income benefit are also provided in the event of an accident death.
6) Income Replacement Option: Your nominee will be given a regular monthly income in place of a lump sum payout.
7) Return of Premium Option: At the end of the policy period, any premiums you paid will be refunded if you live to see the end of the term. A lump sum benefit will be given to your nominee upon death or the diagnosis of a terminal illness within the Policy Term.
8) Option for Lifelong Protection: This option offers lifetime security. If they are diagnosed with a terminal illness or die, your nominee receives a Lumsum Benefit. In the event of an accident-related disability, future premiums are not owed.
9) 3D Life Long Protection Option: In addition to the benefits provided by the "Life Long Protection Option" as previously described, you will also gain the benefit of having your future premiums waived upon the diagnosis of a critical illness.
Health Benefit
Here is the health benefit offered under HDFC Click 2 Protect.
1) Restore Benefit: A special Restore benefit that, in the event that you use up your basic sum insured during a policy year, immediately reinstates it.
2) Health Assessment: With its preventative health check-up benefit provided at renewal regardless of claim status Optima Restore aids you in keeping track of your health state. On sums insured of Rs. 5 lakh and above, the health checkup benefit is available once every two years, and on sums insured of Rs. 10 lakh and above, it is available once a year.
3) Multiplier Benefit: A never-before renewal incentive is also included with the remarkable restore benefit. Your basic sum covered will be enhanced by 50% as a no claim bonus if you have gone an entire year without filing a claim. Your basic sum insured will be doubled as a no claim bonus, or 100% of the basic sum insured, if you don't make a claim even in the second year.
4) Portability: The policy allows for easy portability, allowing you to switch from another insurer's health insurance policy to Apollo Munich with all accrued benefits after making the necessary waiting period adjustments and taking use of all the incredible policy perks. According to portability rules, the insured has the opportunity to switch to any other health insurance plan provided by another insurer.
5) Cashless Transaction– The policy lets you to receive care at any of the 4500+ network hospitals in more than 830 cities without paying any money.
6) There are no geographic sub-limits – Regardless of where you purchase your coverage, you can receive treatment in any U.S. city or hospital of your choice without incurring any additional co-pays or sub-limits.
7) Quick claim payment: The company honour every legitimate claim with one of the shortest turnaround times in the business.
8) Easy upgrade- There is also a simple upgrade option with this health plan. When your insurance policy is renewed, you can upgrade your coverage to the following level.
What is Not Included Under HDFC Click 2 Protect Health?
In case of death due to suicide, within 12 months;
If the policy is still in effect, your nominee or beneficiary will be entitled to at least 80% of the premiums paid going back to the start of the insurance.
Your nominee or beneficiary will be entitled to the greater of an amount equal to 80% of the premiums paid up to the date of death or the surrender value in effect on the day of death, starting from the date the policy was revived.
If the death happens more than 180 days from the date of the accident, the employer will not pay the accidental death benefit. If an unintentional death is caused, either directly or indirectly, by any of the following, the company will not pay an accidental death benefit:
 If the demise occurs more than 180 days after the accident.
suicide or self-harm committed on purpose, regardless of mental state
Abuse of alcohol or other solvents, or the use of medications without a prescription from a licenced physician.
Engaging in a riot or other social unrest, an invasion, hostilities (whether or not war is declared), a civil war, a revolt, or other conflicts.
Participating in any flight-related activity other than as a passenger in an aircraft with a commercial pilot's licence.
Engaging in any unlawful activity with the purpose to commit a crime.
Participating in or practising for any dangerous sport, hobby, or competition without our prior written consent.
Other Exclusions for the 3D Life and 3D Life Long Protection options
If one of the following factors—whether directly or indirectly—causes the severe illness, the employer will not be obligated to provide any benefits.
Any of the critical illnesses on the list when the patient passes away within 30 days of diagnosis.
Any illness-related condition that appears 90 days or less after the policy's start date, the date on which the risk was accepted, or the date on which coverage was reinstated.
Intentionally hurting oneself or making an attempt at suicide, regardless of mental state.
Abusing alcohol or solvents, or using or using drugs, medications, or sedatives willingly unless they are "over the counter" drugs, medications, or sedatives administered in accordance with the guidelines on the label or as prescribed by a healthcare professional.
Engaging in any unlawful activity with the purpose to commit a crime.
Ignorance of medical needs or disregard for medical guidance (as recommended by a Medical Practitioner).
Radioactive contamination brought on by a nuclear disaster.
Premium Illustration of HDFC Click 2 Protect Health- How Does it Work?
Let's take an example to understand!
A man, named Mr Sahil Malhotra, is 25 year old man who works at an MNC in New Delhi, looking to buy a Plan that provides both the benefit of health and protection. After asking his relatives, family, and friends, someone suggested him to buy HDFC Cardiac Care Plan to protect his health.
Here's what he will get under different circumstances.
Plan

Option

Lumpsum

Benefit

Income

Period

Annual

Income

Rate of Increase

of Income

Premium

Payment Term

Income
Rs. 1 Crore
10 years
Rs.12 Lakhs

10% p.a.

simple rate

15 years
He dies during the same policy year.
The nominee receives a lump sum of Rs. 1 Cr Plus.
Event

On Death / Diagnosis of

Terminal Illness

On Accidental

Total Permanent Disability

Benefit(s)

Payable

Sum Assured on Death

paid as Lumpsum Benefit + Level/Increasing Monthly Income for Income Period paid to the nominee and the policy terminates

All future premiums are waived

& the Policy continues
Frequently Asked Questions