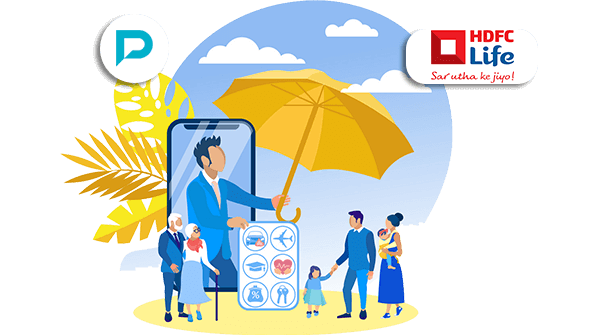 HDFC Life Insurance Click 2 Protect Optima Secure Policy
HDFC Life Click 2 Protect Optima Secure Plan
HDFC Life and HDFC ERGO have collaborated to give you Click 2 Protect Optima Secure which is a comprehensive plan that offers maximum life and health coverage for you and your family. You can live a life of pride and be properly protected with the aid of this device. With three plan options—Life & CI Rebalance, Life Protect, and Income Plus—the plan is particularly created to protect your family while giving you the choice to select a policy that meets your needs.
The plan's 4X health coverage and assured life insurance will keep you financially secure against escalating medical expenditures. Regardless of a claim, the plan provides extra protection equal to 100% of the Base Sum Insured in 2 years.
Read on to know more about Click 2 Protect Optima Secure eligibility criteria, inclusions, exclusions, benefits, premium illustration, and more.
Here is the eligibility criteria for Click 2 Protect Optima Secure.
Plan Option
Life & CI Rebalance
Life Protect
Income Plus
 
 
Fixed Term
Whole Life
Fixed Term
Whole Life
Min. Age at Entry
18 years
18 years
45 years
30 years
45 years
Max. Age at Entry
65 years

65 years for non-PoS

60 years for PoS

65 years
50 years

10 Pay: 50 years

Single Pay,

5 Pay: 55 years

Min. Age at Maturity
28 years

18 years for non-PoS

23 years for PoS

Whole of Life
70 years
Whole of Life
Max. Age at Maturity
75 years
85 years for non-PoS 65 years for PoS
Whole of Life
85 years
Whole of Life
Min. Policy Term
10 years
Single Pay: 1 month for non-PoS 5 years for PoS Regular Pay: 5 years Limited Pay: 6 years
Whole of Life

70 years –

Age at Entry

Whole of Life
Max. Policy Term
30 years

85 years – Age at Entry

for non-PoS

65 years – Age at Entry

for PoS

Whole of Life
40 years
Whole of Life
Premium Payment Term

Single Pay, Regular Pay, Limited Pay

(5 to any PPT less than PT)

Limited Pay

(5, 10, 15 pay)

Single Pay, Limited Pay (5, 10 pay)
Min. Basic Sum Assured
Rs. 20,00,000
Rs. 50,000
Max. Basic Sum Assured
No limit, subject to Board Approved Underwriting Policy (BAUP)
Features & Benefits of Click 2 Protect Optima Secure
Here is the list of the salient features and benefits of Click 2 Protect optima Secure by HDFC. Let's categorize them on the basis of health and protection.
Protection:
Offers your family complete financial safety.
The ability to select a cover from three plan options that best suits your needs.
Automatically adjusts the benefits of death and critical illness as people get older.
Utilize the Income Plus Option to begin receiving income payments at age 60.
The option to get whole-life insurance.
With the Return of Premium option, you can get back all premiums paid on survival till maturity.
Premiums that are waived after a critical illness diagnosis (through Waiver of Premium on CI option)
Additional Amount Assured in the Event of Accidental Death (via Option for Accidental Death Benefit).
Special premium rates for non-smokers and feminine lives.
Health:
Secure Benefit offers extra insurance that covers up to 200% of the Base Sum Insured.
In addition, Benefit offers additional security equal to 100% of the Base Sum Insured for a 2-year period, regardless of claims.
Upon partial or full usage of the sum insured, the automatic restore benefits (Base Sum Insured, Secure Benefit, and Plus Benefit / Cumulative Bonus) immediately restore 100% of the Base Sum Insured.
 During hospitalization, the Protect Benefit covers non-medical costs such as gloves, food, and other consumables.
Reason To Buy This Policy
Followig are the features and benefits of HDFC Click 2 Protect Optima Secure, 
Plus Benefi­t
Amount equivalent to 50% of the Base Sum Insured under the expired policy will be added to the Sum Insured available under the renewed policy upon renewal of this policy with the company without a break.
Survival Benefit:
If you live through the policy term and have paid all required premiums, you will receive a monthly income equal to 0.1% of the Basic Sum Assured starting on the policy anniversary after you turn 60 years old and continuing until your death or the end of the insurance term, whichever comes first.
Death Bene­fit:
If you, the Life Assured, pass away within the policy term, your Nominee will receive the "Death Benefit" in the form of a lump payment. The more desirable of:
Sum Assured on Death
105% of Total Premiums Paid
Sum Assured on Death for Single Pay (SP) is the highest of:
125% of Single Premium
Sum Assured on Maturity
Basic Sum Assured
Automatic Restore Bene­fit
The Company shall restore the Sum Insured up to the Base Sum Insured in the case of full or partial utilization of the Base Sum Insured as a result of any claim admitted during the Policy Year, regardless of the utilization of the Cumulative Bonus, Plus Benefit, and Secure Benefit.
Secure Benefit
The Insured Person's Sum Insured will have access to an additional sum as specified in the Policy Schedule for any valid claims.
Covered Under Click 2 Protect Optima Secure
Here is the list of the details covered under Click 2 Protect Optima Secure by HDFC.
1. Life & CI Rebalance:
A clever insurance policy that seeks to strike a balance between critical illness and death as you go about your life. Each policy anniversary sees an increase in Critical Illness Coverage and a commensurate decrease in Life Coverage. Additionally, the life insurance coverage is maintained and all upcoming premiums are waived upon the discovery of any of the critical illnesses that are covered.
2. Life Protect:
With this option, a lump payment is paid out in the event that the life assured passes away.
3. Income Plus:
The Life Assured is protected for the full policy term under this option of the plan, and they also get a lump sum payment at maturity along with periodical payments starting at age 60.
4. Hospitalization Expenses:
Up to the room rent limit stated in the policy schedule, the hospital or nursing home will pay for room rent, boarding, and nursing costs.
Costs associated with intensive care units (ICU) and intensive cardiac care units (ICCU).
Fees for consultants, specialists, medical practitioners, and surgeons during hospitalization that are included in the hospital bill.
Hospitalization-related investigative therapies and diagnostic procedures.
Drugs and medications that a doctor has prescribed in writing.
5. Home Health Care:
If the treating Medical Practitioner recommends in writing that the Insured Person get treatment at home during the Policy Year, the Company shall reimburse those costs, provided that:
Under normal circumstances, hospital in-patient care would be necessary for the treatment.
The Company has pre-approved the treatment in accordance with the instructions provided.
For each day of the home treatment, records of the treatments given and fully signed by the treating medical practitioner are kept.
6. Cumulative Bonus (CB):
If the policy is renewed with the company without a break, cumulative bonus (CB) will be applied/increased by 10% of the Base Sum Insured for each claim-free Policy Year (where no claims are reported), up to a maximum cap of 100% of the Base Sum Insured under the current Policy Year.
7. AYUSH Treatment
The Company will cover the Insured Person's Medical Expenses for Inpatient Care under the Ayurvedic, Yoga and Naturopathic, Unani, Siddha, and Homeopathic systems of medicine up to the Sub-limit listed against this Cover in the Policy Schedule for each Policy Year, in any AYUSH Hospital.
Not Covered Under Click 2 Protect Optima Secure
In case of death due to suicide within 12 months from the date of commencement of risk under the policy or from the date of revival of the policy, as applicable, the nominee or benefi­ciary of the policyholder shall be entitled to at least 80% of the total premiums paid till the date of death or the surrender value available as on the date of death whichever is higher, provided the policy is in force.
Premium Illustration of Click 2 Protect Optima Secure
Let's take an example to understand!
Mr. Ram Lal Chaddha is a 25-year-old Manager. He buys Click 2 Protect Optima Secure (Protection and health benefit. During the 4th Policy Year, he meets with an accident and during the 7th Policy Year, he passes away due to illness.
Protection:
The insurance will expire the sooner of the insured's death or the policy term.
At the time the policy is first issued, you must select the Sum Assured, Policy Term, and Premium Payment Term.
Health
He is covered up to 30 lakhs (Base sum insured + Secure Bene­t + Automatic Restore Benefi­t)
| | | | |
| --- | --- | --- | --- |
| Category | Plan option | Sum Assured | Policy Term |
| Protection | Life Protect | Rs. 1 Crore | 40 Years |
| Health | Optima Secure | Rs. 5 Lakh | Lifelong Renewal |
Frequently Asked Questions
You have the opportunity, when choosing the insurance, to change the frequency of premium payments at any time during the premium payment term without incurring any fees.
Additionally, you have the choice to convert any restricted premium period offered by the plan options into unpaid regular premiums.
For yearly, half-yearly, and quarterly frequencies of this plan, the grace period from the due date of the premium is 30 days. For monthly frequency, the grace period is 15 days after the premium payment deadline.