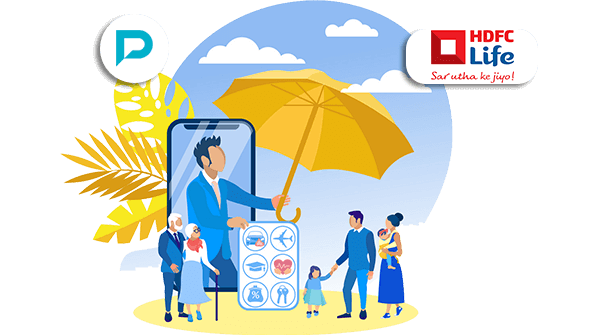 HDFC Life Insurance Premium Calculator
HDFC Life Insurance Premium Calculator
People can use premium calculators to determine how much they can afford, which helps them make wise financial decisions. It is cumbersome to manually calculate the cost of each policy because there are numerous elements that affect the price of a term insurance plan. This is the fundamental justification for why insurers offer premium estimators to prospective clients.
By entering a few simple data, the HDFC life insurance premium calculator allows users to rapidly determine the cost of a policy. Additionally, it helps you modify your sum assured based on the future needs of your family and loved ones while you are away.
Benefits of Choosing HDFC Life Insurance Premium Calculator
Here is the list of the benefits of choosing the life insurance premium calculator offered by HDFC.
Better Decision Maker – One of the biggest benefits of choosing an HDFC Life Term Premium Calculator is that you can seamlessly compare policy quotes of different term plans which can help you in making the right buying decision. Also, the premium calculated by the HDFC Life Term Premium calculator is correct that you won't face any difficulty in making a fruitful decision for your loved ones.
Right Premium Amount – No matter what premium amount you will pay, you are likely to get the exact amount with the HDFC life insurance premium calculator. This would ultimately help you manage your expenses while ensuring the amount that needs to be paid during that particular month. Also, you may end up choosing the best life insurance plan that perfectly caters to your needs and budget.
Error Free – Another benefit of choosing an HDFC life insurance premium calculator is that it is backed by state-of-the-art technology and software, ensuring that it is less prone to mistakes as compared to manual calculations.
Free Cost – Undoubtedly, HDFC Life Term Insurance Premium Calculator is easy to use and free of cost. If you are looking to buy an HDFC life insurance plan and want to know what premium amount you need to pay, just fill in general information about yourself for instant calculation of premiums.
Time-Saving and Hassle-Free – When you compare your HDFC Life Term insurance plans in a premium calculator, you are not required to submit any documents or visit their branch office. And the best part is that you will easily receive a quote within minutes and then you can make a decision whether to buy the plan or not.
Types of HDFC Life Insurance Premium Calculators
The following are the different types of HDFC life insurance premium calculators offered. Let's take a look at them.
| | |
| --- | --- |
| Name of the Plan | Description |
| Retirement/Pension Calculator | You can get a better understanding of how much money you might have when you retire by using a retirement calculator. It will tell you what kind of monthly income you might enjoy in your golden years once you submit the necessary information. |
| Term Insurance Calculator | The policyholder can use a term insurance calculator to determine the projected premium payment required to receive the policy's benefits. |
| Investment Return Calculator | You can use HDFC Life's Investment Returns Calculator to determine the effects of delaying your Systematic Investment by a specific number of years (s). It facilitates making decisions on when to invest to maximize results. |
How To Calculate Premium With HDFC Life Insurance Calculator?
If you are looking to calculate premiums for different types of plans offered by HDFC life Insurance, here are the steps you need to follow.
Step 1: Visit the official website of HDFC life.
Step 2: On the home page, you will see 3 hyphens (-) on the top right-hand side. Click on it.
Step 3: After that, you will see the "Tools & Calculators" options. Click on it.
Step 4: You will then be directed to a page wherein you will see different calculators with the option of "Start Calculating" in the red-colored tab.
Step 5: Supposedly, you go to the "Term insurance calculator". Now, you will need to enter the Life cover amount", and your date of birth, select your gender, and you are all set to calculate your premium amount.
Step 6: When you click on "Calculate", you will see the amount that you need to pay per year including GST.
HDFC Life Insurance Premium Illustration
Let's take an instance to understand!
A man, named Mr. Dilip Tyagi (30 years old), works in Accenture as a software engineer looking to buy a term insurance plan from HDFC to significantly protect the financial future of his family in case of his absence. PFB the details.
| | | | | |
| --- | --- | --- | --- | --- |
| Life Cover Amount | Age | Gender | Tobacco | Premium Amount |
| Rs, 50,00,000 | 30 Years | Male | No | Rs. 18,848 annually |
| Rs. 1,00,00,000 | 30 Years | Male | Yes | Rs. 31,546 annually |