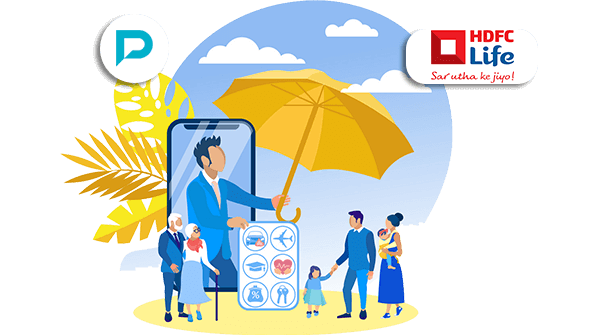 How To Pay HDFC Life Insurance Policy Premium Online?
HDFC Life Insurance Premium Payment
Paying insurance premium is an important task to be performed as if you do not pay the premium timely, your policy will be void and you will not receive any benefits and facilities of your policy. Keeping pace with globalization and digitalization, paying a premium for your policy has become an easy task. Different methods of online payment have been introduced to provide ample options to the policyholders. HDFC Life Insurance Company is not an exception. Rather, it has offered so many options to pay the premium for your insurance that you can easily choose the most suitable option for you. Let's take a look at them.
How To Pay HDFC Life Policy Premium Payment Online?
HDFC Life Insurance has come up with different super-facility options to pay the premiums for your policy online. You can choose any of them according to your convenience. To know more about different online procedures, have a look at the below mentions.
Through HDFC Life Official Website
For paying the premium online by using directly the website, follow the steps as stated below.
Go to the official website of HDFC Life.
At the right-hand side of the page, there you can find the Pay Premium option. Click on that.
It will direct you to a new page.
On the new landing page, you need to put certain credentials in their right places such as your policy number and date of birth.
Then click on the Proceed option. For your particular policy, the premium amount to be paid will be displayed on the screen.
Pay the premium, by using any of the paying methods authorized by HDFC Life.
Upon successful payment, you will receive the notification through your registered email ID and/or mobile number. 
And, do not forget to download the premium payment receipt.
HDFC Life has introduced an application, HDFC Life Insurance App that can be downloaded from Play Store or AppStore. The insured person can pay the premium for his/her policy using this app. For that, he has to create a profile there through an easy registration process. On the app, there are also Quick Pay and My Account options through which you can pay the premium. 
To avail of the My Account option, you need to select any of the following options to login and those are – Client ID, Policy Number, registered Email ID, and registered Mobile Number. For using the Quick Pay option, you need to keep the policy number and the correct date of birth handy.
HDFC Life has made the Paytm facility available for the customers to pay the premium. The insured person can pay renewal premium through Paytm App or website using net-banking, cards, UPI, wallet, or EMI, according to his/her convenience. Renewal premium payments are accepted for "In-force, Lapsed, Discontinued, Paid-up" policies.
You can log in to Paytm to pay the premium amount or else you can also scan the QR that is available on the official website of HDFC Life, in the Paytm app to pay.
Through Different Types of Wallets
Apart from Paytm, the policyholder can also use various wallets authorized by HDFC Life to pay the premium for his/her HDFC Life insurance policy, such as PayZapp, Google Pay, and Bharat Bill Payment System (BBPS). You can easily download such apps from the respective Play/App store and make the premium payment.
Auto debit is an automated facility that debits the premium from the bank account or card as specified by the insured person, on the premium due date. It is a secured digital platform to activate auto-debit for renewal premium payment with the following available options.
eNACH – eNACH or API E-Mandate is a payment service initiated by RBI and the National Payments Corporation of India (NPCI) that allows anyone with a bank account to easily automate recurring payments.
Aadhar Based eSign – This facility allows customers to authenticate their E-Mandates using Aadhaar-based eSign. Aadhaar based mandate Registration is only applicable for certain banks which offer such functionality. 
OTP Based Mandate Registration – ICICI Bank – The individuals who have accounts in the ICICI Bank can now setup OTP Based Mandate Registration. The customers will receive OTP on his/her registered mobile number to validate the mandate.
Apart from the afore-mentioned online procedures, there are several processes through which you can pay the premium for HDFC Life. Have a look at them.
eCMS – Only the policyholders with a net banking facility with their respective banks can avail of this facility as they can transfer premiums for renewals electronically through eCMS. One needs to add or register HDFC Life Bank Accounts (Conventional or ULIP) as a beneficiary to facilitate regular renewal premium payments before the grace end of policy through Net banking.
NDSL (National Securities Depository Limited) – NSDL NIR (National Insurance Repository) provides a facility to hold all types of insurance policies from various insurers in an electronic form under a single e-Insurance Account (eIA). Only the eIA holder customers can pay their HDFC Life renewal premium through the NSDL platform. For this, you need to login into the NSDL portal and pay.
Different Offline HDFC Life Premium Payment Processes
HDFC Life also offers different offline methods to pay the premiums for the customers who feel more comfortable in offline procedures.
Through Check – After locating your nearest branch of HDFC Life, you can either courier or post the premium amount mentioning the required credentials like policy number, date of birth, etc. to pay the premium. For scheduling your check pick-up, you need to validate your policy number. An OTP (One Time Password) will be sent to your registered mobile number and if everything goes right, your check pick-up time and date will be scheduled on behalf of the company at your convenience. This facility is applicable only for exceptional service requests and for the pin codes in serviceable areas.
IVR payment (Interactive Voice Response) – You can opt for IVR payment (Interactive Voice Response) to pay your renewal premium for the policy before the grace period ends. You need to call on the HDFC Life's helpline number and also do not prefix any country code before the helpline number.
Through HDFC Life branch or bank branch (like HDFC, ICICI, Axis, Airtel Payment Banks, etc.) – For this, you can go to the nearest branch of the HDFC Life Insurance Company or HDFC Bank Branch and pay the premium through cheque or Demand Draft (DD), credit or debit card (POS device), or by scanning the QR code.
MP Online – This facility is only available for the policyholders of Madhya Pradesh (MP). One can pay the renewal premium across the extensive network of more than 6,800 MP online neighboring outlets in Madhya Pradesh. With this facility, you can receive instant payment acknowledgments.
APT Online – Only those policyholders of HDFC Life can avail of this facility who are based in Andhra Pradesh (AP) and Telangana (T). one can pay the renewal premiums across the extensive network of 3,681 APT Online neighboring outlets in Andhra Pradesh and Telangana. Like the MP online facility, here also you can get instant acknowledgment. 
CSC (Common Service Centres) Outlets – HDFC Life has an extensive network of more than 3,50,000 CSC outlets spread all over the country. One can also avail of this facility to pay the renewal premium and get instant acknowledgment.
How To Download HDFC Life Premium Payment Receipt Online?
The premium payment receipt is one of the vital documents that prove that you have paid the premium for your policy to keep it active. So, downloading the receipt and preserving it is very important. To know about the downloading process online, have a look at the below easy steps.
Go to the official website of HDFC Life Insurance.
Search for the My Account tab and click on that.
Login to your account by providing required detail such as Client ID, Email ID, or Mobile Number and password.
After verifying the captcha, click on the Login option for successful login.
On the new landing page, you can find the E-Statement option at the top of the page. Click on that.
Among the several options under E-Statement, look for the Payment Receipt option and click on that.
Select the policy number and date for which you want to get the payment receipt.
Here you need to fill in with certain details and then click on the View Premium Details option and here, you can get the premium payment receipt. 
Download it for better safety and future reference.
Frequently Asked Questions