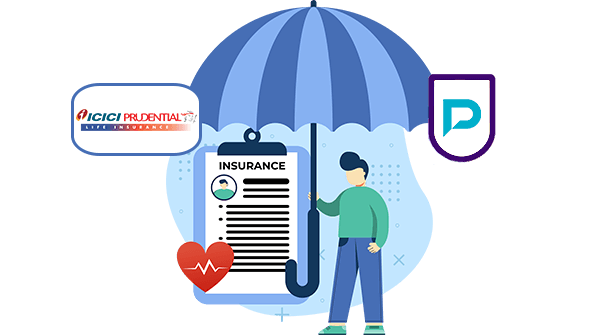 ICICI Prudential Life Insurance Claim Settlement Process
ICICI Prudential Life Insurance Claim Settlement
ICICI Prudential life insurance policies are known to provide complete financial protection to its customers. Apart from the amazing benefits, ICICI Prudential makes sure that its customers can renew the policies on time by sending regular reminders via text/mail. Even the claim process of this life insurer is extraordinarily smooth and hassle-free. So, in this content, we are going to talk about every detail that you need to know about the claim process of this insurer.
General Process of ICICI Prudential Life Insurance Claim Settlement
This process involves a few easy and simple steps, as stated below. Have a look at the following mentions to avail of a smooth claim settlement process under this life insurer.
As soon as the incident occurs, intimate the insurer either by call (1860-266-7766/ +91 22 6193 0777), SMS ('ICLAIM<space>Policy No' to 56767), email ( claimsupport@iciciprulife.com), visiting the official branch, or online as per your convenience. It is to be noted that only after your claim is formally registered with the insurer you can provide the company with a written request for claim settlement at their branch office or Claims Call Office.
In this stage, you need to send the required documents to the insurer, and their claim care team will verify the documents against your policy wording and terms and conditions.
If any additional documents are required, you will be intimated the same either by call, SMS or by sending the reminder letters. You will be notified about each important stage of the claim settlement process on behalf of the insurer. Additionally, you can also check the status of your claim using any of the different modes available with the company.
Once the company receives all the necessary documents and they are done with the verification and the evaluation process, the company will settle the claim. If no discrepancy is found, the claim will be approved, and the amount will be compensated within the stipulated time. The claim benefits can be received by the following people:
The nominee or the guardian (in case of a minor nominee), if you are the Life Assured.
In case you are not the Life Assured, the proposer.
In case of the policy is assigned, the assignee.
In case of living benefit claims such as claims under disability, critical illness, and major surgery rider, the Life Assured.
Documents Required for ICICI Prudential Life Insurance Claim Settlement
The following documents are needed to be kept handy for a successful claim settlement process under this insurer. 
Health Claim
Claimant's statement form 
For Lender Borrower Group (only for Credit Life policies) – the claimant's statement/claim intimation form 
For Affinity / Employer-Employee Group – claimant's statement/claim intimation form 
Original Policy Document
Copy of death certificate issued by Local Municipal Authority
Copy of claimant's photo identification proof and current address proof
Cancelled cheque or copy of bank passbook
Copy of medico-legal cause of death certificate
Medical records (admission notes, discharge/ death summary, indoor case papers, test reports, etc.)
Prior medical records of insured/ Life assured
Medical attendant's/ hospital certificate issued by the doctor 
Certificate from employer (for salaried individuals)
In addition, below are documents required for accidental or suicidal death:
Post Mortem Report and chemical viscera report
FIR, Panchnama, or Inquest Report and final investigation report
Copy of driving license if Life Assured was driving the vehicle at the time of the accident (applicable only if Accident and Disability Benefit Rider is opted)
Death Claim
Critical Illness Claim, ICICI Pru Heart / Cancer Protect Claim, Major Surgical Assistance Benefit Rider Claim, Accidental Death Benefit Rider or other Rider Claims:
Claimant's statement / claim intimation form 
Attending doctor's certificate
Copy of medical records (admission notes, discharge summary, and test reports)
Original policy certificate
Cancelled cheque
Fixed benefit hospitalization claims for ICICI Pru Hospital Care or ICICI Pru Hospital Care II
All the documents that are mentioned in the previous section 
Pre-authorization form (for the cashless facility) 
Health check-up form (for ICICI Pru Hospital Care II) 
Indemnity Hospitalisation Claim applicable for ICICI Pru MediAssure or ICICI Pru Health Saver:
All the documents that are mentioned in the previous section.
Original investigation reports
Health check-up form (for ICICI Pru Health Saver) 
Original hospital/ pharmacy bills and payment receipts and records
Health saving benefit form (for ICICI Pru Health Saver) 
Additional Information Related To ICICI Prudential Life Insurance Claim Settlement
There are a few more things that you need to keep in mind for experiencing a worry-free claim process under ICICI Prudential Life Insurance. Here are the mentions below.
Always ensure that the personal details on your insurance policy are correct and up to date.
If there is any change in the contact number or address details, informing the company is your priority.
Inform the insurer if you take up any activities that may cause health hazards, such as smoking, drinking, adventurous sports, etc.
Keep all the relevant documents all together, both in originals and photocopies.
Ensure that your policy premiums are paid on time, and your policy is renewed on a regular basis. In case of an expired policy, your claim will be rejected.
In case of any misleading information, wrong details, miscommunication, or non-cooperation with the company, the insurer may deny your claims.
For the claim process, the day one is counted from the day of receiving the last relevant document(s).
For this company, the interest will be paid on the claim amount for every day of delay beyond one working day.
The company takes the following time for the claim settlement:
| | | |
| --- | --- | --- |
| Turn around time as mandated by IRDAI | Death Claims | Health Claims |
| Raising claim requirements | Within 15 days of receipt of the claim | Within 15 days of receipt of the claim |
| Settlement, Rejection, or Repudiation of claims wherein Investigation is not required | Within 30 days from the date of receipt of the last necessary document | Within 30 days from the date of receipt of the last necessary document |
| Settlement, Rejection, or Repudiation of claims wherein Investigation is required | The investigation should be completed not later than 90 days from the date of receipt of claim intimation and the claim shall be settled within 30 days thereafter. | The investigation should be completed not later than 30 days from the date of receipt of the last necessary document and the claim shall be settled within 45 days from the date of receipt of the last necessary document. |