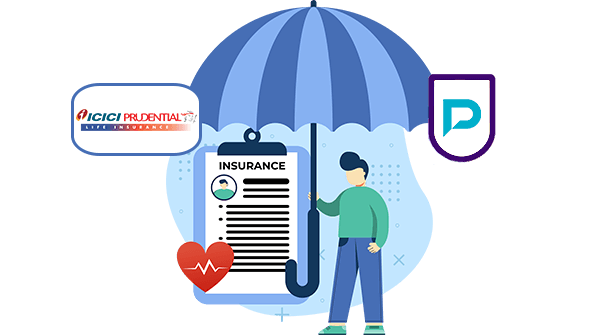 ICICI Prudential Life Insurance Company
How To Download ICICI Pru Policy?
Starting its journey in the year 2001, ICICI Prudential Life Insurance Company is a joint venture between ICICI Bank Limited and Prudential Corporation Holdings Limited. The company has come up with a sack full of customer-centric insurance plans such as term, ULIP, retirement, savings, and many more with various variants to cater to the different needs of the individuals. ICICI Prudential Life is also the first insurance company in India to be listed on National Stock Exchange (NSE) and Bombay Stock Exchange (BSE).
Now, looking at the strong background and profound establishment of the company, while you buy insurance plans from it, it becomes pivotal to know how to function your policy. For that, you need to download different forms such as application forms, claim forms, rate forms, 'Electronic Welcome Kit', and different other policy-related documents. But how to download these ICICI Pru policies properly, is the real question. To find out the detailed correct steps of it, have a look at the below mentions.
What's The Best Way To Download ICICI Pru Policy?
The insured person can download ICICI Pru policies both online and offline according to their convenience. To know more about both processes, have a look at the below mentions.
Online Process
You can download policies online in two ways, either through their official website or using ICICI Prudential Life Insurance App. Have a look at below to know the details.
Through Official Website:
Go to the official website of ICICI Prudential Life Insurance company and look for the Customer Services tab at the top of the page.
Click on that and, you will find the e-Welcome Kit or Policy Document option. Again, click on that.
Then, you need to fill in certain details such as your policy number or registered mobile number or registered email ID, and date of birth.
Then click on the Proceed option. On the next landing page, you can view your policy document and click on the Download option to download it successfully.
Following the same way, you can download also the Policy/Unit Statement that will help you to view the summary of your policy document. Apart from it, you can also view the transactions, premium records, withdrawals, deductions, and other related information.
Through App:
Go Playstore or Appstore on your mobile and download the ICICI Prudential Life Insurance Mobile App.
Upon the successful download of the app, open it and log in with your registered email ID or mobile number and password. You may need to use the One Time Password (OTP) here.
Once you log in to your portal, you will be on the homepage of the app. There will be plenty of services through which you can easily navigate your existing policy and view the policy document, policy statement, and other documents related to your policy.
Offline Process
If you are more comfortable with the offline process, you can also access your policy easily through the following different options.
Official Branches – You can visit the nearest official branch of the company. There, the executives or the experts of the company will help you to have access to your policy documents.
Agents – You can also take the help of one of the registered and licensed agents of ICICI Prudential Life Insurance and they are knowledgeable enough to guide you through the process to get a hold of your policy.
Customer Services – Apart from these, you can also avail of the customer services of the company. Either you can call them directly on 1860 266 7766 from Monday to Saturday, between 10 am to 7 pm and they will accept your request on-call after verifying your policy details (NRI customers can call us on +912261930777) or you can take the help of SMS service offered by the insurer, using the number 56767 and following the certain method.
Email ID – You can send the company an email request at lifeline@iciciprulife.com from your registered email ID. Here, you have to mention your policy number in the subject line.
Download ICICI Pru Policy Forms, Brochures & Other Related Documents
To perform different functions under your ICICI Pru insurance policy, you need to download various policy-related documents, such as, various application forms, regional forms, claim forms, brochure of the policy and a lot more. With ICICI Prudential Life Insurance, you can find all these downloadable files on one page. Have a look at the below steps to download any other important document for your policy, easily and swiftly. 
Go to the official website of the company and look for the 'Quick Links' tab at the bottom of the page.
There you will find the 'Download Centre' option. Click on that.
Under that tab, you can find multiple categories, such as Application Forms, Product Suitability, Forms, Regional Forms, Rates, Brochures, etc.
Under each category, various options are available.
As per your own convenience, click on any category and option, and it will redirect you to a different page.
On the landing page, click on the download option, and your job is done.
Why Is Important To Have Hard/Soft Copy Of ICICI Pru Policy? 
A digital policy kit is as good as a physical policy kit & considered a valid document for placing any service-related requests from your end. It is very essential to keep a hard or soft copy of your ICICI Prudential insurance policies, because for the following reasons.
Maintaining Authenticity – In order to remain in compliance, you need to preserve the authentic copies of your policy, either in the form of softcopy or hardcopy. Sometimes signatures on the policy documents, be they handwritten or digital signatures, are very important to prove the authenticity of your policy. 
Effective For Long-term Policies – For long-term policies like the plans that have a policy tenure of 15 years or 20 years, it is likely to forget about the minute details of the policy. In that case, the policy documents help you to sort out the problem.
For Doing Different Activities – If you want to file a claim or renew your policy or change the address in your policy, you will always need the policy number that is written in your policy document.
For Future References – If you want to avail of the add-on covers or transfer your funds or want to make any changes in your policy, policy documents are essential for the works to be done properly without any discrepancy.
For Security Purposes – When you have the policy documents with you, you need not worry about anything as you know the documents are proofs of your transparency, and these act as your back-ups.
To Navigate Your Policy – Policy documents help you to navigate and keep an eye on your policy. So that, you can easily track down all the transactions, terms and conditions, etc. of your policy.
Details You Can Find on ICICI Pru Policy Document
In the ICICI Pru policy document, you can find a wide range of information related to your policy to keep you updated and to help you to deal with your policy easily. It has to be remembered that E-Welcome kits or Policy documents are issued only for policies taken after April 2011. Check out the list below to find some of the key details. 
Policy Certificate
First Premium Receipt
Key Feature Document
Terms & Conditions of the policy