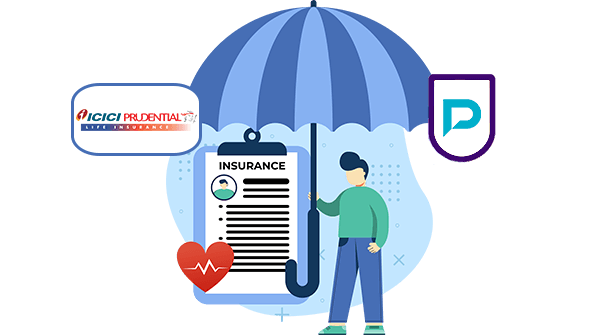 Track ICICI Prudential Life Insurance Policy Status
ICICI Prudential Life Insurance Company is one of India's leading insurance firms, offering term insurance, pension plans, ULIP plans, child plans, group plans, savings plans, and rural plans, among other products. If you have an ICICI Prudential Life Insurance policy, you can simply manage it from the convenience of your own home. You can manage your policy in minutes if you have a secure internet connection and a laptop or smartphone. This includes paying your premiums, altering your contact information, checking the status of your coverage, and much more.
Steps To Check your ICICI Pru Status Online
For First Time Users:
If this is your first time using this service, you will need to create a profile so that you can login and manage your policy at your leisure. The steps to register yourself are as follows:
Visit the ICICI Prudential Life Insurance Company's official website.
Go to the upper right corner of the home page and click 'LOGIN'.
After that, you'll be presented with a drop-down menu of options from which you need to click on "Individual under Customer heading.
A screen will appear. As you are not an existing customer, you need to select New User.
Enter your email address, mobile phone number, or policy number, then your date of birth. Submit the form.
Make a unique password for yourself. Submit the form.
You'll have to wait six hours for your profile to be created. You can then log in to the site with your account information like ID and password and check the status of your insurance.
For Registered Users
If you are a registered user and want to check the status of your policy, you must complete the procedures below:
Visit the ICICI Prudential Life Insurance Company's official website.
When you click 'LOGIN', a drop-down menu of numerous categories will appear, from which you must select "Individual" from customers.
A page will appear, prompting you to input either your email address or your insurance company's mobile number.
Simply fill in your password.
Select the option you want to check from the Start In menu. For instance, if you want to see policy specifics, go to View Policy Details and then Sign In. After that, you can look at the specifics of your policy.
For NRI Customers
On ICICI Prudential Life Insurance Company's website, click on 'Contact Us'.
Click on 'NRI Customers'. 
You can send an email to lifeline@iciciprulife.com if you want to know the status of your policy or if you have any other policy-related questions.
You can also phone +91 22 6193 0777*, which is open 24 hours a day, 7 days a week, except on national holidays. From 10:00 a.m. to 7:00 p.m., Monday through Saturday, you can phone the number 1860 266 7766*.
Other Ways To Check Your ICICI Pru Policy Status
1. SMS Service:
You can use the SMS service to acquire answers to your policy-related questions by sending a message to 56767 in a specified format.
Revive Policy: SMS – Revive
Register PAN: SMS- PANC
Get VAM call back: SMS – Select
Avail cheque pick-up: SMS – COLLECT
Get a list of SMS Helpline Alerts available: SMS – SRV
Get payment assistance: SMS Assist
Request advisor to call back: SMS – SMA
Address claim query: SMS – I claim
Opt for Ibank direct debit: SMS – DEBIT
Opt for ECS facility: SMS – ECS
Request ECS redebit towards bounce payment: SMS – PAY
Get policy fund value: SMS – NAV
Capture positive feedback: SMS – Happy
Get product information: SMS – MOR
Capture actionable feedback: SMS – Unhappy
2. Call Service:
If you are a resident of India and have any questions about your policy, you can call the number 1860 266 7766. If you are a non-resident Indian, you must dial +91 22 6193 0777. It's also worth noting that the phone service is only available Monday through Saturday, except national holidays. You can reach us at any time between 10:00 a.m. and 7:00 p.m.
3. Chatbot Assistant:
Select Contact Us located on the top. Under the Existing Customers section, you will see 'Hi! I am your Service Assistant' is an option. When you click on it, you'll find a message box where you can ask your question. If the service representative is unable to assist you with your query, a note will appear below it with a link to Write to Us and Contact Us.
4. Visiting their Physical Address:
If you are not satisfied with any of the above options, then you can simply visit their branch:
ICICI PruLife Towers, 1089 Appasaheb Marathe Marg, Prabhadevi, Mumbai 400025
What Happens If Policy Expires or Is Canceled?
The policyholder loses access to all of the plan's benefits. The policy cannot be rescinded after it has been discontinued. Only once the lock-in term is completed will the policyholder receive the invested money (five years from the date of policy issuance).
How To Cancel Policy Application?
If you want to cancel your application even before the policy is issued, you can email us at Buyonline@iciciprulife.com.
Please note that if the insurance remains in the proposal stage for 45 days after payment, we will cancel it. The customer receives an email expressing the same.