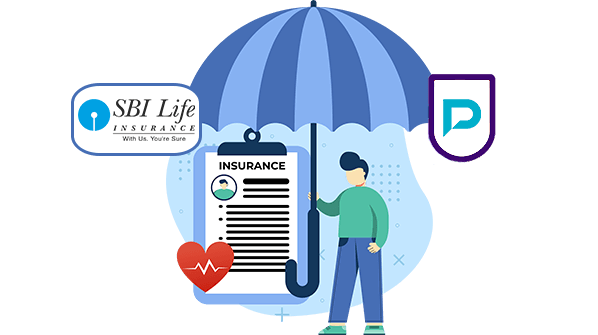 SBI Life Arogya Shield Policy
SBI Life Arogya Shield Plan
SBI General Insurance Company Ltd and SBI Life Insurance Company Ltd have joined hands to design a health plus life combination policy, Arogya Shield, a product that offers dual benefits of health insurance and pure term life insurance in a single plan. This plan will protect you and your family's well-being and provide financial safety for your dear ones, even when you are not around. This plan has come up with affordable premium rates with an additional discount of 5% on Health and Life insurance premiums. It offers comprehensive security to your family with a standard term plan. cashless claim facility is also available under this plan for health coverage. If you are looking for a plan that can give you and your family both financial and health-wise protection, this policy must be on your bucket list. To know more about this policy, have a look at the following mentions.
Criteria
Health Insurance Coverage
Pure Term Life Insurance Coverage
Minimum age at entry
91 days (At least one insured person has to be above the age of 18 years)
18 years
Maximum age at entry
65 years
65 years
Minimum policy term
1, 2, and 3 years
5 years
Maximum policy term
40 years
Premium payment mode
Single
Regular
Premium payment frequency
Annual
Minimum age at maturity
Lifelong on continuous renewals
23 years
Maximum age at maturity
70 years
Minimum and the maximum sum insured and assured
Rs. 1 lakh, Rs. 2 lakhs, and Rs. 3 lakhs

Minimum – Rs. 5 lakhs

Maximum – Rs. 2,500,000

Who can be covered
Primary insured – Self + Spouse and up to 2 dependent children
The primary insured only
Waiting period

Pre-existing diseases – 48 months

Hypertension, Heart Disease, and related complications, Diabetes, and related complications – 90 days

Specified treatments and procedures – 12 months

Initial – 30 days

45 days
SBI Life Arogya Shield Details
As you already know this plan offers dual benefits, therefore this policy has come up with a sack full of benefits and facilities that have promised to keep you and your family protected till its expiry.
Hospitalization Expenses:
The insurer will reimburse the following medical expenses while the insured was under inpatient care:
Room rent, boarding expenses.
Medical practitioners' fees (Including Teleconsultation)
Intensive care unit
Nursing expenses
Anaesthesia, blood, oxygen, operation theatre expenses, surgical appliances, medicines & consumables, diagnostic expenses, and x-ray, dialysis, chemotherapy, radiotherapy, cost of a pacemaker, prosthesis/internal implants, and any medical expenses incurred which is an integral part of the operation
Physiotherapy is covered as inpatient care when it is part of the treatment.
Drugs, medicines, and consumables consumed during the hospitalization period.
Diagnostic procedures
Dressing, ordinary splints, and plaster casts.
OPD Treatment:
Expenses for OPD consultation/Teleconsultation and treatment up to the limit specified in the policy schedule on the advice of a medical practitioner because of illness/disease and/or injury sustained or contracted during the Policy Period.
Pre and post hospitalization expenses:
Covered up to 60 and 90 days.
Day Care Expenses:
The insurer will pay for day care expenses incurred on technological surgeries and procedures requiring less than 24 hours of hospitalization up to the sum insured. A total of 141 day care procedures are covered.
Emergency Ambulance Expenses:
The insurer will reimburse actual ambulance expenses or INR 1500, whichever is lower per valid hospitalization claim, for transferring the insured to or between Hospitals in the Hospital's ambulance or in an ambulance provided by any ambulance service provider.
Alternative Treatment:
The insurer will reimburse expenses for alternative treatment taken in a government hospital or in any institute recognized by the government and/or accredited by the quality council of India/national accreditation board on health.
Domiciliary Hospitalization:
The insurer will cover reasonable and customary charges towards domiciliary hospitalization. including pre and post-hospitalization expenses.
Maternity Expenses:
It is covered only under the OPD section and up to the OPD Limit specified in the policy schedule.
HIV/AIDS Cover:
The company will cover expenses incurred for Inpatient treatment due to any condition caused by or associated with human immune deficiency virus or variant/mutant viruses and/or any syndrome or condition similar kind commonly referred to as AIDS up to the Sum Insured as specified in the Policy Schedule.
Genetic Disorders or Diseases:
The pre-specified disorders/conditions will be covered only up to Rs. 50,000 on a cumulative basis. Pre-hospitalization and Post-hospitalization Medical Expenses are also covered.
Internal Congenital Diseases:
It is covered up to the limit of 10% of the Sum Insured.
Modern Treatment Cover:
The pre-specified modern treatments or procedures will be covered either as an in-patient or as part of day care treatment in a hospital up to 50% of the Sum Insured.
Death Benefits:
On the death of the life assured during the policy term after the expiry of the waiting period or due to an accident during the waiting period, the nominee/beneficiary will receive the Sum assured on death, in a lump sum which is:
For Regular payment policies, it is the highest of
10 times the Annualized Premium
105% of all premiums paid as of the date of death
Absolute amount assured+ to be paid on death
On the death of the life assured due to other than an accident, during the waiting period, the nominee/beneficiary will receive the Death Benefit, which is equal to 100% of all the premiums paid, excluding taxes, if any.
Maturity Benefits:
Not available
Survival Benefits:
Not available
Policy Loan:
Not available
Rider Benefits:
No rider benefits are available under this product.
Free Look Period:
15 days. 30 days in case of electronic policies and policies obtained through distance mode.
Grace Period:
For Yearly and half-yearly premium payment mode 30 days, and for Monthly premium payment mode 15 days.
Key Highlights of SBI Life Arogya Shield
Apart from the above benefits and facilities, this plan has come up with a bundle of advantages that made the policy unique and popular among consumers. The mentions are as followings.
Cancellation:
The policyholder may cancel this policy (health insurance coverage) by giving 15 days written notice and in such an event, the Company will refund the premium for the unexpired policy period as detailed below.
| | |
| --- | --- |
| Period on risk | The rate of premium refunded |
| Up to 1 month | 75% of the annual rate |
| Up to 3 months | 50% of the annual rate |
| Up to 6 months | 25% of the annual rate |
| Exceeding 6 months | NIL |
Discounts (Health Insurance Cover):
Based on the type of Family cover (if any), the number of family members covered and policy duration, etc. following discount will be applied.
Family (non-floater) discount:
2 members = 5%.
>2 members = 7.5%.
2 years = 5%
3 years = 7.5%
Discount for Direct Business = 15%
Discount (Pure Term Life Insurance Cover):
The following discounts are available:
A large sum assured discount is available as per the following table:
| | |
| --- | --- |
| Sum assured | Regular premium |
| ≥ Rs. 15 lakhs | er 1000 Basic Sum assured |
Staff discount is applicable for employees, retired employees, VRS holders, minor children, and spouses of employees of SBI Life Insurance Co. Ltd, State Bank of India, RRBs sponsored by State Bank of India, and subsidiaries of State Bank group.
For regular premium – 55 of premium. 
Tax Benefits:
You are eligible to avail of tax benefits on payment of life insurance premiums under section 80C of the Income Tax Act, 1961, and on proceeds under section 10 (10D) of the Income Tax Act, 1961, as per prevailing tax laws. You can also enjoy tax benefits under section 80D of the Income Tax Act, 1961, for payment of health insurance premiums. 
Portability (Health insurance cover):
The insured person will have the option to port the policy to other insurers by applying to such insurer to port the entire policy along with all the members of the family, if any, at least 45 days before, but not earlier than 60 days from the policy renewal date as per IRDAI guidelines related to portability.
Migration (Health insurance cover):
The insured person will have the opportunity to migrate the policy to other health insurance products/plans offered by the company by applying for migration of the policy at least 30 days before the policy renewal date as per IRDAI guidelines on Migration.
What Are The General Exclusions of SBI Life Arogya Shield?
Understanding a policy is not completed if you do not go through the exclusions of the policy thoroughly. Therefore, to offer you a comprehensive idea of it, and to avoid future complications, here are the exclusions of the SBI Life Arogya Shield Policy.
Treatment-related to intentional self-inflicted Injury or attempted suicide by any means will not be covered by the policy.
Treatment and complications related to disorders of intoxication, dependence, abuse, and withdrawal caused by drugs and other substances such as alcohol, opioids or nicotine will fall under the category of exclusions.
Treatment taken outside India will be permanently excluded from the policy.
Injuries arising out of war, invasion, acts of foreign enemies, hostilities, civil war, commotion, unrest, rebellion, revolution, insurrection, military, or usurped power, etc., will not be covered.
Injury or disease directly or indirectly caused by or contributed to/by nuclear weapons/materials will not be compensated.
Circumcision unless necessary for the treatment of a disease, illness, or injury not excluded hereunder, or, as may be necessitated due to an accident will not be covered.
Refractive Error Expenses related to the treatment for correction of eyesight due to refractive error less than 7.5 dioptres will also be excluded.
Expenses of cosmetic or plastic Surgery Expenses for cosmetic or plastic surgery or any treatment to change appearance unless for reconstruction following an Accident, burn(s), or Cancer or as part of the medically necessary treatment to remove a direct and immediate health risk to the insured will not be reimbursed by the insurer.
The cost of spectacles, contact lenses, hearing aids, crutches, wheelchairs, artificial limbs, dentures, artificial teeth, and all other external appliances, prostheses, and/or devices will not be provided by the company.
Expenses incurred on items for personal comfort like television, telephone, etc. Incurred during hospitalization and which have been specifically charged for in the hospitalization bills issued by the hospital/nursing home will not be covered.
Dental treatment or surgery, convalescence, general debility, "run-down" condition, rest cure, and external congenital anomaly fall under the category of exclusions.
Treatment for, Alcoholism, drug or substance abuse or any addictive condition and consequences, venereal disease, or any sexually transmitted disease or sickness (excluding HIV / AIDS) are not covered.
Expenses related to the treatments of Sterility, Infertility, and gender change are permanently excluded.
Dietary supplements and substances that can be purchased without a prescription, including but not limited to Vitamins, minerals, and organic substances, unless prescribed by a medical practitioner as part of a hospitalization claim or day care procedure, are excluded.
Expenses related to any treatment necessitated due to participation as a professional in hazardous or adventure sports, including but not limited to para-jumping, rock climbing, mountaineering, horse racing, scuba diving, etc., will not be compensated.
In the case of the pure term life insurance cover, this policy shall be void if the Life Assured commits suicide at any time, within 12 months from the date of commencement of risk, provided the policy is in force or within 12 months from the date of revival, and the Company will not entertain any claim except 80% of the Premium paid (excluding any extra amount if charged under the policy due to underwriting decisions and taxes, if any) till the date of death. This clause shall not be applicable for a lapsed policy as nothing is payable under such policies.
Frequently Asked Questions