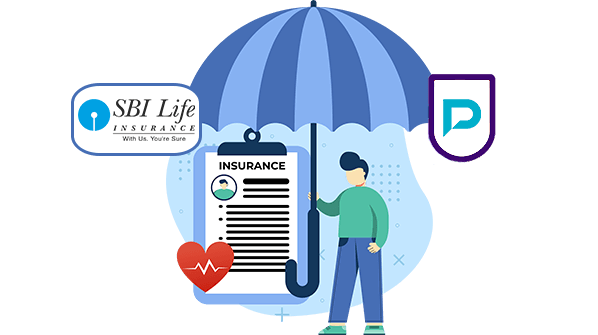 SBI Life Insurance Premium Premium Online?
How To Pay SBI Life Insurance Premium Online?
SBI Life, a leading public insurance company, offers a multitude of insurance policies that perfectly cater to your future financial and health goals. And the major highlight of the insurer is that it doesn't only provide an unmatched range of policies but focus on offering convenient and hassle-free services to its clients across the country.
Days are gone when you had to wait for your SBI Life Insurance premium to be collected by a customer service representative. Technology has evolved, so is our way of working. You can now easily pay your insurance premium online through different methods that would be discussed further.
Why Make SBI Life Insurance Premium Payment Online?
Here's the list of the reasons that you must consider paying your SBI Life insurance premium online. Let's discuss them in detail!
Rapid Service
Unlike offline, choosing an online mode for making the premium payment is potentially convenient, user-friendly, and fast. You don't need to stand in long queues to wait for your turn and ask the customer representative to submit your impending payment. It would only take a few minutes of your precious time to finish the operation.
Accessible
One of the biggest reasons to consider online mode is that it allows you to submit your payment at your convenience. If you've had a long tiring day at the office and don't want to spend your next day waiting in a long queue, just like offline, then you can make the payment 24*7. Whether you are at the home, office, or party, considering the online method could make your task simpler and easier.
Saves Money
There are slender chances that you might need to pay hidden charges associated with the offline method. In the online method, however, customers are likely to make the best use of the SBI mobile app or website and pay the respective amount at their convenience. The story is completely different from the latter.
Round-the-Clock Assistance
With SBI's customer-centric approach, the users can easily seek assistance anytime 24*7. Either they can use the "ChatBox" system to chat with the bot regarding their issue or even call the toll-free number 1800 11 1109 (Toll-Free).
Expertise is not Required
You don't need to be a tech nerd to make the payment using the online method. Making the payment requires a few simple steps that would ultimately help you save significant time in the long run.
SBI Life Insurance Premium Payment Online Via Diff. Modes
It is quite well-known that SBI offers quick, convenient, and fast online service to all its customers. Let's take a look at the following methods to pay your SBI life insurance premium online.
If you are looking for the safest and fastest way to make your online premium payment, you cannot afford to miss out on the Net Banking option. No matter whether you have an account in SBI or at any of its partner banks, you can simply make the payments at any of the following steps:
Firstly, you are required to add SBI Life as your biller
After that, you will need to enter the details of your policy, including your policy number and other personal details.
Once the details have been successfully verified, the service will be activated on your account.
You can now see your premium bill, including the due date. You have the option of paying the premiums right now or scheduling them through internet banking.
The major convenience that SBI brought to its customers is by providing easy access to the policy status and other personal details regarding the insurance plan they have. Both new and old users can make premium payments online using the SBI Life website.
You can pay your insurance premiums online via the SBI Life website.
To pay your premiums online, go to the website and select the alternatives.
Fill up your policy number and personal information.
After you've submitted your information and it's been verified, you can choose the payment method that's most convenient for you and pay.
Don't let your premium payment be due for long! You can simply make it via Visa credit cards. Often regarded as the quickest way to pay your amount, you must have a credit card from any respective bank (private or public). Let's discuss the steps thoroughly.
You firstly need to register yourself on visabillpay.com
After that, you need to add SBI Life as your potential biller
Once you are done adding the same, simply provide the details of your insurance policy.
After verifying the policy details, you need to take out your card from the wallet and enter the details and ultimately, pay the requested amount.
You can even set up automated bill payment on your credit card with standing instructions. Only VISA and MasterCard will be accepted. The steps are as follows:
Choose Billdesk as your payment processor.
Choose the 'Pay with a credit card option.
 'One-Time Payment + Standing Instruction' should be selected.
The Standing instructions will take approximately 3-4 working days to activate. Starting with the next premium date, you will be charged directly to your credit card.
Nothing could be easier and quicker than this option of making online. If you possess a smartphone (well, everyone does), you need to simply download the app and make the payment. Here are the steps you need to follow:
For your mobile device, download the SBI Life Easy Access app.
After completing the registration process, select the 'Renewal Premium Payment option.'
Provide your policy number and any other personal information that is requested.
Choose a payment method and go to the payment gateway.
If you are an SBI customer (whether new or old), you can easily follow a series of steps to make the premium payment through a mobile wallet. But firstly, you will need to install the SBI Card Pay mobile app on your smartphone from the Google Play Store.
All of these apps have a very identical approach for paying insurance premiums. Here are the steps below:
Any of the supported mobile wallets can be downloaded.
If you haven't previously done so, create a profile.
Choose a method for paying your insurance premium.
Select SBI Life Insurance
Simply enter the details of your policy and other required personal details
After you've been successfully verified, you'll be able to pay your insurance premium online using whatever payment method your wallet authorizes.
Always double-check your information before paying your insurance premium online. To avoid misunderstandings between you and the company, it is advised to double-check all of the charges on your premium account before making your payment.