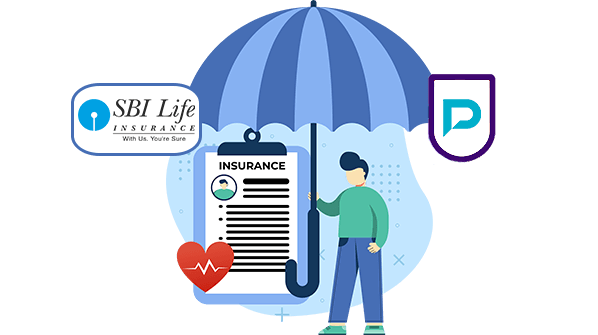 SBI Life eWealth Insurance Policy
SBI Life eWealth Insurance Plan
SBI Life's eWealth Insurance plan is an online unit-linked plan that promises to assist you in accumulating more wealth. The plan was created to offer the dual benefits of insurance protection and returns that are correlated to the market.
Your money can be invested through this policy in either the equity or debt markets. The plan enables the insured to maximize his money through appealing returns while simultaneously securing his insurance needs. It also gives you a stronger exposure to equity during the first few policy years through its Automatic Asset Allocation (AAA) feature and gradually increases it to low-risk investment options, including debt instruments and money market instruments.
| | |
| --- | --- |
| Minimum Entry Age | 5 Years |
| Maximum Entry Age | 50 Years |
| Policy Term | 10 To 30 Years (Both Inclusive) |
| Basic Sum Assured | Annualized Premium X 10 |
| Premium Payment Mode | Regular |
| Premium Paying Term | Same As Policy Term |
| Plan Options | Growth & Balanced |
Features & Benefits Of SBI Life eWealth Insurance
Given below are the details of coverage and benefits offered by the plan:
Equity Fund: The primary goal of an equity fund is to increase exposure to stocks to maximize return on investment.
Bond Fund: Compared to investing in shares, the bond fund is a safer and less volatile option. Here, the profits from investments in debt instruments and fixed-income securities are gathered.
Money Market Fund: The goal of a money market fund is to invest money in liquid and secure securities so that it can avoid market dangers for a predetermined amount of time.
Discontinued Policy Fund: This fund's objective is to offer a less volatile investment choice. It is made available through liquid assets and debt instruments. A 4% annual interest rate will be guaranteed for this fund.
Death Benefit: The policyholder's nominees will receive a sum equal to or greater than 105% of the total premiums paid up to the date of death in the event of his death. The amount assured will depend on whatever partial withdrawals the policyholder made in the two years before his or her passing.
Maturity Benefit: Policyholders who survive until the end of the policy term will receive a lump sum payment equal to the fund value. As an alternative, clients might opt to receive the maturity benefits in periodic payments within 5 years of the maturity date.
Free-Look Period: The policyholder may return the policy within 30 days of the policy's start date if they disagree with any of the terms and conditions stated in the insurance contract.
Revival: Within two years of the first unpaid premium, the insurance can be reinstated if it lapses. The policyholder will need to pay the handling fees and any unpaid payments to revive the insurance.
Grace Period: The plan provides a grace period of 15 days for monthly premium payments and 30 days for annual premium payments.
Surrender Value: Anytime during the insurance term, you can cancel your coverage. But after being abandoned, the policy cannot be reinstated. The following terms will be in effect if the policy is surrendered within 5 years:
The terms of the lock-in shall be taken into account.
The value of the fund will be moved to the discontinued policy fund.
There will be a minimum interest rate of 4% per year.
The fund value will, however, be paid to the policyholder immediately if the policy is relinquished after 5 years from the date of policy inception.
Tax Benefits: Up to a maximum of Rs. 1.5 lakhs, premiums paid under the plan would be exempt from taxation under Section 80C. According to Section 10(10D) of the Income Tax Act, the death benefit or maturity benefit received would likewise be free from taxes.
Partial Withdrawal: After five policy years have passed, the plan permits partial withdrawals. After the first withdrawal in a calendar year, there is a charge of Rs. 100 per withdrawal. The minimum partial withdrawal is Rs. 5000, and partial withdrawals afterward are allowed up to a maximum of 15% of the Fund Value in multiples of Rs. 1000.
Charges Applicable Under SBI Life eWealth Insurance Plan
As a ULIP plan, there are some charges that must be paid.
Premium Allocation Charge: There is no Premium Allocation Fee under the scheme.
Policy Administration Charge: At the beginning of each month, a fee of Rs. 45 for policy administration is withdrawn from the fund value.
Fund Management Charge: Fund management fees are assessed every day and vary depending on the type of fund chosen. The following will be applied:
| | |
| --- | --- |
| Type Of Fund | Charge |
| Equity Fund | 1.35% Per Annum |
| Bond Fund | 1.00% Per Annum |
| Money Market Fund | 0.25% Per Annum |
| Discontinuance Policy Fund | 0.50% Per Annum |
Mortality Charge: In accordance with the Sum at Risk and the policyholder's age, this fee is subtracted on the first day of every month.
Medical Expenses On Revival: If any medical costs are incurred after the policy is revived, they will be taken from the Fund Value up to a maximum of Rs. 3000.
Discontinuance Charge: This charge will be applicable in case the policy is discontinued. They are as follows:
Year Of Discontinuance
Annual Premiums Up To Rs. 25000
Annual Premiums > Rs. 25000
1

Lower of 20% of (Annualized Premium or Fund

Value) subject to a maximum of Rs. 3,000

Lower of 6% of (Annualized Premium or Fund

Value) subject to a maximum of Rs. 6,000

2

Lower of 15% of (Annualized Premium or Fund

Value) subject to a maximum of Rs. 2,000

Lower of 4% of (Annualized Premium or Fund

Value) subject to a maximum of Rs. 5,000

3

Lower of 10% of (Annualized Premium or Fund

Value) subject to a maximum of Rs. 1,500

Lower of 3% of (Annualized Premium or Fund

Value) subject to a maximum of Rs. 4,000

4

Lower of 5% of (Annualized Premium or Fund

Value) subject to a maximum of Rs. 1,000

Lower of 2% of (Annualized Premium or Fund

Value) subject to a maximum of Rs. 2,000

5 Year Onwards
NIL
NIL
Sample Quotation Of SBI Life eWealth Insurance Plan
Let's check out how much the plan will cost you!
Annual Income Of The Policyholder
Plan Option
Age Of The Insured
Policy Term
Premium Amount (Yearly)
Maturity Benefit
Life Cover
Rs. 3 Lakhs
Growth
29 Years
10 Years
Rs. 24,000

₹ 3,37,798

@8%

OR

₹ 2,70,463

@4%

₹ 2,40,000
Rs. 3 – 5 Lakhs
Balanced
33 Years
15 Years
Rs. 30,000

₹ 7,60,742

@8%

OR

₹ 5,45,205

@4%

₹ 3,00,000
Rs. 5 – 10 Lakhs
Growth
37 Years
13 Years
Rs. 40,000

₹ 8,20,764

@8%

OR

₹ 6,15,342

@4%

₹ 4,00,000
More Than Rs. 10 Lakhs
Balanced
47 Years
10 Years
Rs. 35,000

₹ 4,87,331

@8%

OR

₹ 3,89,418

@4%

₹ 3,50,000
Exclusions Under SBI Life eWealth Insurance Plan
The policy will be deemed void if the policyholder dies by suicide within a year of its inception or revival. In these situations, the recipient will receive the fund value as of the date of death notification, minus any benefits provided under the plan. Charges that are recovered after the insured person's death must be returned to the nominee along with the fund's value.
Frequently Asked Questions