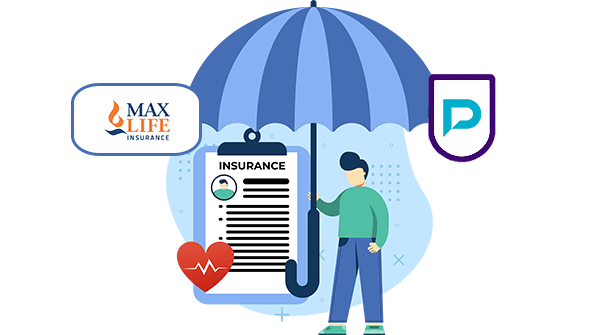 How To Download Max Life Insurance Policy?
Download Max Life Insurance Policy
Max Life Insurance is a well-known life insurance policy company that not only provides a wide range of plans and policies to suit the financial needs of a large customer base. Once the customer chooses a Max Life insurance policy, (s)he will get a dedicated copy of his/her insurance policy. Although you will keep it secure all the time, there are chances that you might loss it somewhere. This is the reason, you should have an idea on how to download your max insurance policy via both online and offline method. Customers should be aware, however, that in the event of an emergency, they must have the policy paper with them.
Here, you'll learn the steps that would help you download the max life insurance policy without any difficulty.
Steps to Follow to Download Max Life Insurance Policy
Most of us are turning to online alternatives for most things in this age of ease. Here's how you can check the Max Life insurance policy statement online in a few easy steps.
Through Max Life Website:
Step 1: Simply visit the official website of Max Life Insurance.
Step 2: On the homepage of the website, you will see a customer login tab on the upper right side.
Step 3: When you click on it, you will be directed to the page wherein you'll need to enter log in with your mobile number and date of birth. Alternatively, you can log in with your policy number or email address.
Step 4: Once logged in, you need to click on 'Downloads' listed on the left side of your screen. 
Step 5: Look for 'Policy Pack' and click on it. You can now download your policy document by tapping on a button in the shape of a downward arrow. 
By Visiting Max Life Branch:
You can also examine the details of your Max Life insurance statement by visiting the nearest office branch and following these steps.
Step 1: Go to the Max Life Insurance website and log in.
Step 2: Scroll to the bottom of the homepage and click the "Contact Us" link.
Step 3: A new page will appear with the option to "Locate an Office."
Step 4: To find the address of the nearest office branch, enter your state, city, and pin code.
You can also write at service.helpdesk@maxlifeinsurance.com with queries regarding your life insurance policy.
Which Details Mentioned in the Max Life Policy Document?
Here are the details that you will see mentioned in your life insurance policy document.
Type of policy
Duration of the policy
Policy identifier
Insured amount
Information about the total bonus
Inclusions and omissions in the plan
Extending the length of a life insurance coverage
The name, age, and other personal details of the insured
The terms and circumstances of the claim settlement
Health insurance policy cancellation terms and circumstances
Situations involving the portability of your life insurance
Details on the 30-day free-look period
Procedure for handling complaints
Is It Possible To Make Changes in Max Life Insurance Policy?
If you need to make any modifications to your Max insurance policy document that are incorrectly listed (for whatever reason), call the Max customer support team right once.
Do Policyholder Need To Carry Hard Copy of Max Life Insurance Policy?
Since the Insurance Regulatory and Development Authority of India (IRDAI) has allowed it, policyholders no longer need to carry a hard copy of their insurance policies. For future reference, it's important for you to keep both a hard copy and a soft copy of your Max Life insurance policy.
How To Contact Max Life For Any Queries?
If you want to contact Max life insurance company for any of your queries, then you can simply call their toll-free number 1860-120-5577 (9:00 AM to 6:00 PM Monday to Saturday). Also, if you want to get a premium receipt, then you can reach out to them through the SMS facility, PR <policy number> to 5616188 to get a premium receipt. The headquarters of the company is located in Gurugram, Haryana, India.
Office Address: Max Life Insurance Company, Operations Center – 2nd floor, 90 A, Sector 18, Udyog Vihar, Gurugram – 122015.