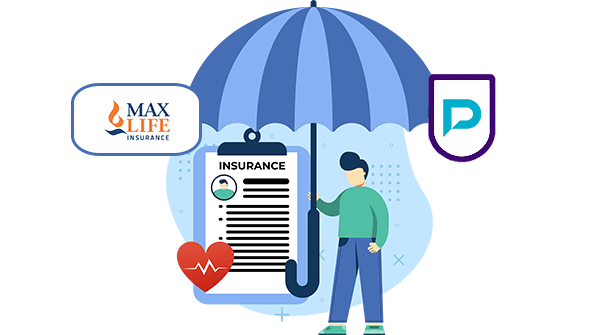 MAX Life Premium Payment Process Online & Offline
MAX Life Premium Payment Process
When it comes to Max Life's premium payment facility, the company offers a wide range of online as well as offline methods to the policyholders. By following some simple steps, the company allows the policyholder to make payments without any hassles. 
In this article, we'll go over the on-screen and off-screen procedures for paying your Max Life Insurance premiums, which are available to both existing customers and new users.
Max Life Online Premium Payment Process
Policyholders can pay their premiums through a variety of online methods. They are as follows:
Through Company's Website
You must follow the steps outlined below to pay your due premiums online through MAX Life Insurance's website:
Go to the official website of Max Life Insurance.
At the down of the page, select "Pay Premium Online" under the "Customer Services" section.
Now Max Life online payment page will be displayed on your screen. Enter your policy number, date of birth, and then select "Submit". 
You will be now redirected to the payment gateway. Select any one option to pay for the premium.
If you have a bank account with net banking, you can pay the premium for your Max Life Insurance policy by logging into your account. Your bank account's RTGS or NEFT facility can be used to make payments. To make the premium payment, you'll need to provide the insurance company's beneficiary information, such as policy number, bank account number, IFSC code, and branch name.
Through Recognized E-Wallets
Subscribers of MAX Life Insurance can pay their premiums using a variety of e-wallets, including Paytm, Google Pay, PhonePe, and Airtel Money. When paying the renewal premium, you must include your policy number and date of birth. Payments can be done with the available wallet balance, UPI, credit or debit cards, or through the online banking facility.
Through Insta Pay Service
InstaPay is a service provided by most Indian banks via which you can pay the premium for your Max Life Insurance policy. You'll have to check your bank's website to see if the InstaPay option is available or not. If the option is available, you can pay the renewal premium via the InstaPay feature on your bank's website.
Through Foreign Remittance
In case you are an NRI or live abroad and your renewal premium payment deadline is approaching, you can pay the renewal premium using an overseas bank account. You can make this payment online or offline at a branch of an international bank with which you have an account. 
If you want to pay through a branch, you'll have to choose between forex payment and wire transfer. If you wish to make an online payment, then you can use your bank's net banking facility.
Under this facility, the premium will be deducted automatically, and you will not be required to pay or transfer it personally. There are several options for paying the premium via auto-debit, including:
Through EBPP: You can make a payment through the EBPP (Electronic Bill Payment Process), in which the premium is debited from your bank account on a date that you specify.
Through e-NACH Window: By enrolling yourself on the e-NACH window, you can use your bank's ECS mandate to automatically deduct the premium amount and transmit it to Max Life Insurance.
Through Direct Debit: By registering online for the direct debit option, you can choose from a list of banks that have partnered with Max Life Insurance. And then, you can use this facility to pay your premiums online.
By Standing Instruction: By registering online, you can set up a standing instruction on your Visa or MasterCard credit card to automatically pay the premium.
Max Life Offline Premium Payment Process
If you are not comfortable paying your premiums online, Max Life Insurance also has a variety of offline solutions available. The following are the methods:
Max Life has over 250 branches across India. As a result, you can pay the premium for the coverage at any of the company's branch offices. Cash, check, and credit card payments are accepted at the branch office.
Through Cheque & Cheque Pick-Up Facility
You can write a check to Max Life Insurance Company Limited and include your 9-digit policy number. Additionally, your name, policy number, and contact number should be written on the back of the check.
Moreover, the company also has a cheque pick-up facility for its customers. Agents from the Max Life Insurance pick up cheques for premium payments, making this a highly handy facility. It is collected both from your home and office and deposited by the company itself. 
Through EBIX Cash Counter
You can pay your premiums on time by using EBIX Cash in conjunction with Max Life Insurance. You can deposit your premium at any EBIX cash counter, and it will be transferred to Max Life. On the official website of EBIX cash, you can see the location of the cash counter.
Through Common Service Centers (CSCs)
Max Life has also collaborated with CSC, allowing you to pay your premiums at any CSC branch. Therefore, you can pay a visit to any of the CSC branch offices and pay for your Max Life Insurance premium.
Through Banks (AXIS Bank & Laxmi Vilas Bank)
Max Life Insurance has a tie-up with Axis Bank as well as Lakshmi Vilas Bank. You can, therefore, make Max Life premium payment through any of the branches or ATMs of Axis Bank and Lakshmi Vilas Bank. Their branches can be found on their official websites respectively.
Benefits Of Paying Premium Online
There are a plethora of benefits for paying the premium online. Some of them are as follows:
With online premium payment methods, you do not have to visit the bank's branch office and stand in long queues for paying premiums. Simply log in to the Max Life online payment system and you can make instant premium payments. Therefore, it saves a lot of time, which you can use in other productive works.
When it comes to online premium payments, they are completely safe and secure. As transactions are held digitally with online premium payment methods, there is zero risk of theft or burglary.
As you can pay your premium online with the help of your mobile device, it ensures immense convenience. Within just a few clicks, you can make your premium payments without any hassle, anywhere and anytime.
For paying your premiums online, you do not require to pay any kind of fees. There are no service charges levied on online premium payment options.
Things To Consider While Paying MAX Life Premium Online
There is a multitude of things that you need to take into account while paying Max Life premium online. Some of them are mentioned below:
While making Max Life premium payment online, the policyholder should provide an accurate mobile number as well as an email address.
In case you fail to make the premium payment in time, an additional time period will be provided to you by the company for making the premium payment.
After the premium payment is done, it is always recommended to download the policy receipt for further use.
In case you wish to make advance payment for your policy, you can easily do so in the same year when the premium amount is due.
There should be no inclusion of any kind of the third party in the process of making premium payments online. The policyholder should himself/herself make the premium payment.