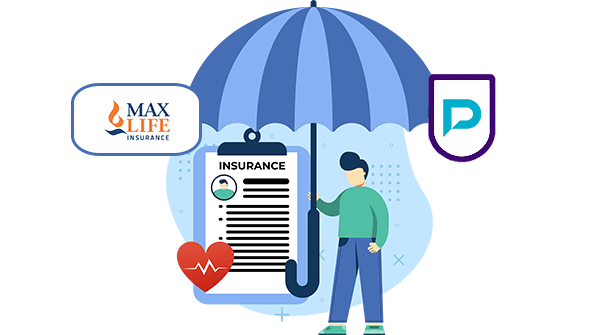 Max Life Fast Track Super Policy
Max Life Fast Track Super Plan
Max Life Fast Track Super is a popular insurance plan that aids in better financial planning so that your remaining years will be the happiest of your life. A convenient and secure method of market investing is provided by the Max Life Fast Track Super Plan. If you want to get the most out of your ULIP investment over time, the Max Life Fast Track Super plan will serve the purpose. While most people prioritise life insurance, many are comfortable making investments that are vulnerable to market risks to earn large returns.
With the flexibility to choose premium payment terms and policy terms, the policy gives complete life insurance coverage. Through a variety of fund alternatives and investing strategies, it helps policyholders accomplish their goals.
Read on to know more about the Max Life Fast Track Super plan's eligibility criteria, features & benefits, exclusions, premium calculation, and more.
Here is the eligibility criteria for the Max Life Fast Track Super plan.
Parameters
Details
Age

Minimum- 91 Days

Maximum-

Single Pay / 5 Pay- 60 Years

Regular Pay- 50 Years

Maturity Age years (Age as of Last Birthday)

Minimum-18 years

Maximum-70 years (Age as of Last Birthday)

Premium Payment Term
Single Pay / 5 years (5 Pay) / 20 years (Regular Pay)
Policy Term
10 years for Single Pay / 5 Pay and 20 years for Regular Pay
Premium Payment Mode
Annual, Semi-Annual, Quarterly & Monthly
Minimum Annualised Premium

Single Pay- Rs. 1, 00, 000

5 Pay- Rs. 50, 000

Regular Pay- Rs. 25, 000

Maximum Annualised Premium
No limit, subject to underwriting
Benefits of Max Life Fast Track Super Plan
To assess a policy's suitability for your financial goals, you must be well-informed on its terms. It will be beneficial to learn more about the advantages of ULIPs and then invest in the Max Life Fast Track Super plan if your objective is to find a policy that offers investment and coverage facilities.
Death Benefit
If the policyholder passes away, the Max Life Fast Track Super plan provides a death benefit to the nominee. They are entitled to the greater of the sum assured (10 times your annualized premiums) or the entire fund value (as of the date of notice of death), but only if the sum assured is at least 105% of all premiums paid.
Maturity Benefit
The policyholder is eligible to receive a maturity benefit under the Max Life Fast Track Super plan if the policy term expires without a claim being made for settlement. The maturity benefit is calculated as a percentage of the policy's total value, or the fund value, on the day of maturity.
The opportunity for the policyholder to pick how the maturity benefit is paid out under the settlement option is another advantage of the Max Life Fast Track plan. You have the option of making it a monthly income source or choosing a flat sum.
Tax Benefits
Max Life Fast Track Super has tax advantages outlined under the Income Tax Act of 1961, similar to the majority of insurance contracts. Reducing tax liability in whatever way that is possible is soothing for every earner.
You might qualify for tax deductions if you acquire the Max Life Fast Track Super plan under Sections 80C and 10 (10D) of the Income Tax Act of 1961. To maximize the benefits, it is essential that you review the most recent government laws and evaluate the relevant tax deductions.
Comprehensive Solution
Over a traditional insurance plan, a unit-linked insurance plan has many benefits. You can accomplish a variety of financial objectives with Max Life Fast Track Super without having to worry about managing numerous separate programs. It enables you to make an effective and practical portfolio.
Guaranteed Loyalty Additions
The creation of other units provides an additional benefit of 0.30% of your Fund Value when you join the Max Life Fast Track Super plan's eleventh year. The increased benefit is then applicable each subsequent year, and it also grows by 0.02% each year.
If you choose the regular premium payment option, guaranteed loyalty additions are applied. It is to your best advantage to thoroughly read the policy terms and utilise it as intended.
Withdrawal Flexibility
After the 5-year lock-in period is up, the Max Life Fast Track Super plan enables policyholders to take two free partial withdrawals each year. One of the useful aspects of Max Life Fast Track that makes them appealing to policyholders is the withdrawal flexibility.
6-Fund Options
Depending on their level of risk tolerance, Max Life Fast Track Super offers investors a choice of six distinct fund options. In addition, you can change 12 free funds in a year to achieve your investing goal.
Grace Period
If the premium is not paid by the due date, a Grace Period of 30 days (15 days for monthly mode) from the first unpaid premium's due date will be allowed. Throughout this grace period, the risk will be covered, and the insurance will continue to charge the applicable fees.
What is Not Included Under Max Life Fast Track Super Plan?
All risks under the Policy shall cease simultaneously if the Life Insured, whether minor or major, commits suicide within twelve (12) months of the Effective Date of the Policy or the date of any revival of this Policy, whether sane or crazy. In this scenario, we would only pay the beneficiary (nominee or policyholder, as applicable) the Fund Value as of the date of the death notification. Additionally, for the time between the date of death and the date of notification of death, the corporation would refund all deductions made other than FMC.
How Does Max Life Fast Track Super Plan Work?
Let's take an example of a 35-year-old serviceman, named Mr. Kumar Dharmendra who is currently working as a software engineer at Accenture. Let's understand the maturity amount he will get after his policy will get matured.
Age of Life Insured (years)
Premium Payment Term (years)
Policy Term (years)
Annualized Premium
Maturity Value (@4%) *
Maturity Value (@8%)*
35
1
10
Rs. 150,000
Rs. 171,107

 

Rs. 253,651
How To Buy Max Life Fast Track Super Plan?
Unfortunately, the plan is not available to buy via online method. But there's no need to worry. You can still buy the Max Life Fast Track Super Plan via the offline method.
All you need to do is you need to visit any nearby branch office of Max Life Insurance and contact the customer care representative team present in the office for further assistance. The representative who sells the plan will enquire about a few specifics before assisting the consumer in purchasing the package.
Alternatively, the customer can call the company's helpline number 1860 120 5577 from 9:00 AM to 6:00 PM (Monday to Saturday). The executive will guide the customer on how to purchase the plan from the company.
If a customer still encounters difficulties when purchasing the Max Life Fast Track Super Plan, Probus Insurance is here to assist you. The team members of the company will do all it takes to address the issues of their customers.
Frequently Asked Questions
Policyholders are not permitted to switch options or make partial withdrawals during the settlement period.
Loan facilities, top-up options, and riders are not included in the Max Life Fast Track Super Plan.
The sixth policy year allows for free partial withdrawal. This feature is available to policyholders twice a year.